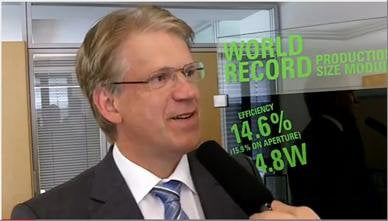 Manufacturing equipment supplier Manz, which regards solar and energy storage as two of its three key strategic business segments, claims recent restructuring is starting to pay off, reporting some positive developments in its latest financial reports.
Volume of orders received by the end of March stood at €96.3 million (US$109.6 million), up 5% on the same time last year when that figure was €91.7 million. Quarterly revenues rose by 19.5% year-on-year, reported as €64.5 million for the group's business segments, which also include electronics manufacturing equipment for smartphones and tablets. In Q1 2015, revenues were at €54 million.
The company garnered "attractive new and follow-up" orders in its electronics and energy storage segments in the first quarter of this year, while trends toward automated production in China in the fields of e-mobility, smartphones and tablets also contributed to overall performance, a Manz investor relations release said.
Energy storage actually comprised the largest share of revenues for the group, 43.1%, bringing in €27.9 million. This was up on Q1 2015 by more than €10 million, up from €16.5 million.
Solar contributed €8.1 million of total revenues, or 12.6%, almost the same percentage proportion as last year's Q1 (12.9%) although in that quarter revenues were just €6.9 million.
Meanwhile, electronics was worth €17.5 million in quarterly revenues, accounting for 27.2% of the total, down from Q1 2015 when it was worth €19.3 million and comprised 35.8% of the group total.
Manz said EBITDA remained within the scope of the board's annual forecasts, at €0.9 million, a significant improvement on a loss of €6.4 million in 2015. EBIT remained negative, €-2.5 million, but appeared to show a significant improvement on €-9.4 million in Q1 2015, while net profit shifted from €-10.2 million to €-3.2 million year-on-year for the quarter. This equated to earnings per share of €-0.58, again improved on Q1 2015, when it was €-2.08.
Restructuring and China investment
The company's restructuring efforts led to 174 job losses in all, PV Tech reported last December. Manz said today it intended to increase transparency into its segments, as well as quality of planning processes for both subsidiaries and core businesses. Among other measures, the company also promised more investment and project controls, which would "ensure consistent and comprehensive cost controlling within the entire Manz Group".
Additionally, Shanghai Electric Co has looked increasingly likely to take a 30% stake in Manz, an interest which was made public in April. To enable this investment, the board and management decided to increase capital stock by about 43% at the end of that month, the company said in today's release.