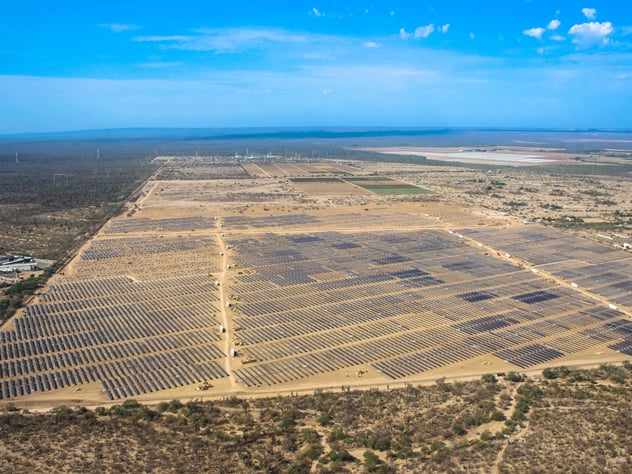 Portugal-based PV development company Martifer Solar and its joint venture partners have signed a Development Agreement with Canadian Solar for a 63MW solar power project in Aguascalientes, Mexico.
Canadian Solar won the 63MWp project in Mexico's inaugural energy auction, which will generate grid-connected electricity to be sold to regulator CFE under a 15-year PPA, along with associated 20-year clean energy certificates.
So far under the agreement, the joint venture partners comprised of Martifer Solar, Energia ECG and Ithaca Environmental Ventures, have sourced the land and interconnection point for the winning project and will provide full development services for the plant, which is located just 500km away from the capital.
The project began at the end of 2015 and is expected to be operational by Q3 2018. This project is one of many others under construction on the back of the renewable energy auction which brought wide investor interest into Mexico's early-stage market, following the recent liberalisation of the electricity industry under nationwide energy reforms.
The projects are also closely aligned with ambitious government incentives for clean energy to reach 25% of all generation by 2018, with steady increases until the ultimate target of 50% by 2050.
"We are proud to see this successful result from Mexico's first renewable energy auction, as we view it as an important emerging market within Latin America," said Henrique Rodrigues, CEO of Martifer Solar.
"We look forward to working together with Canadian Solar, as well as with CFE and CENACE in order to help accelerate Mexico's transition to a clean energy leader within the region."
Jesus Pacheco, director of development for Latin America from Martifer Solar, also commented: "It is an honour to work together with Canadian Solar on the development of this project and we are very pleased with this milestone achievement for our team in Mexico. Since Martifer Solar has been present in the market since 2011, it is exciting to see the growth and significant potential of Mexico's renewable energy sector starting to be realised."