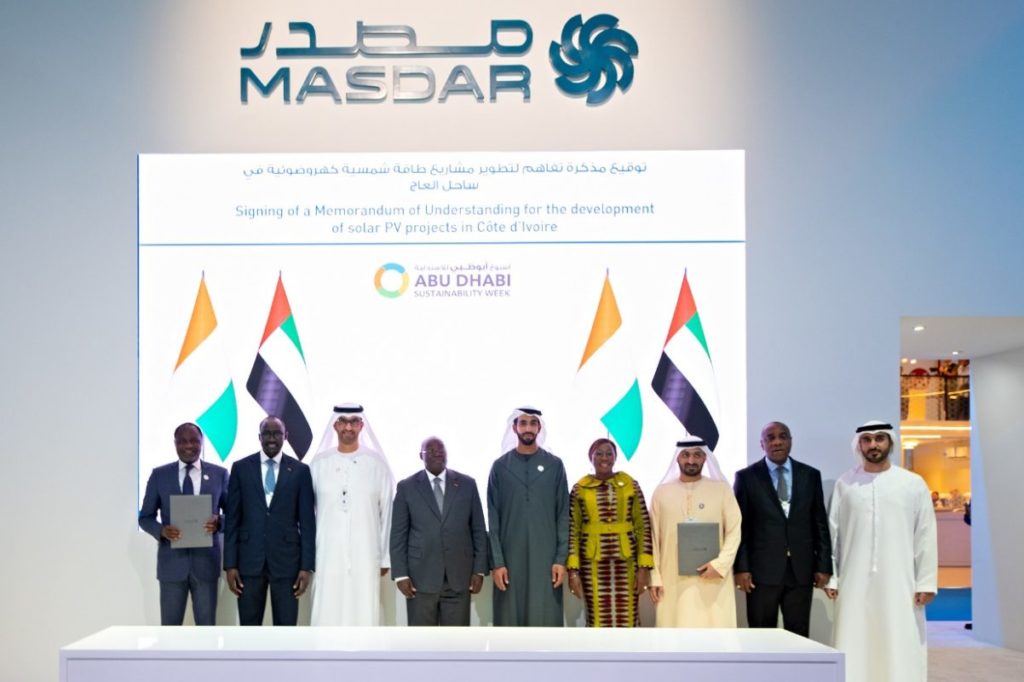 UAE-based renewables provider Masdar has signed an agreement to develop a 70MW PV plant in the Republic of Côte d'Ivoire.
The deal was signed with the Ministry of Mining, Petroleum and Energy last week as a part of the UAE-led Etihad 7 innovation programme targeting 20GW of deployed renewables across Africa by 2035. The two parties have agreed to explore PV solutions in the Côte d'Ivoire, beginning with an initial 50-70MW project.
Mohamed Jameel Al Ramahi, CEO of Masdar said: "As part of Masdar's new shareholding structure launched in December, we have a goal of delivering 100 GW of clean energy around the world by 2030. With Africa's massive projected development and growth and low current clean energy penetration levels, we see enormous potential for the renewable energy sector across the continent. This agreement will support Côte d'Ivoire's clean energy goals and help to drive sustainable economic development for the nation."
The country has a goal of generating 45% of its electricity through renewables by 2030 and reducing its greenhouse gas emissions by 32%. AMEA Power – another Middle Eastern renewables company – signed a deal for a 50MW PV project in the Ivory Coast early this year.
In January 2022, Masdar formed a joint venture with an Abu Dhabi-based renewables developer to realise over 8GW of planned projects across Africa, and 2023 has seen the company accelerate its African project plans. In January it signed a deal for 3GW of renewable energy projects in Uganda and Angola and a 2GW plan for projects in partnership with the Zambian state utility.
The African Renewable Energy Manufacturing Initiative, a venture including Bloomberg Philanthropies and Sustainable Energy for All, was recently established to spur up to US$850 million in financing to establish a manufacturing ecosystem across the continent.