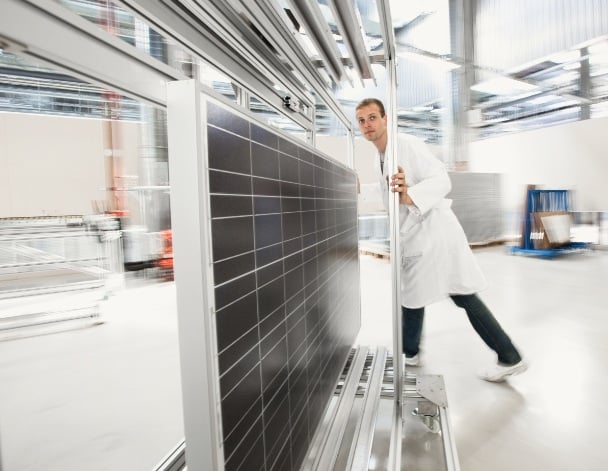 'Silicon Module Super League' (SMSL) member Hanwha Q CELLS has reported second quarter 2016 financial results but has decided to not report a critical business metric, solar module (MW) shipments.
It all went a bit bizarre yesterday (August 23, 2016) when three SMSL members, Trina Solar, Yingli Green and Hanwha Q CELLS all released second quarter results and held earnings conference calls, all at the same time!
When that normally happens – the best bet is to pick two companies and flip a coin and listen to the winners call!
But we are not in normal times and noting that Hanwha Q CELLS had been the first to pick that date and time, compared with the other two, something of concern could have been lurking within either the Trina Solar or Yingli Green calls, or both.
Not being a gambling man, picking struggling Yingli Green's earnings call first, proved to be a wise choice at the time as the company announced plummeting shipments for the third quarter.
Next call was Trina Solar as was not expecting any surprises but as the leading SMSL it was important to pick-up on any new developments, which luckily were few to observe.
So, a couple hours later while listening to the Hanwha Q CELLS call, the prepared remarks section ended but the company then announced that was the end of the call, without holding a Q&A session with financial analysts.
Having already skimmed the financial press release ahead of the call there were several big issues that Hanwha Q CELLS management needed to address and they had not addressed these in the prepared remarks section of the call. So when the Q&A section did not take place, the alarm bells were raised.
Making matters worse was that the fact that the company did not release presentation slides with the earnings call, something not all companies do but certainly Hanwha Q CELLS had been doing for a long time.
Shipments?
All of this was due to the company not providing solar module shipments for the second quarter, something it had always provided in statements and presentation slides. Shipments by regions proved to be another missing metric.
Other figures that needed explaining away was the 1.2GW of solar cell and module assembly capacity expansions that were missing from its production data update, compared to its first quarter data.
While many other media outlets, as normal, covered Hanwha Q CELLS results from the press release but interestingly did not highlight the missing MW shipment figures, PV Tech contacted the company and held back from coverage.
However, it should be noted at this point that Hanwha Q CELLS 2Q financial results were very strong and being a NASDAQ listed firm, the figures all looked good and inline with expectations.
The next morning we were able to raise the issues at length with the company's IR department and several developments have taken place.
Firstly, do not expect the company to release quarterly shipment figures in the future, certainly not in the standard format used by many (but not all) of PV manufacturers listed on the NASDAQ or NYSE.
The key reason for going 'dark' on module shipments is a combination of other financial metrics previously disclosed that when shipments are included, provide a level of accuracy the company would rather not provide in relation to things like module ASP's and margins, which being predominantly a module manufacturer lacking other sizable business segments like downstream PV projects is easy to calculate with a high degree of accuracy.
In short, removing module shipment figures from financial press releases and presentation slides as well as quarterly SEC filings is being done for competitive reasons.
To say this is "disappointing" is clearly a huge underestimation of our feelings on this subject, but there are no known legal (SEC) requirements to disclose such figures.
Of course, Hanwha Q CELLS is not alone amongst US-listed companies in withholding 'precise' quarterly module shipment figures. First Solar for example provides 'indicators' to quarterly shipments based on annual guided shipments, while SunPower shows shipments as 'recognised' (revenue) and shipments as 'deployed'.
Hopefully in the near future, Hanwha Q CELLS will decide on a format that still provides insight, without giving away sensitive business information.
However, all is not lost on the shipments front for now, as we will be covering this aspect and its manufacturing capacity changes in reporting Hanwha Q CELLS second quarter results, in the normal news section of the PV Tech website. A link will follow shortly.