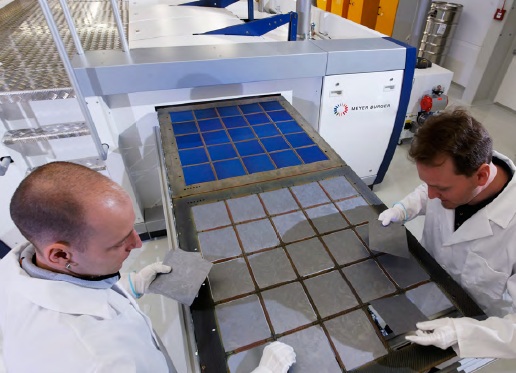 Leading PV equipment supplier Meyer Burger has received a CHF 15 million repeat order for its 'MAiA' 6.1 PECVD tool for PERC passivation processes from a leading Asian customer, according to the company.
Meyer Burger said that MAiA 6.1 cell coating platform order was a signal of a new wave of high-efficiency PERC cell capacity expansions.
Dr Hans Brändle, CEO of Meyer Burger, stated: "Today's announcement of a repeat order from a leading PV module manufacturer for our next generation MAiA® 6.1 signals the beginning of ambitious new PERC expansion plans by the solar industry."
MAiA 6.1 cell coating platform is said to have a throughput of over 6,000 wafers per hour for mass production scalable PERC technology.
Meyer Burger's CTO, Dr Gunter Erfurt added, "Meyer Burger's proprietary passivation technology for PERC solar cells is based on our own IP which is patented in the EU as well as in China and Korea. The patents describe and claim the deposition method, the tool configuration, the process sequence as well as the resulting passivation structure on the solar cell. Thus, PERC solar cells processed on our leading MAiA platform apply a significantly different passivation structure compared to the structure e.g. applied using atomic layer deposition (ALD) and are not in the scope of the recently filed patent infringement claim by a leading PV company against other solar manufacturers."
Dr Erfurt was referencing the recent patent infringement cases issued by Hanwha Q CELLS against JinkoSolar, LONGi Solar and REC Group in respect to its [215] patent that was issued in the US in February, 2018. The patent includes a specific passivation layer structure that is comprised of a first layer including aluminum oxide deposited by ALD that is below 50nm in thickness with a second and thicker dielectric layer imbedded with hydrogen that forms a specific layer structure that is typical in PERC solar cells as well as cell derivatives.