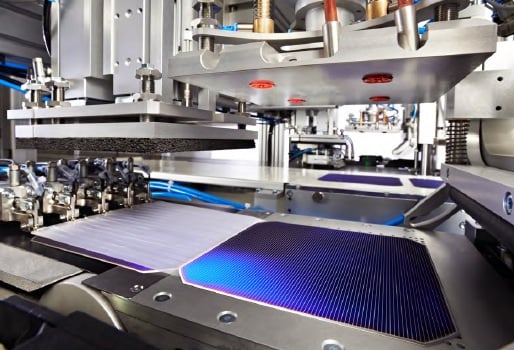 Leading PV manufacturing equipment supplier Meyer Burger is undertaking another round of cost cutting, product rationalisation and manufacturing restructuring to improve profitability.
Meyer Burger is set to close its manufacturing facility in Thun, Switzerland, which has been the main site for the assembly of its diamond wire wafer cutting tools. The highly successful technology will instead be assembled in China, due to the close proximity to the majority of solar wafer manufacturers.
Meyer Burger said that the shift of diamond wire equipment assembly to China would occur during the course of 2018.
The company built the Thun facility, which is also its headquarters in 2012.
The Thun facility also produces module assembly tools and is home to its BIPV (Building Integrated Photovoltaics) manufacturing under its Solar Systems segment.
Meyer Burger said that its module busbar technology and JT module laminator technology would be discontinued. However, its SmartWire Connection Technology (SWCT) would be its main focus at the module equipment level.
The company is also ending BIPV production at the Thun facility in 2018, noting that it would seek 'strategic alternatives' for its 'MegaSlate' panel business used in the Swiss market.
The company also said it would assess solutions for production and logistics space no longer used at the facility.
As a result, all manufacturing activities at the Thun facility are expected to be discontinued by the end of 2018 and will lead to the loss of around 180 jobs over the next 15 months.
However, the non-manufacturing operations at the Thun facility would be dedicated mainly to global sales and marketing, services, research and development as well as headquarter activities.
The company also plans a reorganisation of its subsidiary based in Eindhoven, Netherlands, which operates ink jet printing solutions and thin-film encapsulation technology that will affect around 75 employees during 2018.
Hans Brändle, CEO at Meyer Burger said: "The decisions to close down production in Thun in 2018 and to reorganise certain parts of our product portfolio were difficult to take. Especially since it also affects many long-term employees of Meyer Burger. But this transformation and reorganisation has become unavoidable and necessary to improve the Group's operating efficiency and to secure the future of Meyer Burger. We will ensure that the personnel measures are carried out in a fair, respectful and socially responsible way," added Brändle.
The closure of the Thun facility is expected to lead to a one-off non-cash related extraordinary charge of about CHF 40 million (US$40.02 million), as the company makes a write-off of worldwide inventory and impairment on the building and impairment of intangible assets. Meyer Burger said that the costs would be recorded in its 2017 financial year.
However, the restructuring would also cost Meyer Burger CHF 10 million for product transfer and personnel costs. Around 50% of the costs were expected to be recorded in the 2017, while the remaining costs would be record throughout 2018 financial statements.
Meyer Burger expects the latest restructuring round to improve EBITDA by around CHF 10 million (US$10 million) per annum from 2019 onwards.
The company reiterated 2017 sales guidance to be in the range of CHF 440-460 million but lowered EBITDA guidance to CHF 5-15 million.