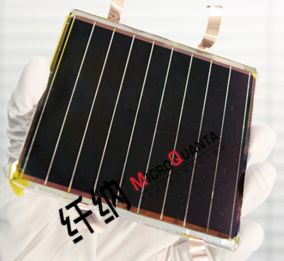 China-based thin-film PV firm Hangzhou Microquanta Semiconductor has claimed a new efficiency record for perovskite mini-modules of 15.24%, certified by Newport PV Lab in Montana, US.
The tested mini-module has an aperture size of more than 16cm2.
Microquanta said that by passing the 15% efficiency milestone for the first time, with previous records around the 12% mark, it has moved significantly closer towards commercialization of perovskite solar cells. It also claimed that perovskite mini-modules are desirable since they can reduce the manufacturing cost of current c-Si based solar cells by between 60-80%
Professor Yang Yang, from engineering institute, UCLA, said: "In the past, perovskite solar cell is more or less like an academic research project, but with the new results from those young scientists, it has [moved] one giant step closer to the commercial applications."
Professor Jenny Nelson, Royal Society fellow of the Physics Department, Imperial College London, said: "Perovskite semiconductors are one of the most exciting materials for solar photovoltaic energy conversion, as they have led to remarkably high power conversion efficiencies in spite of being made by relatively simple, low cost techniques.
"Until now, one of the bottlenecks in bringing perovskite solar panels to market has been the drop in performance in a module, where many cells are linked together, compared to a single cell. Before this breakthrough the best performance of a perovskite mini-module was 12.1%, and now Microquanta have pushed the record to 15.2%."
Microquanta was established in Huangzhou in 2015.
Last May, Imec and its Solliance partners fabricated a semi-transparent perovskite PV-module, achieving power conversion efficiencies up to 12%.