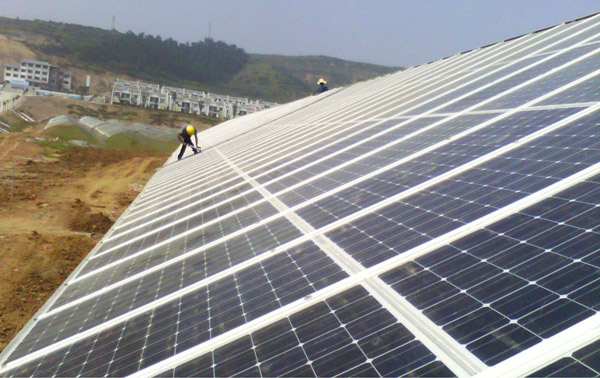 Module prices in India will remain 14% lower than eight months ago even after the imposition of a 25% safeguard duty on imports, according to analysis by IHS Markit.
Dharmendra Kumar, analyst, solar energy, IHS Markit, told PV Tech that many questions remain about how the safeguard duty will be played out and it is too early to predict how many Indian PV installations there will be in the second half of 2018, following the close to 7GW of deployment that IHS Markit tabbed for the first half of the year.
In his analyst note, Kumar said: "Prices for Chinese modules in India were reported at around US$0.25/W before the safeguard duties came into effect. That is a 30% drop from the end of 2017. Safeguard duties raise prices to US$0.31/W, which is still 14% lower than eight months ago. The question for Chinese module suppliers is whether that price will remain competitive against India and South East Asia manufactured modules."
Whatever price Indian module suppliers are able to offer, it is clear that there would still not be nearly enough capacity to meet demand.
Pass-through
Remarking on the uncertainties surrounding the duty imposition, Kumar said that the Ministry of New and Renewable Energy (MNRE) has already reached out to the Ministry of Finance to call for ongoing projects to be exempted from the safeguard duty.
Indeed Sunil Jain, CEO of Indian developer Hero Future Energies, told PV Tech last week that developers had met with the MNRE secretary Anand Kumar, who had said ongoing projects would be given a pass-through option. However, there is still uncertainty and Jain also noted that even with a pass-through, how to implement it will be another problem. For example, many companies are still waiting for a pass-through on the Goods and Services Tax (GST) more than a year after its implementation.
Another issue is whether distribution companies (Discoms) will be willing to buy solar power at extra cost.
Kumar noted that there is already a worrying trend of solar procurers backing out of solar tenders because of prices being too high.
Solar Energy Corporation of India (SECI) for example recently cancelled 2.4GW of projects out of its 3GW tender, citing high prices, yet those tariffs were discovered even before the safeguard duty came in, thus throwing the progress of India's solar pipeline into disarray.
Only Acme Solar's 600MW of capacity discovered at a price of INR2.44/kWh was permitted to go ahead by SECI. Kumar said that with a pass-through option on the duties, Acme's projects could go ahead, but without a pass-through, the chances of them becoming profitable are in doubt.
Predictions for deployment in H2 2018 would also be dependent on how many modules were imported to India in June and July before the duty was brought in, said Kumar.
Attracting manufacturers
On the domestic manufacturing side, IHS Markit does not see the duties attracting more capacity to India. Indeed, as the duties are only two years long, which is about the time it takes to set up a manufacturing plant, the firm does not expect major additions of cell-manufacturing, besides the 1.5GW announced by JA Solar and LONGi. Moreover, India is still likely to continue importing cells from China and Malaysia.
Ultimately, IHS Markit stated in its analysis: "The immediate impact of the measure is a near-term aggravation of the current global oversupply of PV modules, an increase of PV module prices in India, and a brief halt in Indian PV project development as developers adjust procurement strategies. New tenders also risk being delayed or cancelled. […] Such delays would mainly impact installations in late 2019 and 2020."