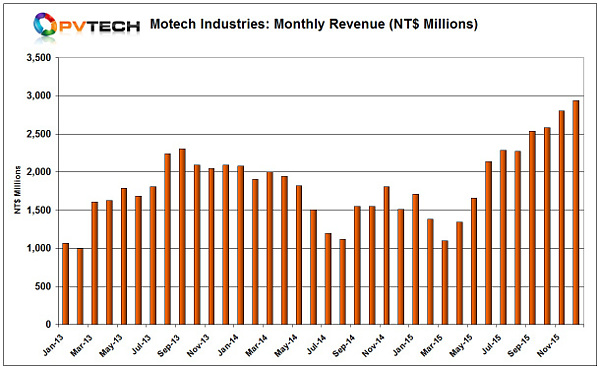 Taiwan-based merchant solar cell producer Motech Industries has reported December, 2015 sales reaching a new record high, the fourth consecutive month of record sales.
Motech reported record December sales of NT$2,941 million (US$88.3 million), up 4.85% from the previous month.
Preliminary fourth quarter sales topped NT$8,330 million, (US$250.3 million), up from NT$7,097 million (US$213.2 million) in the previous quarter.
Preliminary 2015 sales topped NT$24,754 million (US$743.8 million), up 23.9% from the previous year.
Motech had merged with rival Taiwanese solar cell producer Topcell Solar International (TSI) since June 2015 and has benefited from improving margins and higher shipments, which topped 737MW in the third quarter of 2015.