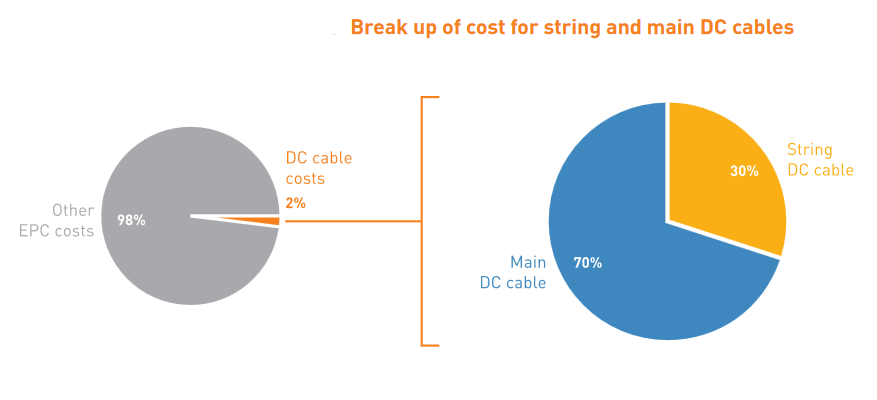 Many Indian solar projects are underperforming because intense pressure to reduce costs is leading to developers and contractors selecting poor quality components and sub-optimal designs, according to consultancy firm Bridge to India.
For example, DC cables, which are used to interconnect modules and to connect modules to combiner boxes and inverters, account for just 2% of project costs, but can impact project output by as much as 15%. Poor implementation of DC cables can result in underperformance and even fires.
In a change from the sector's extensive focus on cells and modules, which usually account for 75% of project costs, Bridge to India is curating a new series known as 'India Solar Excellence', which will involve separate reports for individual components including cables, connectors, junction boxes, circuit breakers and mounting structures, which tend to account for roughly 10% of total project costs.
Bridge to India has highlighted the need to educate the sector and ensure high performance standards in a rapidly evolving market. This will require skilling initiatives, customer education as well as enforcing tighter technical standards.
In its first report on DC cables, the consultancy stated: "DC cable design did not receive due attention in the early part of solar market development in India and continues to be a problem even now."
Following aggressive cost-cutting, Bridge to India has reported anecdotal evidence of multiple projects performing poorly and affecting financial returns for the investors, attributable largely to poor design and selection of DC cables.
The firm added: "This is a worrisome situation because stories of poor operating experience can turn away new entrants and investors, in turn, jeopardising long-term growth outlook of the sector."
Other issues include a lack of an India specific standard for these cables, difficulty in ascertaining the quality of DC cables before connection, and difficulty in quantifying the role of DC cables in voltage drops between the module and inverter. There is also a need to establish the choice of optimal material for cable use, whether it be copper or aluminium.
In light of India's huge 100GW by 2022 solar target, Bridge to India said it was crucial to focus on quality to ensure highest possible returns. On a separate note, there have been concerns for some time over the quality of modules and project execution in India.