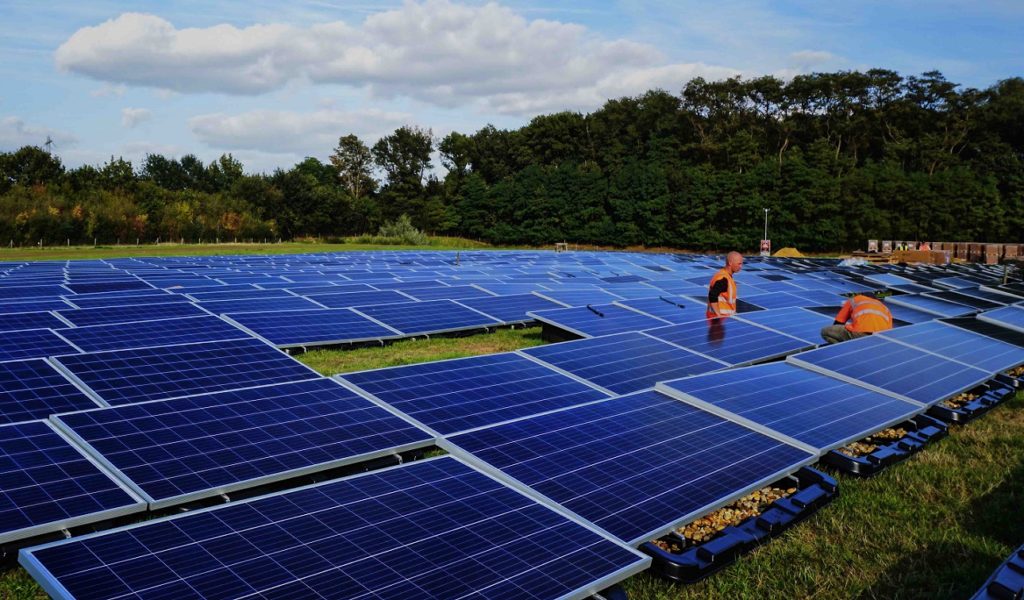 Newly formed solar developer AMPYR Energy USA will aim to offset lower returns from power purchase agreements (PPAs) by leveraging merchant markets to increase revenue.
That is according to the team behind the company, a joint venture (JV) between asset management group AGP Sustainable Real Assets and energy trading firm Hartree Partners that is looking to build a 5GW solar platform in the US.
With the tenure of PPAs beginning to shorten, there is now more of a requirement for solar developers to start accessing merchant markets to boost returns, said Abraham Kozhipatt, partner and co-head of renewable infrastructure assets at Hartree Partners.
Speaking during a media call following the announcement of AMPYR Energy USA's launch yesterday, Kozhipatt said he is seeing renewables PPAs being set at a level where the returns are "very skinny" for anyone who wants to access a PPA as a way of cementing the revenue and thereby being able to access debt financing or tax equity.
"And this is just really problematic because it's not really leaving much by way of returns to developers."
While it is expected PPAs will be the linchpin of the JV's revenue profile, Kozhipatt said the company aims to use merchant markets "to create synthetic revenue streams that provide you with both a higher return upfront, by commingling it with the PPA, but also then being able to warehouse risk and be able to maximise returns post the PPA tenure".
While experts have warned that shifting to shorter-term PPAs can pose challenges in terms of project finance, corporations in Europe are said to be more open to delaying PPA contract start dates so they can benefit from lower PPA prices, allowing project developers to capture short-term wholesale market upside.
The formation of AMPYR Energy USA comes just over a year after AGP and Hartree Partners announced the launch of AMPYR Solar Europe (ASE), combining the former's project development experience with the latter's power trading analytics solutions. Closing a €400 million (US$455 million) loan facility last month, ASE plans to develop 5GW of solar, bringing more than 2GW into operation by 2025 in markets such as Germany, the Netherlands and the UK.
Kozhipatt said that financing facility will enable ASE to advance the 5GW pipeline but also have a portion of it in operation in the next two to three years, adding: "That's a timeframe that we think is achievable in the US as well. Obviously, if we can find transactions it can accelerate that."
The AMPYR Energy USA team did not reveal which US states they will focus on, but management did announce that the company will look to develop both solar-plus-storage and standalone PV plants.
In terms of engineering, procurement and construction (EPC), the JV is currently a couple of quarters away from engaging a partner, but will expect to appoint external contractors, according to Saurabh Beniwal, partner at AGP and board chair of AMPYR Energy USA.
"We do also have certain global relationships, current as well as past, which we've leveraged successfully in Europe, and the expectation is that we would similarly bring those relationships to bear in the US," he said.
ASE earlier this month revealed plans to develop 9MW of solar, 1.5MW of battery storage and 40 electric vehicle charging points at Edinburgh Airport, Scotland, which will buy output from the PV project through a long-term PPA. Due to be connected to the airport via a high voltage private wire network, the solar farm is expected to be fully operational by the start of 2023.
"This then brings together the concept of private wire networks, batteries, but also effectively we're engaging directly with a corporate," Kozhipatt said. "I think that being able to bring together these various elements is going to be hugely critical to the ability to maximise returns in the solar space."