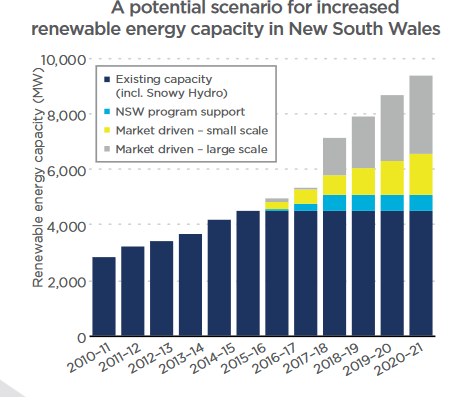 Australia's New South Wales (NSW) government has released draft proposals to help meet a goal of zero carbon emissions by 2025 partly through increased investment in renewables and energy efficiency.
In its five-year 'Draft Strategic Plan' 2017 to 2022, the NSW government stressed the need to unlock investment to meet the Renewable Energy Target (RET), which could see the state's renewables capacity double by 2022. Action on the RET across Australia had been hampered by 16 months of uncertainty until June last year, but attacks on the target were ramped up in the wake of the general election last July.
There are already more than 330,000 households in NSW that have installed solar on their rooftops and the state is home to three of Australia's largest utility-scale solar plants, Nyngan (102MW), Moree (56MW) and Broken Hill (53MW).
The state now plans to investigate a competitive 'Contracts for Difference' funding model to guarantee a minimum price for output from up to 250MW of new large-scale renewable energy systems.
It also plans to issue more power purchase agreements (PPAs) for renewable energy projects to build on the successes of a previous 50MW solar PPA. There will also be a greater focus on solar thermal, pumped hydro and large-scale battery storage to complement the more established solar and wind technologies.
Many of the new actions in the draft proposals will be driven by US$500 million of new funding from the state's US$1.4 billion Climate Change Fund.
NSW environment minister Mark Speakman said: "[The plan] sets out possible investment actions to stimulate investment in advanced energy in NSW, to build climate resilience and to help households and businesses use energy more efficiently."
Campaign group Solar Citizens said the NSW government plans mark a fundamental move away from the policy direction of the central government by shining "a spotlight on the absence of any credible policy on renewable energy post-2020 from the Federal Government".
However, Claire O'Rourke, national director, Solar Citizens, also said: "NSW still has a long way to go when it comes to its renewable energy capacity and projects. For a long time it has lagged behind other states, many of which are already implementing sensible, meaningful targets that are driving clean investment and jobs."
The NSW government is now looking for feedback on its proposals.