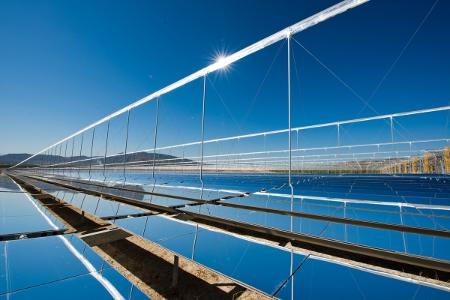 Indian energy firm Thermax and German concentrated solar power (CSP) company Frenell have been awarded a contract for what is claimed to be Asia's first integrated solar thermal power plant by India's largest utility NTPC.
The plant will be located at at Dadri in the Indian state of Uttar Pradesh and will integrate a concentrated solar field with the Dadri coal-fired power station. Construction started on 4 November with completion scheduled for September next year.
Frenell will provide its CSP technology, which is based on flat mirror Fresnel collector principle. On a surface of 33,000m2, the solar field will feed 14GWh of solar thermal energy per year into the water-steam cycle of a 210MW unit of the power station. The mirrors concentrate the sunlight on absorber tubes and heat the fluid up to 250°C. The heat generated from the solar field will then heat the feed water supplied to the steam generator, allowing for lower coal consumption.
Under the competitive tender for the project, this technology won out over parabolic trough and solar towers alternatives.
Thermax is responsible for EPC of the project and integration into the coal-fired power station.
"This project is of high strategic importance for India as it introduces a new option for power generating companies to improve the efficiency of their coal-fired power stations. This solution will also contribute to the national target of at least 3% solar share of total power generation by 2022," says M.S. Unnikrishnan, CEO, Thermax. "Compared to green-field CSP plants, this is a cost efficient application as the existing thermal power station infrastructure can be used."
The total market potential for integrated solar thermal in India is estimated to be 1.7GW.
Frenell is also planning to localize its solar field component manufacturing and supply chain in India.