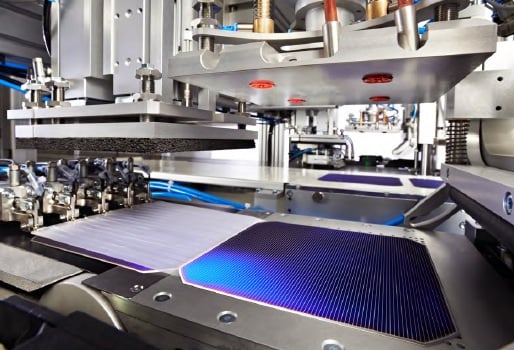 Updated: Leading PV manufacturing equipment supplier Meyer Burger Technology has made some major made changes to its senior management and plans for new Board directors, led by the stepping down of CEO for 14 years, Peter Pauli.
Pauli is said to be stepping down from the Board of Directors of Meyer Burger Technology Ltd on 2 December, 2016 but will remain available to the Board of Directors and the new CEO in a consulting role. The role is expected to be supporting major customer relationships.
Alexander Vogel, designated Chairman of the Board of Directors, said: "Peter Pauli has led the company as CEO for the past fourteen years and has made a very significant contribution to building Meyer Burger into a globally recognised market and technology leader in the photovoltaic industry. We sincerely thank him for his deep commitment which was exemplary and very impressive."
The new CEO, effective January 1, 2017 will be Hans Brändle, previously the CEO of Oerlikon Coating, which notably focused on PVD and PECVD technologies that are now being used in the solar industry for PERC and heterojunction cells.
However, Meyer Burger focused on highlighting that Brändle had cut costs at Oerlikon Coating during the 2008 to 2009 global economic downturn and turned the business around in later years.
The company is also appointing Alexander Vogel to the role of Chairman of the Board of Directors from Peter M. Wagner on 2 December 2016, the date of its Extraordinary Shareholders' Meeting in respect to previously planned restructuring and recapitalisation programme with bondholders. Vogel has been Vice-Chairman of the Board of Directors of Meyer Burger since 2006.
Alexander Vogel commented: "Peter M. Wagner has executed his responsibilities within the Board of Directors under some very difficult market conditions and he is completing his role with significant measures for our company and a smooth transition of leadership. On behalf of the Board of Directors I would like to thank him for his work and we wish him all the very best for his future."
Meyer Burger is also planning to add experienced executives to its Board of Directors, notably the former Chairman and CEO of Applied Materials, Michael R. Splinter who retired from the company in 2015.
Splinter was in charge of Applied Materials when the company rapidly expanded its business into the solar industry, including the acquisition of Swiss-based Precision Wafering Systems (PWS), once a direct competitor of Meyer Burger in the wafering wire saw sector.
Applied Materials remains active in the solar sector via its subsidiary Baccini, a key solar cell screen printing supplier and a cell processing step that Mayer Burger has no current presence.
Splinter is expected to provide support to the Board of Directors and management as designated Delegate of the Board of Directors beginning 1 January 2017.
At the Ordinary Shareholders' Meeting on 27 April 2017, Michael R. Splinter and Hans-Michael Hauser, founder of founder of ML Insights AG and previously Boston Consulting Group will be proposed for election to the Board of Directors.
Update
At the bondholders' meeting, Meyer Burger gained a two-thirds majority to remove the right to request for an early repayment of the CHF 100 million in bonds before 2020 for an annual increase in interest from 4.0% to 5.5% per annum. A court approval is sought next.
The company reiterated that this was the first step in implementation of its recapitalisation programme as it restructured operations