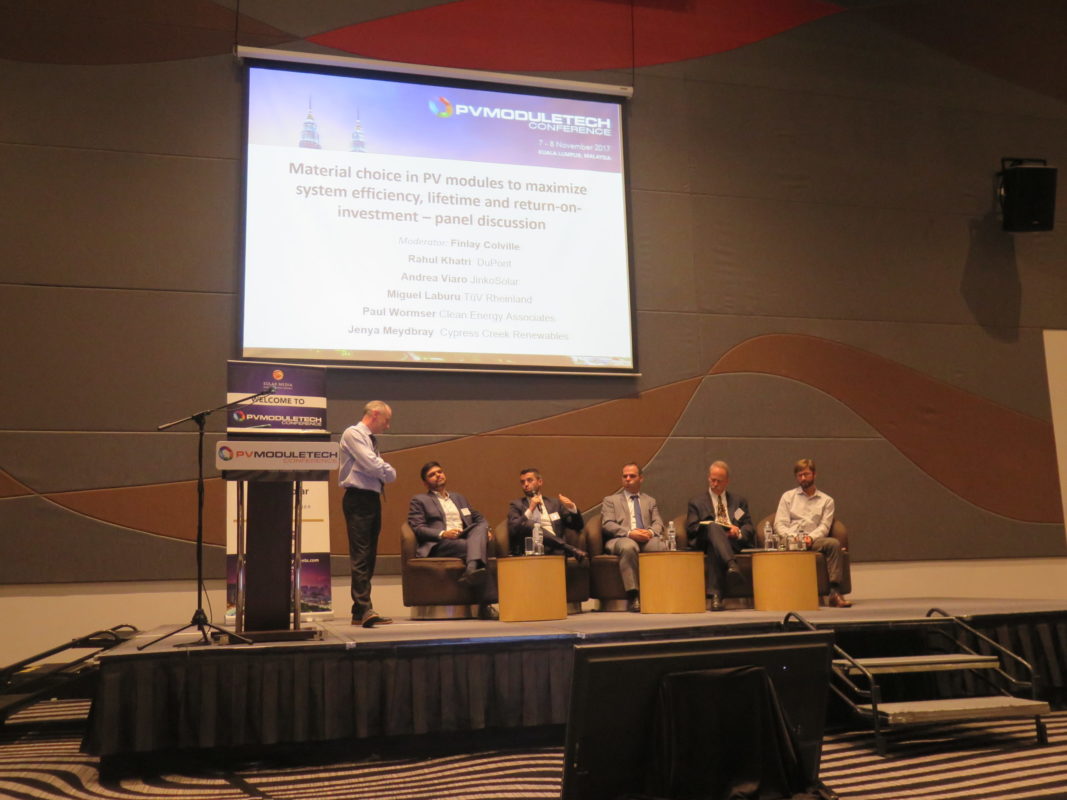 PV module manufacturers hoping to get new technologies taken up by the market quickly and at scale need to generate as much information as possible from testing houses and certification bodies for the finance community to consider their product, according to a representative of one of the world's largest solar developers.
In the absence of five years or more of "compelling field data" in module innovations such as bifacial and mono-PERC configurations, the next best thing a manufacturer can do is to work extra hard in getting additional testing, factory audits and bankability reports, said Jenya Meydbray, VP of solar technology at Cypress Creek Renewables, a US-based company that has developed more than 5GW of solar projects.
On the opening day of PV ModuleTech 2017 in Kuala Lumpur, Malaysia, one of the key topics was how to progress the newest technologies into large-scale deployment, while also giving financiers and developers confidence in the product. Indeed, "building trust" was a key theme repeated by the many third-party testing houses and certification bodies present.
PV ModuleTech acts as platform for stakeholders across the supply chain to voice their concerns and wishes and in this panel discussion, Meydbray offered some key advice to the major global module suppliers present.
He said projects are driven predominantly by financing, so while manufacturers may assume they can sell a better performing module with new technology at a higher price, the banks want to know the module lifespan, its degradation, energy yields and a whole host of other factors before making any decisions.
Meydbray added: "If you start to add new technologies, even if its just a half-cut cell, shingling, PERC or if its n-PERC bifacial, or if its something more exotic, then the understanding of how that thing performs in the field is much poorer and we have to rely more on testing."
Independent engineers representing banks tend to be conservative in such situations, so finance concentrates on the tried and tested or "plain vanilla" technologies that have been financed many times already. They look for 5+ years of field-testing, a requirement that would "decimate" new industry innovations, unless the extra work is put in to sourcing independent accelerated lifetime testing, audits, and bankability studies.
"The more data that exists, the less conservative and the more realistic we can be when we are putting the plants together," Meydbray added.
Another complementary piece of advice was for manufacturers to put new module prototypes in the field as soon as they are ready, because even just six months of data is better than none.
Various testing regimes were explained by representatives of the whole supply chain on stage from materials (DuPont), manufacturing (JinkoSolar), certification (TUV Rheinland), quality assurance (Clean Energy Associates – CEA), to the developer (Cypress Creek). However, a Meyer Berger representative said there seemed to be "no easy pass" for any innovative technology to break through in the market.
Meydbray replied: "How do we get the industry innovating faster? We don't. We are power generators. We are a power industry. We don't innovate that fast. Bifacial and PERC existed 20-years ago; that's not new technology and there's still very little of it in the field because new innovation has to enter in a methodical way because we have two, three decades of service life expectation. That's what makes the economics work."
Paul Wormser, vice president of client solutions at CEA, who had earlier laid out the importance of highly stringent assessment of even the most minor changes in module architecture, said: "I don't think we are opposed to innovation, but we want to be careful about innovation sort of skipping over the required confidence building steps.
"We want to know that the selection of that innovation was built on a foundation of knowledge of something that came before it. We want to know that that innovation was rigorously evaluated, that it's really understood, the reaction kinetics, the mechanism in action and are they addressed.
"Innovation is a great thing, but lets not be penny-wise and pound foolish by bringing an innovation to market before its got some history or some validation. It doesn't need 30 years of validation, but an understanding and appreciation that builds confidence and builds trust is essential."
Bart Lucarelli, MD, power and utilites at AWR Lloyd, said the solution could be for module manufacturers to take the risk themselves and set up demonstration plants with their own new modules.