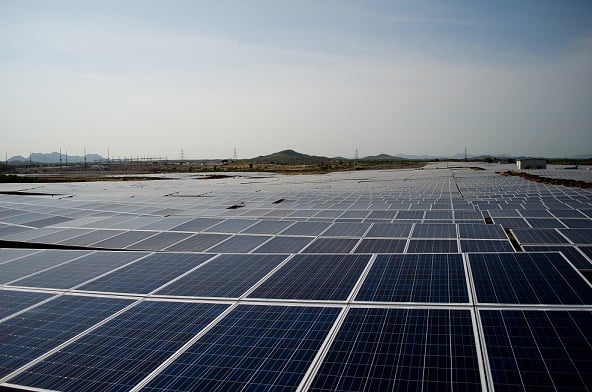 Despite multi-Gigawatt solar plans, the ability of India's public sector to compete in the PV market has been called into question by analyst firm Bridge to India.
The consultancy reported that public sector firms are incapable of achieving the aggressive cost optimisations that the private sector has been carving out through the consistent lowering of solar tariffs in competitive tenders for the last 18 months.
Bridge to India's findings came in the wake of a local report suggesting that Indian state-owned mining and power company Neyveli Lignite Corporation (NLC) had cancelled its plans to develop two 65MW of PV projects in Rajasthan because it would not be able to sell power to the local distribution companies (Discoms) at the price it had hoped to.
One of the issues facing NLC is its mandate under Domestic Content Requirements (DCR) to purchase solar equipment from local manufacturers, which adds to project costs compared to developers who can source modules at cheaper rates from overseas. Bridge to India said this has led to EPC costs for public sector projects being around 10-15% higher than for private sector projects in recent tenders. It also said that private solar developers now have "better financial engineering capability, more efficient operations and higher risk taking ability".
NLC is one of a number of major public sector firms in India that had announced serious solar capacity plans, not least the nation's largest utility NTPC, which aims to build 10GW under its own steam. Bridge to India's latest market update said that even NTPC is struggling to find off-takers for this capacity in an environment dominated by private sector firms that can bid low and very aggressively.
This difficulty comes despite public sector companies gaining from a lower cost of financing, for example with NTPC recently raising US$300 million through Green Masala Bonds at a yield of 7.48%.
Other public companies that have announced forays into Indian solar, as reported by PV Tech include among others: National Aluminium Company Limited (NALCO), Coal India Limited (CIL), NTPC-SAIL Power Company Private (NSPCL), a joint venture between NTPC and Steel Authority of India.
Bridge to India claimed that public sector firms' other traditional advantages such as preferential access to critical mining rights, transportation infrastructure and environmental permits, which helped them dominate hydro and thermal power, have a negligible effect on their ability to carry out successful solar projects.
The consultancy concluded: "Going forward, we expect the private sector to continue to dominate solar project development landscape in India. Unless there is an external financing or procurement shock, the market is likely to stay extremely competitive as we have seen over the last two years."
Bridge to India recntly said that Indian corporates had also started to dominate the country's solar industry.