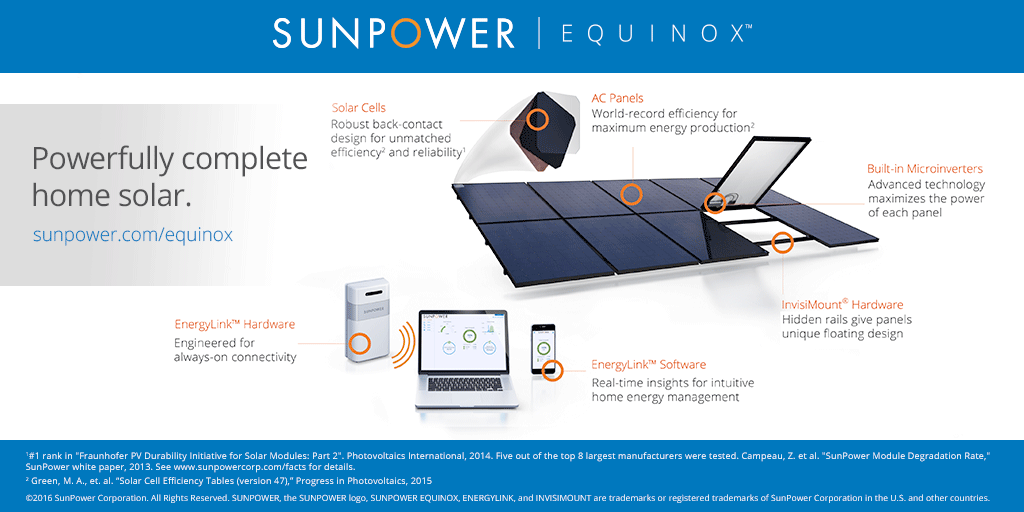 SunPower has launched its 'Equinox' solar PV system to the US residential market that is claimed to be the first solution in the country in which every major component has been designed and engineered by one company to work seamlessly together, delivering the highest power, long-term performance and aesthetic appeal. With a typical SunPower Equinox installation, only the solar panels and a Smart Energy management device are visible, reflecting SunPower's minimalist architectural approach at the system level.
Problem
Conventional residential rooftop solar design and systems can be complicated and not harmonious, with companies assembling disparate parts and each built in isolation by different manufacturers. A piecemeal approach can result in decreased performance, substandard reliability, low-quality aesthetics, and longer installation times, increasing installation costs and return on investment.
Solution
SunPower's 'Equinox' fully-integrated system is specifically designed to deliver 70% more electricity generation in the same space over 25 years (1) with 70% fewer visible parts (2), all backed by one company with one warranty. This is intended to provide the most efficient (3) and reliable (4) residential solar power system available that also complements the aesthetics of a building.
(1) SunPower 345W, 21.5% efficient compared to a conventional panel (250W, 15.3% efficient, approx. 1.6 m2), 9% more energy per watt, 0.75%/yr slower degradation. BEW/DNV Engineering "SunPower Yield Report," 2013 with CFV Solar Test Lab Report #12063, temp. coef. calculation. Campeau, Z. et al. "SunPower Module Degradation Rate," SunPower white paper, 2013. See www.sunpowercorp.com/facts for details.
(2) Analysis of SunPower Equinox™ system versus residential solar systems containing conventional panels, string inverters and racking hardware.
(3) Highest of over 3,200 silicon solar panels, Photon Module Survey, Feb 2014.
(4) #1 rank in "Fraunhofer PV Durability Initiative for Solar Modules: Part 2". Photovoltaics International, 2014. Campeau, Z. et al. "SunPower Module Degradation Rate," SunPower white paper, 2013. See www.sunpowercorp.com/facts for details.
Applications
US residential rooftops.
Platform
High-efficiency SunPower solar panels, including the X22, which delivers greater than 22% efficiency and 70% more energy than conventional solar panels from the same space over 25 years. SunPower microinverters are integrated into each solar panel at SunPower assembly facilities rather than attached by hand on rooftops as with conventional solar systems. SunPower microinverters are specifically designed for SunPower panels, and enable each panel to operate at peak performance independently. SunPower microinverters also allow for system designs that safely conceal wiring behind walls and under roofs, eliminating a need for visible conduit. The low-profile, all-black SunPower InvisiMount® mounting system, engineered to be hidden beneath solar panels and hardly seen. It installs on rooftops quickly and easily due to its pre-assembled and intuitively designed components. SunPower's 'EnergyLink' ecosystem, a Smart Energy management platform tracks energy production and consumption in real time. Preconfigured wiring inside expedites both system installation and commissioning. The software offers an intuitive user interface, empowering homeowners to set energy goals and take control of their energy future. A 25-year product and power warranty exists for the entire solar array consisting of SunPower solar panels, the factory-integrated microinverters, and the 'InvisiMount' mounting system.
Availability
March 2016 in the US.