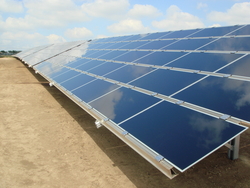 PSEG Solar Source, Platte River Power Authority and juwi announced the completion of the 36MW PSEG Rawhide Flats Solar Center Thursday.
The PV installation is located 40km north of Fort Collins, Colorado, and was developed on a 76-hectare site leased from the power authority at the Rawhide Energy Station and will produce enough energy to meet the needs of 8,000 homes in Colorado.
Diana Drysdale, president of PSEG Solar Source, "We're pleased to partner with Platte River Power Authority to bring emission-free energy to its customers and in helping Colorado achieve its renewable energy goals. By investing in solar projects like this one, we at PSEG are doing our part to lay the foundation for a clean, green and economically vibrant energy future for everyone."
PSEG Solar Source has a 25-year power purchase agreement in place with Platte River — a wholesale generation and transmission provider.
juwi developed the installation and served as its engineering, procurement and construction (EPC) contractor. The project is comprised of around 117,000 polycrystalline panels.
The Rawhide Flats project has been in startup mode for the past week and should begin commercial operations soon.