The fourth PV CellTech conference will take place in Penang, Malaysia on 12-13 March 2019, with the excitement starting to build up once again.
PV CellTech has now firmly become the must-attend event on the PV calendar in order to understand the current mix of PV cell technologies used in existing multi-GW cell fabs, and to learn exactly how cell efficiencies and costs will progress over the next 12-18 months.
This article requires
Premium Subscription
Basic (FREE) Subscription
Unlock unlimited access for 12 whole months of distinctive global analysis
Photovoltaics International is now included.
Regular insight and analysis of the industry's biggest developments

In-depth interviews with the industry's leading figures

Unlimited digital access to the PV Tech Power journal catalogue

Unlimited digital access to the Photovoltaics International journal catalogue

Access to more than 1,000 technical papers

Discounts on Solar Media's portfolio of events, in-person and virtual
Or continue reading this article for free
When we started PV CellTech back in March 2016, we envisaged the event filling the void that existed in the PV industry between the academic blue-sky research gatherings (such as PVSEC or the IEEE events) and the often-disappointing satellite events that are bolted on to the major trade events that occur during the year (Intersolar, SPI, SNEC, etc.).
However, PV CellTech has now become much more than this, and is now setting the benchmark as the effective PV technology roadmap report, with the ability to track cell processing trends at the GW-level, with most of the CTOs and heads-of-R&D from the top-20 cell makers of the industry giving the presentations on stage at PV CellTech.
This article outlines what to expect at the forthcoming PV CellTech 2019 event on 12-13 March 2019, and discusses a new forum we have created during the two-day event, where the term 'PV Roadmap' will be analysed in greater detail than seen at any PV event in the past.
Also, as an added treat, I have used this feature to explain how to forecast n-type adoption rates in the PV industry over the next five years!
Why technology matters today in PV
The timing of PV CellTech (going into its fourth year on March 2019) could not have been better, with the PV industry undertaking the first meaningful technology upgrade seen in over 10 years; namely, the move from multi-to-mono, Al-BSF-to-PERC, and mono-to-bifacial cell operations.
What the industry is currently seeing across downstream channels (phasing out of multi, mono market-share gains, PERC-everywhere, and bifacial making inroads) was actually covered in detail at the first PV CellTech events during 2016 and 2017. In this respect, the event is largely offering a crystal ball into final-module performance levels and site-yields, some two years out.
This is exactly what a technology roadmap should do. Few – if anyone – is remotely interested in 10-20 year technology forecasts that serve to confuse, not assist. Indeed, as we start to finalize the agenda for the March 2019 event, we segment discussions into:
• Current state-of-the-art GW-level cell processing; today
• Incremental enhancements (such as half-cut/singulated cell designs, alternative means of passivation deposition and contacting, etc.) that can impact on cell performance over the next 12-18 months; near-term
• The next major inflection point that we can expect to see gaining traction over the next 3-5 years; mid-term
By far, the most interesting and critical in terms of company competitiveness can be found in the final category above. Can we really predict with confidence the next major shift in mass-production of solar cells? Or how fast it will occur? Read on please…

Why long-term forecasts are not working
If we conveniently ignore the yesteryear PV technology roadmap projections (that would have had us tracking triple-junction a-Si based panels as the leading technology today!), and look purely at the c-Si side of the equation (>95% of the world today still, and no chance of this changing anytime soon), one thing should jump out, as follows:
When the PV industry makes a technology-change, everyone does this at once, or at least over a 12 month period. Examples here include diamond wires for wafering and Al-BSF to PERC for mono cells. To suggest that multi will be phased out over 10 years is not how the PV industry works. For 'years', read 'months', or have a very good justification why a second-rate technology should exist in an industry once a superior one gains dominant market-share status. (Think VHS-Betamax from a marketing standpoint.)
Therefore, it is best to leave the 10-20 year technology forecasts aside, and ask: what next after p-mono PERC bifacial cells? During 2019, p-mono PERC becomes the mainstream offering (with bifaciality an option that is a consequence of the move to PERC, not a justification).
Lots of ideas, but how many are impartial!
Often, the loudest voices on technology-change come from those that would benefit most: research institute's seeking technology-transfer revenue streams, equipment makers with unique tool capability, or companies that are early movers into a non-standard niche technology space.
However, these often tend to be diversions from the fundamental driver for technology-change: market-competitiveness. In this respect, if we look at the major changes in technology over the past five years, these have come from LONGi wishing to dominate wafer supply (with low-cost mono pullers in hitherto-unimaginable fab capacities) and early cell movers into PERC (in particular JA Solar).
As such, any key technology upgrade or inflection point in cell manufacturing that may occur in 3-5 years must have a reference point today that has traction with the leading c-Si manufacturers. Indeed, while the past three years have been all about multi-to-mono swing factors, the next move (in the new mono-pulling PV world) will be cell-process driven.
In fact, while multi (cheap, low-barrier-to-entry) casting took PV into the low-cost manufacturing age, it will be mono that moves it from fab-standard to fab-advanced. While we need to be careful not to overuse numeric terminology to characterize any pseudo-paradigm shift, there would be a case for associating the move from multi-to-mono as taking us firmly into Solar Cell Processing 2.0.
Yes, PV was all mono before directional solidification catapulted solar into the mainstream (and away from being a semi-spin-out activity) but there have only really been two main technology phases of the 'commercial' GW-solar age: multi-stimulated and mono-finessed.
All mono-roads lead to n-type
Once we accept that PV is in a mono-mainstream era, then we can finally talk about n-type in a way that was impossible before.
Not possible because without plentiful supply of low-cost mono wafers (or indeed sufficient high-purity silicon feedstock), n-type is niche, with cell makers hamstrung by the lack of competitive wafer supply. The industry moving to p-mono PERC today changes everything here.
This takes us back to the multi-to-mono flip being wafer-driven (LONGi and the others), not cell-demanded. Today, arguably, mono has the lowest cost structure for wafer supply (factor in LONGi's cost-model and underutilization costs eroding multi wafer margins). It is no longer a requirement for mono wafers suppliers to enforce the LCOE argument to ensure a 10-15% ASP delta. PV mainstream is the lowest-cost offering, as simple as that.
As a result of this, there is also an argument to reset the PV technology roadmap, and simply project out what a high-purity low-cost mono wafer supply environment will do for cell makers.
Apart from the inevitable short-term enabler for me-too p-type cell producers to have premium performing cells on the market, crucially it allows n-type plans to have far greater meaning and relevance.
The move from p-type mono to n-type is probably as inevitable as the p-type multi to mono transition that is in mid-flow now and set to conclude in the next couple of years.
Technology-leaders, first-China movers and final-market-winners
The subtitle above perhaps sums up where we are with n-type today: a technology that is still less than 10% of c-Si cell output, but could easily start on a trajectory from 2019 that would make it the mainstream offering in five years from now.
Today, we have three companies that serve to illustrate that the three n-type variants (PERT, HJT, IBC) can be manufactured at the GW-scale with (STC) efficiencies above the best-in-class p-type offerings.
Indeed, if we factor in temperature coefficients, then the case for n-type is utterly compelling. The only thing lacking from these three companies is low-cost multi-GW production as part of a corporate operating model that can live with the resulting modules sold having gross margins in the 10-15% range.
SunPower, Panasonic (Sanyo-technology-inherited) and LG Electronics remain the technology-leaders today, and the ones that others seek to emulate from a process technology standpoint.
Then we have the first-China movers; a group of companies that have accessed funds in China in the past few years and equipped factories with tools to make up production lines. This represents a mixed bag by all accounts, with a technology-hunger that cannot be questioned. Knowing how to make high-efficiency cells however is a totally different matter, and cannot be 'bought'.
Moving into GW-scale n-type production is not something that is easily carbon-copied through aligning with equipment suppliers, in the way that most of China was able to get into p-type cell production (in particular multi) in the past.
The reason for this is very simple. The three n-type companies that have succeeded in understanding how to make n-type cells have owned the IP and instructed tool makers what to do: not the other way around. Therefore, the tool makers are not (yet) the conduits of processing know-how, although many do have exquisite single-step expertise in-house; as every tool maker knows, the whole line is an altogether different proposition.
It is highly unlikely any of the n-type cell producers in China today will emerge as market-leaders in 3-5 years from now. However, in terms of the overall move from p-type to n-type, they will command a role of sorts; perhaps if only to highlight that premium cell production is a skill learned, and not one for sale today on the supermarket shelves.
The n-type market-winners
Maybe not the eventual winners, but at least the winners in the first post-p-type technology migration; perhaps the most important sign can be seen by the fact that the threat of n-type by the China-early-movers has forced the SMSL cell makers in China (not to mention the new pure-play multi-GW makers) to be ready for GW scale deployment if needed.
Almost certainly within the next 12 months, we will hear about the first GW expansion plans from the c-Si market leaders. When this happens, everything changes for n-type.
However, perhaps it is best to pause for now!
The reason for the extended n-type discussion above is very simple: it is one of the key themes for PV CellTech 2019, and the stimulus behind the extended PV Technology Roadmap session that will occupy the entire afternoon on the closing day for the event.
Themes for PV CellTech 2019
For those that have attended PV CellTech over the past three years, the scope of the event will be the same: hear from the CTOs of the leading cell makers; understand the manufacturing landscape over the next 12-18 months; find out the new production tools gaining traction in cell lines; find out the progress of the new cell entrants; determine how much cell production will come from China and the rest of the world; discover the new cost envelope for cell production at the multi-GW scale and what steps are being used to drive cell production costs to 3c/W and below.
The new feature will be the PV Technology Roadmap session that will cover the whole of the afternoon on day 2. This is expected to be an annual must-attend part of PV CellTech going forward, and will seek to establish the next major changes that will form the basis of cell production as the industry moves from 100GW to 200GW annually.
Over the next month, we are putting the final touches to the agenda for PV CellTech 2019. To get involved, or to sign up to attend before the event is sold-out, please visit our event website here.
What will actually determine n-type market-share adoption?
One of the reasons why so many people get technology forecasting wrong is that they don't grasp that it is the combination of several factors, and not simply what should happen based on Excel spreadsheet calculations that churn out efficiency and costs for fun.
In the PV industry, the two most critical factors are a) the size of the overall market for modules (read cell production volumes), and b) the ability of companies to raise funds to add capacity or perform technology upgrades.
Once the technology case is largely 'made', then the above two factors determine the 'rate' at which the adoption takes place. This has explained the multi-to-mono transition today, and will certainly drive the n-type adoption rates soon.
To understand this, let's look at a couple of examples that should help explain.
On the first one (a.) – addressable market size – if you imagine that there is a maximum 60GW of mono wafer supply, and everyone wants mono as the preferred technology, then mono has 60% of a 100GW market. If the market is 'soft' (lower than the expected 100GW), then mono still supplies 60GW but by default has a larger market-share: and vice-versa in a 120GW market, the share of mono is less and multi fills the space happily.
On the second one (b.) – investment climate – this is somewhat easier. The willingness and ability to raise funds is essential to enable a technology change that would need new factories, upgrade tools, more R&D, etc. A depressed market with a government mandate to minimize capex is not good for driving through technology change.
The combination of the two then plays the key role in the rate of technology adoption.
I have attempted to show this in graphics below. First, Figure 1 shows the dual-baseline forecast for technology out to the end of 2022. This assumes nothing earth-shattering in terms of annual demand growth over the next five years (take your pick in the 15-20% CAGR band here), and modest capex that keeps existing market-leaders competitive while allowing new entrants to be added to the mix.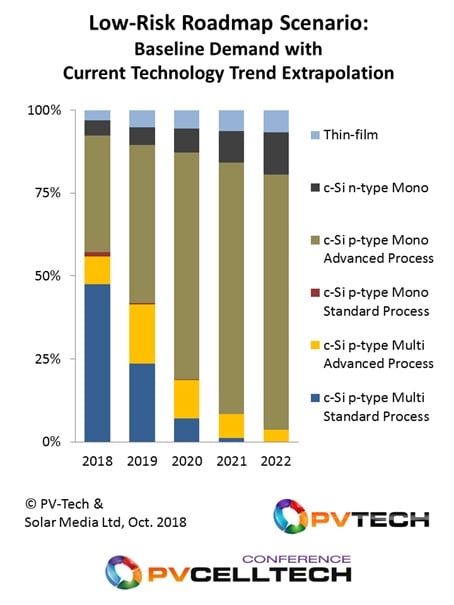 Now, we move into the real world a bit more!
In terms of a. (the TAM), downside is a soft-market growth projection, with the phrase 'sellers-market' used to illustrate an end-market where 'anything-sells', including all the multi that can be made to meet the shortfall not being supplied from mono.
2018 was 'almost' a sellers-market, at least if you made-and-sold in China, for example, explaining why so much multi was made/sold last year.
In terms of b. (investment climate), profitless-prosperity is used to describe a world of zombie-companies sitting on a mountain-of-debt, and barely able to raise funds for capex. (OK – this is extreme, but you should get the picture here. Call it austerity if you want.) Conversely, we have an investor-confident market where raising funds for capex is relatively straightforward.
Here is what I come up with now, when looking specifically at n-type adoption over the next five years.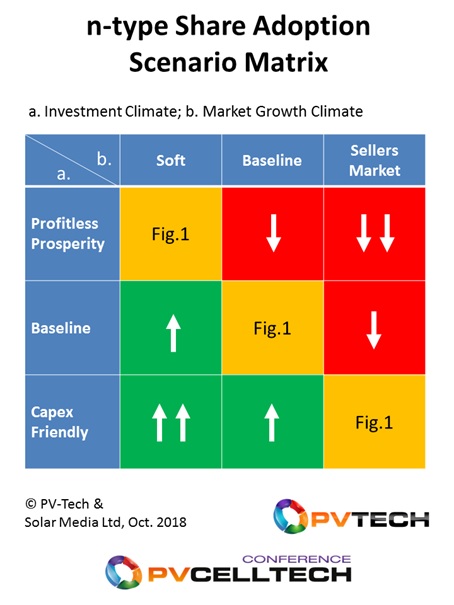 Very simply, red boxes are n-type adoption-negative, and green ones positive in which the rate of adoption for n-type (relative to the dual-baseline shown in Fig.1 above) is higher than shown.
If you have a spare few minutes, now think about how the multi-to-mono flip has evolved. This year (when the 50% share is breached by mono), we have had a soft demand climate on the back of capex highs in the new technology (mono wafers, PERC). That is – the green-box bottom left – the best-case scenario for technology adoption rates.
I think I've just figured what I need to talk about at PV CellTech next March in Penang, as the opening talk in the PV Technology Roadmap forum! This gives me four months to refine the explanation, and hopefully factor in whatever will happen in the industry between now and March 2019.