This article describes what has changed in PV manufacturing in the past 12-18 months, how the plans within China for 2020 are going to create an altogether different value-chain dynamic shortly, what this leaves for technologies competing with the mainstream p-mono PERC offering, and how this will all be explained clearly at the forthcoming PV CellTech event in March 2020.
I also explain below why thin-film has finally been shown to be truly competitive with c-Si, and what the implications of this may be going forward; and whether a thin-film investment cycle may be one of the implications here.
LONGi and Zhonghuan react to cell producers' roadmap-alignment consolidation
During the past few years, I have been commenting on the fact that mono was set to dominate the industry quickly, with all the factors that were clear indicators of this happening. At this time, I got no shortage of moans-and-groans from various quarters, suggesting that multi would return as the industry-standard or at least be competitive 3-5 years from now.
Forget these hypotheses now!
The only thing that has held back mono cell production being totally dominated by mono-PERC in 2019 has been the rate at which 5-10 GW ingot pulling fabs can be brought online within China. Put 100 GW of mono pullers in place in China tomorrow, and multi dies overnight. It is that simple.
Once China has sufficient mono pullers to serve the entire PV industry, casting furnaces become a thing of the past (and with this multi becomes of historic interest only). Put wafer ASPs for mono at commoditised Chinese levels, and there is no reason at all to buy a multi wafer.
Efforts to repurpose casting furnaces for quasi-mono or cast-mono type operation (still being pushed today) become an irrelevance and exist purely because various legacy multi wafer suppliers end up simply trying to find a use for factories of tools that are surplus to market demand. The idea that a cast-mono ingot could remotely compete with a pulled ingot coming from a company with 50-GW-plus of capacity is a notion that needs to be put to bed very quickly.
Once p-mono supply started to exceed multi, alarm bells started ringing all over China (and Southeast Asia including Korea) across firms that had either been blissfully absent of technology-investments (the p-multi followers of the past) or had genuinely believed that p-multi PERC was a viable contender to p-mono PERC (take for example REC Group or Q CELLS until recently).
One after another, cell makers have been investing in new p-mono PERC capacity. Some have been able to retrofit old multi lines; others have taken advantage of very low cell capex and vastly improved tool throughputs, and just retired old multi in place of new mono capacity.
The industry no longer has a p-multi advocate, with Canadian Solar's loyalty to multi likely to dissipate fully over the next 12 months.
The question during 2019 in terms of p-mono being totally dominant has simply been the speed at which the supply side (pulled mono ingots) could be built in China. Now that final piece of the jigsaw has been answered, with Zhonghuan and LONGi (and to a smaller extent JinkoSolar) fast-tracking 40-50 GW of additional mono pullers within China during 2020.
This move confirms the adage that: when technology changes happen, they happen very quickly! Old technologies do not get phased out over 5 years in PV – it is more like 5 months!
During 2020, there looks like being adequate mono puller supply (based on effective capacity utilization during the ramp period of new equipment) to allow 120-130 GW of p-mono PERC cells to be produced.
Regardless what you forecast for end-market demand in 2020 (low-side 125 GW to high-side of 160 GW), this categorically confirms that p-mono PERC is the truly dominant technology now for the PV industry.
As such, it makes everything else differentiated at best (thin-film), niche to be kind (e.g IBC cells), or moribund (as in the case of multi). Let's now look at what the PV technology landscape now means for these competing technologies going into 2020/2021.
n-type options still firmly on everyone's radar
On many occasions during the past few years, I have commented that n-type options stand to gain from what is happening today in the move from multi to mono, and do not have to be an alternative now in order to be justified. Let me explain this again.
In the past, n-type options were niche differentiated plays (SunPower, Sanyo, Yingli, LG Electronics, and a plethora of R&D lines at cell makers that rarely moved got beyond pilot-line status). Each company was in effect a one-man band; a strategy that was okay in a GW-scale global industry, but in total isolation when seeking to justify existence at the 100-GW global scale of today. The fall-out from each of these efforts still dominates front-page headlines, and is best dealt with through dedicated commentary.
However, if one has to summarize why these efforts don't work in today's 100-GW annual production landscape, then simply saying that they are not cost-competitive suffices. Even the deltas in performance (few percentage points, better temperature coefficients) don't come close to compensating for production costs that can be 2-3X those of best-in-case p-mono cell production today from the likes of Tongwei.
So the best thing is to look at n-type today from a blank-sheet-of-paper approach, and not to dwell on the legacy efforts of those above, or perhaps the early-mover plays from the likes of REC Group and others. Not in any way disparaging their efforts or prospects in any way, but it is just easier to explain n-type as a viable concept if you can remove any possible distractions that cloud things.
Before, wafer supply for the niche n-type early movers was a challenge; 5-inch n-type wafers were only available from legacy semi-based players and when solar specific capacity was assigned, it was low-volume and often not an ongoing business concern of value to the wafer suppliers. This made multi-GW ramping way too high risk, purely from the wafer supply perspective.
One of the early movers, Sanyo, even made their wafer dimensions so bespoke that they could only supply in-house to their cell lines. Everything else low-cost solar-related was cast-multi and this allowed the p-type companies to scale with volume and have tumbling multi wafer pricing that kept module margins positive while end-market ASPs declined.
The blank-sheet of paper analogy is best understood by looking at today's landscape for ingots that is going to allow for about 130-GW-plus of mono wafer supply to the industry in 2020. Ingot pulling can supply wafers for either p-mono or n-type, and in this respect, n-type cell/module aspirants now have the one thing in place that was absent in the past: low-cost wafer supply from the ingot/wafer majors in China today.
Therefore, the issue for n-type is simply finding a solution that can be scaled in China at the 10-20 GW level quickly and can be made to run cost-competitively with p-mono PERC. Also, critically and often overlooked today, capex needs to be at current p-type levels.
The argument for payback with n-type is a rather moot point actually: if you are going to add 10-20 GW of capacity, capex is king and at a stretch, one could justify a 5-10% delta with respect to current GW-scale China p-mono capex that has been slashed in recent years.
The 'made-to-run' comment above is also far from a walk in the park, and even if capex was non-existent today, this would be the Achilles heel of the early movers in some of the heterojunction projects ongoing in China.
However, the PV world has plenty of datapoints now that heterojunction is a technology that is possible to scale at volume with leading cell/module performance metrics. It is just that the approach from the China community here is probably on a road to nowhere. Even if blueprints of Sanyo's process flow and tool specifications were to be disseminated widely on WeChat, this does not mean that any success will subsequently prevail.
However, heterojunction has way too many value-added module-related features to be deterred by the fact that some early China movers may not have success. And perhaps this is just a natural consequence of trying to introduce a new technology on the cheap without any strong learning from an R&D perspective also.
More interesting today is the revival of the more standard n-type platforms; these go under various names, such as n-PERT (analogous to p-PERC) and TOPCon (the Fraunhofer ISE acronym) that is a rear contacting method that works best on n-type platforms and is often used interchangeably with n-type activities today.
The more standard n-type cell type was the one scaled into production by Yingli and LG Electronics over the past decade, and from a China-perspective, it is highly notable because it has equipment and process flow arrangements not dissimilar to regular p-type manufacturing. This cannot be underestimated, and the scope to have capex levels of 5-10 GW fabs that come anywhere close to the levels today in China for p-type.
One has to remember that anything n-type is superior to anything p-type. Many of the p-type PERC arguments for longevity in the industry are based on p-mono PERC closing the gap to n-type, but this is not a fair comparison. If there was 50-100 GW of n-type production today, the same p-type/n-type delta in efficiency would exist.
But – even if cell efficiency was not the n-type winning metric, then n-type wins dramatically when real-world comparisons are made at the elevated temperatures that PV modules operate. At 70 degrees, n-type excels hugely over p-type, and this alone means that n-type investments will always be present until the technology (one-day) is mainstream.
Remember also that companies such as Sanyo (Panasonic), SunPower (the 'former' SunPower, during the most recent of its strategic changes), LG Electronics and newer entrants to n-type such as REC Group, are targeting the rooftop market with n-type. However, it is the utility segment (not rooftop) that truly cares about elevated temperature operation over 25 years.
As mentioned above, the more significant moves in China in the past 12-18 months are n-PERT/TOPCon based, and it is probably fair to say that JinkoSolar will be the single factor in whether others follow. I have written before that Jinko's move into n-type was way more important than anything attempted in the past from Chinese cell/module companies, and finally 2020 is going to shed light on this.
Note also that Jinko is in the process of setting up fully-integrated ingot-to-module mono-specific capacity at the 15-20 GW level. Decoupling mono wafer supply issues from the likes of LONGi and Zhonghuan is a smart move indeed by Jinko, purely from a p-type mono wafer standpoint. Any move into n-type makes this capacity re-organization by Jinko even more valuable. It allows Jinko to supply any volume of n-type wafers internally without being a prisoner to the supply and technology wishes of others in China. Watch-this-space…
The new era of 10-GW solar cell cookie-cutting OEM-type fabs
Without any fanfare, any form of global marketing or branding, and absent from about 99%-plus of folks working in the PV industry today, cell manufacturing has been given the most dramatic shake-out in the past 12 months. No surprises for guessing here: this is all China-based!
The easy bit is explaining what is happening now, and I will do this below. The more interesting part is to work out what the implications are for the industry (and in particular module assembly outside China today) and where it leaves 'humble' GW-scale cell makers with production lines a few years old now. Let me cover these questions below.
To put the whole thing in context, there is PV analogy that I will flag first, as this should help explain what is going on today with what I have termed above as the 10-GW OEM cookie-cutting approach.
Ten years ago, Taiwan cell makers were key to early PV module supplier's global sales plans, and acted mainly as process-savvy subservient non-competitive feedstock for more ambitious c-Si cell/module producers in mainland China. When Tongwei entered the sector (initially by taking on the liability for one of LDK Solar's post-bankruptcy restructured manufacturing entities in China), and ramped its initial phase of 5-GW-scale cell factories, the need for Taiwan ceased.
Fast forward 2-3 years, and there are now a handful of Tongwei-like companies in China, at least from the cell-making standpoint. (Remember Tongwei is more diversified from a sector and PV-specific production perspective, so far from pure-play cell making.)
The new entrants are the OEM cookie-cutters of the industry now, and are running and adding new 5-GW level cell factories in China, using state-of-the-art equipment/automation, to churn out p-mono PERC cells with processing cost south of 5c/W. Forget R&D, sales/marketing, branding and the notion of making wafers or modules: these are pure-play mono PERC cell feedstock entities that play a part in the new wave of China's move to produce 95% plus of all c-Si polysilicon, wafers and cells.
What is most interesting is that these cell makers are now allowing module suppliers to think twice about whether they even need to run cell lines, or make major investments to keep cell and module production levels balanced.
This impacts the major global module suppliers, as much as the 100-MW module assembly company outside China.
For example, the cookie-cutter OEM growth has allowed Canadian Solar to readjust its in-house technology/manufacturing strategy (again), and move forward into 2020 without doing any major cell expansion (or technology-based) investments.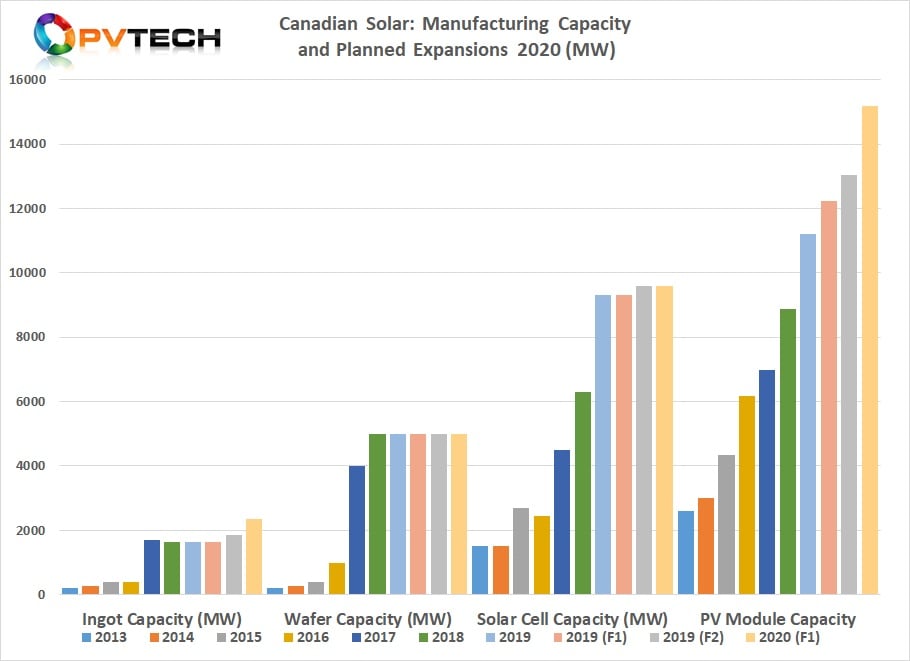 For Canadian (and many others that had not appreciated the mono-dominance coming so fast), it is wonderful news that module supply can be flipped to mono-PERC (almost 100% based) overnight, simply by increasing third-party cell supply from local GW-cell houses. For these companies, buying in mono-PERC cells is now a no-brainer.
At the other extreme, if you are running a 50-300 MW module-only assembly fab outside China (and there are still hundreds in this category), the fact that there is going to be an endless supply of cheap p-mono PERC cells coming out of China is wonderful news. This will allow many of these module makers to break-even and possibly even make a tiny margin if things are good. No need to invest in cell lines, be reliant on low-performing multi cells, or buy from integrated companies that compete at the module supply level.
Going forward, the question is whether any of these new 10-20 GW cell makers in China can influence technology, or if they will simply continue as beholden to the major global players they are ultimately there to help. I would suggest it is the latter, as their raison d'être is to be part of China's collective domination strategy (from a manufacturing and global module basis), not to have any aspirations beyond their station. Of course, there are many examples of PV companies trying to extend beyond their value-added status; in almost all cases, this is where things start to go wrong!
First Solar's Series 6 success is a defining moment for thin-film
Over the past 15 years of tracking the PV industry, I have seen way more than 200 companies churn out often unsupported, misleading or highly naïve propaganda related to what thin-film can and cannot do, from a PV manufacturing standpoint.
If there have been 200 companies investing in thin-film variants (glass/roll-to-roll substrates, a-Si types, CIS/CIGS, CdTe materials), then it is fair to say that 199 have failed and just one has succeeded; with the one in this case obviously First Solar.
The success of First Solar's Series 6 roll-out in the past 12 months in particular must come as even a pleasant surprise to the most optimistic proponents within the company. It is perhaps the most significant technology move undertaken ever in the PV industry, for a whole host of reasons that I will not go into here, as many of these have been discussed in features I have written on PV-Tech over the past couple of years.
Let's frame this to get some perspective however.
Imagine you are a 2-3 GW scale module supplier today to the sector, and not based in China. How to you compete with a 100-GW China machine working at arms-length to own the industry globally? Not just from a cost standpoint, but a technology-one now that the industry has made the critical multi-to-mono transition.
Now add in here having a company-specific manufacturing/equipment/materials based PV module technology that requires 100% of the R&D and factory optimization has to be done in-house.
And finally – go spend $1billion setting up multi-GW scale factories across different countries/regions globally, get the factories running within 12 months, and secure firm orders within 6 months that cover output from all factories for the next two years?
Oh, and not to mention one more thing… Make sure module ASPs are 10-20% above global averages, and blended production costs (or COGs) are as good (or better) than the best-in-class c-Si producer in China.
Okay – this is what First Solar has done in the past few years with its Series 6 technology. In looking at all the investments by all the companies in PV manufacturing over the past couple of decades, I cannot recall anything that comes remotely close to this in terms of success.
Right now, all the implications of this start-and-stop with First Solar, and the company's utility-based customer base mostly in North America. First Solar is in the enviable position of being in full control of what to do next, and not reacting unnecessarily to short-term changes from China.
However, it is entirely possible that First Solar's success will be used within a new wave of thin-film validation-related investment phases (probably all taking place in China), where the appetite (often from cash-rich state owned/controlled fossil-fuel based conglomerates) still exists to enter the PV sector with what appears to the outside world as a technology-driven alternative to the existing c-Si based infrastructure there.
In part, over the past decade, companies like Hanergy, Shanghai Electric and CNBM have been positioning themselves as the custodians in China of this approach, and trying to be credible setting up GW-scale CIGS or CdTe facilities. While the output from these investments has barely disturbed the global PV supply/demand equation until now, all of these plans were motivated prior to First Solar even making the decision to move from Series 4 to Series 6; far less in the context of thin-film at the 5-GW-plus level now being shown to be every bit as competitive as the best-in-class c-Si offerings.
It does not take much ingenuity to see how First Solar's success can – and probably will – be used as the basis of new investment cases and as the ultimate validation (and the first major one ever) that thin-film as a technology is investable and viable.
Of course, technology-aside, First Solar operates as a company in a way that few if any could possible emulate, regardless of investment levels available. The fact that Series 6 has succeeded is as much about the technology as it is about the company's business operations that enabled it in the first place.
There will however be no shortage of thinking in China however that if they can mimic this at the 10-GW level and apply cost-structures China-style, then they will emerge as major global players in the industry going forward. This alone will likely justify new cash-flow, either existing or new players in China during 2020.
PV CellTech 2020 to address all these topics
The two-day agenda for PV CellTech 2020 has been designed for March 2020 specifically to address all the topics and issues discussed within this article. The event will therefore remain the key place to find out what is really happening in PV cell manufacturing today, and where all module supply will be 2-3 years from now.
The event will feature CTOs from all the major companies driving changes in c-Si cell manufacturing/technology, and for the first time at PV CellTech, thin-film. CellTech has now become the one event in the year where CTOs from all the major PV manufacturers globally meet and talk freely about company and industry specific trends, challenges and implications.
To register to attend, or for your company to be involved during the event, please follow the links at the PV CellTech website here.
For the first time, PV CellTech in March 2020 will have a session on thin-film, including the status of recent investments in China for new CIGS and CdTe capacity.