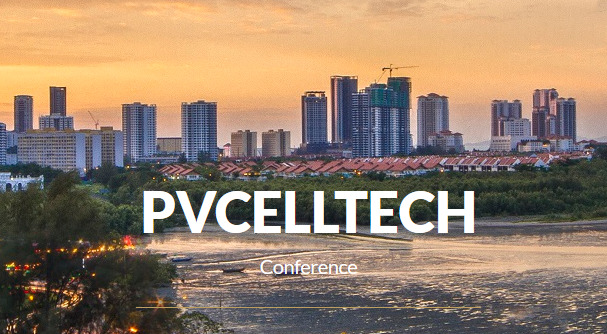 PV CellTech will take place in Penang on 14-15 March 2017, and PV Tech took time out to talk with the event Chairman Finlay Colville on what to expect from the event and a detailed look at the speakers and topics that make up the full agenda of the two-day event.
Thank you Finlay for taking the time to discuss the full agenda for PV CellTech. Can you walk us through the sessions over the two days and highlight what the attendees can expect to hear?
We have an even better speaker line-up compared to the inaugural event last year in Malaysia for PV CellTech, and this has been driven by our goal to have as many of the CTOs and Heads of R&D from the top-20 PV cell producers speaking. This year, we extended the scope of the event upstream with greater focus on the wafer supply for cell manufacturing, recognizing last year that you had to lump wafer and cell together to really understand the PV technology roadmap and the new cell process flows that were going to come through in the next 12-18 months.
After brief introduction talks from the CEO of the Malaysian Investment Development Authority (MIDA) and myself, on behalf of PV-Tech and the Technical Advisory Board, the event gets into full swing at 10am on Tuesday 14 March, when we have the plenary session of PV CellTech.
All speakers in fact for PV CellTech 2017 are invited by us, with inputs from the Technical Advisory Board, not just the plenary and keynote talks at the start of each day.
The opening plenary session could not be better. The event comes to life with these 30 minute talks, starting with Xie Tian from LONGi Green Energy essentially spelling out the case today for mono wafer supply to the industry.
This is followed by Stuart Wenham from the University of New South Wales, with a topic that is probably top of the list of all multi cell producers today – how to get PERC working on existing and new p-type multi c-Si production lines. Remember that in 2016, more than two-thirds of p-type cell production was still on multi wafers, and aside from a few multi cell producers, the rest of the industry is still seeking to understand how to implement PERC into their lines.

The event then dives more deeply into p-type multi cell production, with black-silicon, diamond wire sawing of p-type multi wafers and PERC under the spotlight. Combined with Stuart Wenham's plenary talk, by the time we get to 12.30 on day-1, we will undoubtedly have the basis for some of the most critical parameters related to p-type solar cell production today.

Following the lunch break, PV CellTech gets its first glimpse at n-type manufacturing, with heterojunction and n-PERT activity being spelled out across four talks. Also, the first discussions on bifacial cells will also be revealed here. Perhaps also we will hear about how some of the a-Si PECVD/PVC equipment from turn-key a-Si lines is poised to return to the market, and maybe even, the first main competitor to Panasonic for HJT cells will be revealed!
The afternoon of Tuesday 14 March is divided into two parts, with p-type mono and PERC returning to the table.

Having had the views of LONGi Group earlier in the day regarding mono wafer supply, now we hear updates on the progress and plans from the company's cell subsidiary LONGi Solar (formerly LERRI Solar). It is great again that we have SolarWorld speaking in Asia at PV CellTech on mono-PERC. Since Holger Newhaus spoke at the March 2016 event, SolarWorld has been making significant progress in moving to one of the industry's few integrated ingot-to-module specialists for p-type mono, and has been driving PERC and 5-busbar cell designs into mass production.
Another conference favourite, Ralf Preu from Fraunhofer-ISE, returns also to PV CellTech in 2017, and it will be great to hear Ralf's views on bifacial cells and another topic that seems to be appearing on an increasing number of company-specific roadmaps – half-cut or singulated cell assembly. REC Solar has been pioneering this in Singapore in recent years, and singulation has also been part of SunPower's route to product differentiation with p-type solar cells.
Day-1 finishes with a new addition to PV CellTech 2017: thin-film.

Last year, there was no shortage of thin-film manufacturers and equipment suppliers in the audience at PV CellTech, and this year, we decided to have a review on the progress of thin-film producers, and ways in which we could benchmark the efficiencies, panel power ratings and plans. On the stage, we have panellists from the two main thin-film producers today: First Solar and Solar Frontier. We specifically introduced this as a panel session format, moderated by Mark Osborne of PV-Tech notoriety. Hopefully, the audience will also stimulate a discussion on the chances of the new Chinese thin-film entrants to the industry, and whether they will manage to finally put China on the map for thin-film after many failed attempts in the past.
Day-2 starts with another mega-session, with three 30 minute keynote talks from top-10 cell manufacturers today.

JA Solar, JinkoSolar and Wuxi Suntech have become three of the most important cell producers to the industry over the past decade or more, and are now at the forefront of setting cell efficiency and quality benchmarks for the entire industry. It was a goal of PV CellTech to showcase these three companies, and it will be great to compare the roadmaps of each of these companies at the end of the session.
This is followed by another one of our must-have sessions at PV CellTech: cell manufacturing across Vietnam, Thailand and India. This has become one of the new developments in cell manufacturing in the past few years.

Indeed, the companies speaking here are potentially the most important ones spanning these three countries: Boviet Solar in Vietnam, Talesun Solar with its Thailand operations, and Adani Group with the most ambitious cell production activities ever seen in India. And India has more focus, with Paul Gupta from Indosolar uniquely positioned to speak about cell production in the country, as Indosolar has been the most successful cell producer in India over the past 10 years.
The session also includes a talk from Christian Buchner at SCHMID Group. Christian is well known across the entire cell manufacturing community, and SCHMID has been highly successful in equipment (and fab know-how) badly needed when new countries emerged on the cell manufacturing landscape, such as Taiwan, South Korea and India over the past decade.
The first afternoon session of Day-2 looks specifically at issues related with quality, reliability and related materials supply and inspection.

This was flagged again after the 2016 PV CellTech event in Kuala Lumper, and deemed necessary to square the circle to ensure that production lines running with high-efficiency are repeatable and controllable.
In DuPont and SunPower, we have two companies active in cell manufacturing that have dedicated significant resources to making sure that production lines are fully optimized and where the quality of the final modules delivered are designed to run optimized for 20+ years in the field.
The session also includes a talk from Gordon Deans at Aurora Solar Technologies (AST), a company that has been making strong inroads into cell manufacturing in the past 12 months, and has been covered in detail at PV-Tech, regarding its inspection tools that have been adopted for high-efficiency cell optimization including bifacial cell fabrication.
Closing this session, we welcome GCL Systems Integration to PV CellTech for the second year. GCLSI has become a top-10 module producer in 2016, and with strong supply to its in-house EPC/development activities in China, is uniquely positioned to relate cell manufacturing to final deployment metrics.
The penultimate session has been set aside for PV equipment. When we researched the key contents of PV CellTech 2017, back in 2016, it was a common request from our Technical Advisory Board to have a session where PV equipment was discussed.

Finally, PV CellTech closes with what is now becoming a regular feature: the first airing of the new ITRPV roadmap. It is completely fitting with the scope of PV CellTech that, having heard the views of all the leading cell makers, and equipment and materials suppliers, that the industry gets its first chance to see how this compares with what the ITRPV is forecasting. The good thing about the ITRPV roadmap is that it looks much further out than 12-18 months, something that is extremely hard to do with PV manufacturing, but is essential to have as a reference point.

The event closes again with a market update, looking at the key global factors impacting the industry over the next two years, and uses all the market data and analysis available from the in-house research team at PV Tech and Solar Media Ltd.
PV Tech: Thanks Finlay! PV CellTech has rapidly become one of the leading PV events on the solar calendar, in just 12 months! We look forward to all the news from Penang, and running updates and stories on PV Tech as the show takes shape.
PV CellTech takes place on 14-15 March 2017 in Penang, Malaysia. To register to attend the event, please use this link.
PV-Tech has been doing a number of interviews with the speakers at PV CellTech in the past 10 days, and these can be downloaded as a single pdf file. These can be downloaded here.