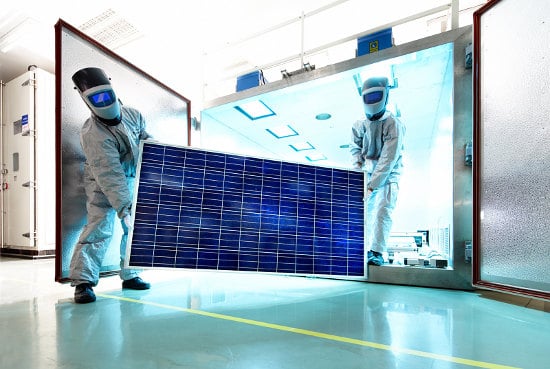 When determining the cell producers that were invited to participate at PV CellTech 2017 in Penang, Malaysia, on 14-15 March 2017, there were many voices within our Technical Advisory Board that pushed for Wuxi Suntech Power to be among the key contributors.
And this sentiment I echoed wholeheartedly. Solar cell manufacturing is more vibrant and meaningful, with Suntech playing a leading role. Few companies at the GW-level of cell production today are more significant and ground-breaking when it comes to c-Si solar cells.
Suntech retains top-10 status for solar cell production today, despite the challenges the company has faced during the highs and lows of upstream manufacturing over the past decade. When the solar industry moved into the 10GW+ annual demand phase, it was Suntech that regularly held the number-1 position for production figures.
This established the company with brand-recognition for solar cell production, and was also matched with innovation when Suntech became the first major Chinese cell producer to seek to implement an advanced cell concept in high volume production, namely the Pluto cells that involved a selective emitter process based on phosphorous spray and laser doping.
In cosmic terms, Pluto was a trademarked cell concept that followed on from the laser-grooved buried contact cells that were implemented in BP Solar's Saturn lines in Tres Cantos (Spain). While very different tools were used in these architectures, each was selective-emitter based and part of licensed technology-transfer arrangements with the University of New South Wales.
Perhaps Pluto was ahead of its time, in much the same way that Saturn was. But from an innovation standpoint, each was ground-breaking and spelled out the intent of p-type cell producers to make changes in process flows to take average cell levels north of 20%.
Wuxi Suntech is currently a subsidiary of diversified renewables firm, Shunfeng International Clean Energy (SFCE), but maintains an unique brand offering in the market that is founded on its heritage in solar cell manufacturing.
PV Tech recently caught up with Rulong Chen, Director – Solar Cell R&D Department, at Wuxi Suntech Power, ahead of the company's keynote presentation on the morning of 15 March 2017 at PV CellTech.
What topics are going to be included in your presentation?
Rulong Chen: My topic is about PERC cell and module technology, and light induced degradation (LID) is [a] main topic.
What are the biggest challenges today for PV cell manufacturers?
I think the biggest challenge is [to] quickly make new products with new technology, and also with lower cost.
What are the main things you are hoping to learn after the two days of PV CellTech 2017?
I hope to meet PV industry experts and discuss about [current] and future [technologies], and learn from [ideas] and [results]. We can exchange our opinion and get new [ideas] for each other.
PV Tech: PV CellTech takes place on 14-15 March 2017 in Penang, Malaysia. To register to attend the event, please register using this link.