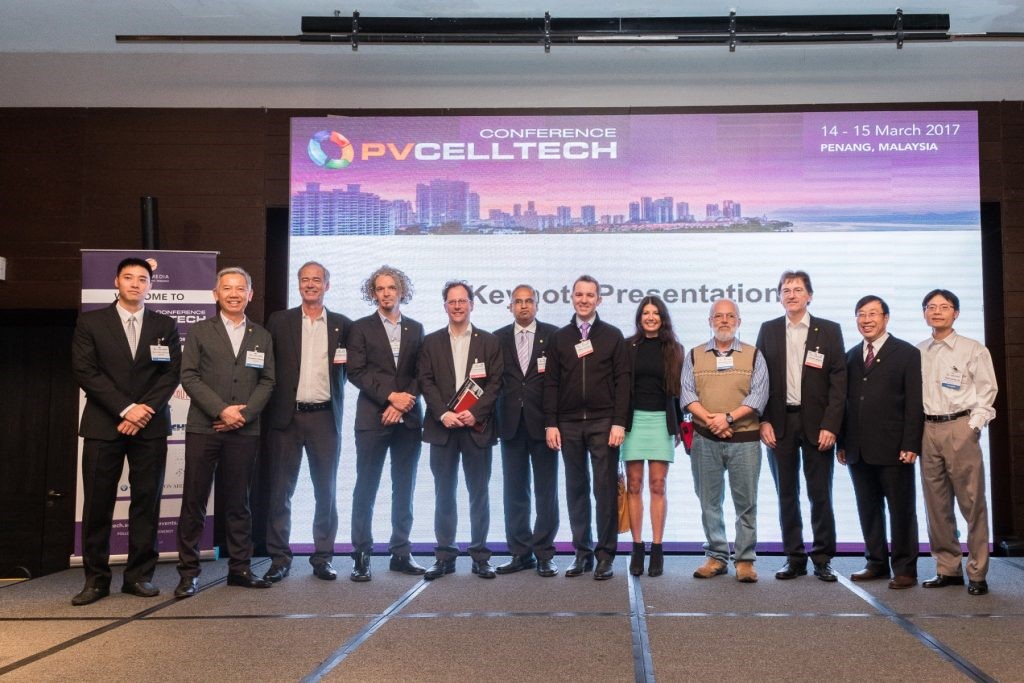 The third PV CellTech event takes place in Penang, Malaysia in just two weeks from now, on 13-14 March 2018. The schedule of speakers and companies lined up this year is set to be both fascinating to hear, and essential to dissect, when looking at exactly how the PV industry will evolve beyond the 100GW of solar cells produced in 2017.
Already firmly established as a must-attend event in the PV calendar, to understand exactly what is happening with real-world GW-level mass production of solar cells, PV CellTech 2018 expands on the success of the past two years, sees many of the box-office technology-experts returning to speak, and is supplemented with new topics and networking activities.
This article discusses some of the main attractions of the event next month, discusses the background for the topics featured during the two days, and highlights some of the key takeaways expected from the event.
Stand-out speakers and topics at CellTech 2018
The final agenda for PV CellTech 2018 can be viewed here and downloaded at the event website. Speakers and topics for PV CellTech are all by invite only, and all speakers shown are confirmed to feature in Penang next month, and by all accounts, raring to get on the stage!
The event runs for two days, with a technology-driven feast of topics and speakers, chosen specifically to provide all attendees with the facts and figures needed to piece together which PV technologies are gaining market-share, where the competitive threat is coming from today, and what the impact will be from the 20GW-plus of new mono pullers being added in China this year.
PV CellTech 2018 will feature also dedicated sessions on cell profitability and the prospects for a return to manufacturing back to Europe and North America. Not to mention the near-term outlook for Southeast Asia, and in particular Vietnam and India, owing to different trade-related factors currently impacting the industry.
But maybe the must-attend session will be reserved for late morning on Day 2, called simply: The Future of Solar Cell Manufacturing. This mega-session features keynote talks from Martin Green (UNSW), Pierre Verlinden, and Andreas Bett (Fraunhofer ISE).
The afternoon of Day 2 includes a special session on kerfless/direct-wafering, with the technology firmly on the roadmap options of leading producers today. In fact, the recent declines in polysilicon g/W metrics (to 3.9g/W blended exiting 2018), and the full migration to diamond wire saws going into 2019, are now forcing thoughts on how wafer processing costs can make the next step-wise change downward.
Closing off the talks over the 2 days will, once again at PV CellTech, be the unveiling of the latest annual ITRPV roadmap, from its mastermind Markus Fischer. Unquestionably, PV CellTech has quickly become the perfect forum to see how the ITRPV projections match what the major cell producers are planning to do in the near- to mid-term.
Multi back on the centre stage
The solar industry has seen a massive push on mono over the past 2-3 years, and this has been key to the efficiency growth at Chinese manufacturers and pushing rear-passivated cells into the mainstream. But yet, China production and local deployment has kept multi dominant until now, and has driven multi proponents to perform upgrades that had been on the backburner for years.
Recognising this, PV CellTech will put multi back on the centre stage, with the opening talks from GCL, Canadian Solar and UNSW explaining why multi remains competitive today, in addition to the roadmap being pursued in order to ensure that multi will be a major technology-option in the industry beyond 2020.
Explaining the n-type revival
Coverage of n-type manufacturing at the first two PV CellTech events largely focused on the established technologies developed by SunPower and Sanyo (now Panasonic), complemented by leading stakeholders that were pushing growth in this segment.
PV CellTech 2018 moves commercial n-type activity and coverage to an altogether different level.
From a personal standpoint, I have been attending PV workshops, conferences and exhibitions for 15 years, and I could probably write a book about the aspirations of literally hundreds of n-type pitches. More often than not, the rhetoric of moving effortlessly from Al-BSF p-multi cells to n-type HJT-IBC hybrid production was nothing more than a pipe-dream.
This all changed during 2017, with China and various European (and Russia) related initiatives breathing life into n-type cell production, in a way that the industry has not seen before.
Of all the n-type variants on offer, most of the attention is focusing on heterojunction (HJT) and trying to replicate Sanyo's initial success, but with capex at a fraction of the cost, the use of standardized wafers, and a production cost structure that merits continued factory operations.
PV CellTech will feature talks from some of the main Chinese companies, set to ramp GW-level of n-type capacity during 2018, including Jolywood and Jinergy.
However, the stand-out talk from all n-type sessions at PV CellTech 2018 could possibly be from LG Electronics.
LG has been diligently establishing in-house know-how and GW-level cell/module manufacturing in South Korea for the better part of a decade, and in recent years has become the second major n-type module supplier to the market, after SunPower.
It is great for PV CellTech that LG is using the event to convey its in-house R&D expertise, and the talk will certainly be on the must-attend list for many of the attendees in the room.
Beyond mono-PERC: and what-next?
We certainly seem to be approaching key decisions in cell manufacturing, that will move performance to new levels, once all modules are produced with rear passivation layers, and all wafers are produced using diamond wire saws.
Indeed, we are almost at the point where bifacial performance is accepted as an ongoing upgrade route that will be offered by all manufacturers.
Therefore, we return to some of the real next-stage upgrade routes, and which of these will be adopted by the mainstream cell/module suppliers. This includes moving to thinner wafers (as surely the major and outstanding route for the industry to move towards to make major inroads into the silicon cost element), and finally looking closely at kerfless wafering.
Cell-to-module interconnections represents another massive opportunity to reduce silver consumption, and maximize cell efficiencies at the module level.
What-next-after-PERC has been the question many industry activists have been seeking the answer to for the past few years, but perhaps now is the correct time to focus on this, with plenty of other options for cell makers to focus on recently.
It is clear that technology roadmaps stretching out 5 years from now will not be just about PERC, bifaciality and diamond-wires: understanding the next technology upgrade routes is critical today.
Perhaps the industry has now reached the point where technology upgrades will come at a frantic pace, with everyone having to make constant process flow changes to stay competitive both with panel power offerings and cost structures from poly to module.
We could indeed be just at the starting point, with PERC being the catalyst for change that forces new tool deployment at levels historically reserved for semiconductor and displays.
Networking time enhanced with addition of new 100GW Party
In looking at the final PV CellTech 2018 agenda, the two days of talks are literally packed with quality talks one after another, with virtually all attendees again expected to be gripped to their seats from 9am on day-one to 6pm on day-two.
Interestingly, after the past two PV CellTech meetings, there were always two big asks from the attendees to help us improve the future events: more talks, and more networking time!
Therefore, this year we have tried to do both! The result was to add on a second evening event, open to all conference delegates, but add a special twist and allure to the occasion.
Once the final talk is completed at 6pm on day-two, we go straight into the 100GW Party, to celebrate 100GW of solar cell production in 2017.
The event is co-hosted by PV-Tech and the University of New South Wales (UNSW) and could well be the technology-networking highlight of 2018.
Between now and the event on 14 March 2018, I have the enviable task of compiling a PV-manufacturing highlights talk (from 1GW to 100GW of solar cell production), in addition to conjuring up a PV-manufacturing quiz, to see what 'team' knows most about the solar industry!
How to get involved with PV CellTech 2018
PV CellTech is expected to be sold-out again, for the third year in a row, when the first talk starts at 9am on 13 March. Right now, there are still a few places available at the event to attend. Registration can be done online quickly through the links at the PV CellTech 2018 website here.
For those already lined up to speak and attend, PV-Tech looks forward to seeing you all soon!