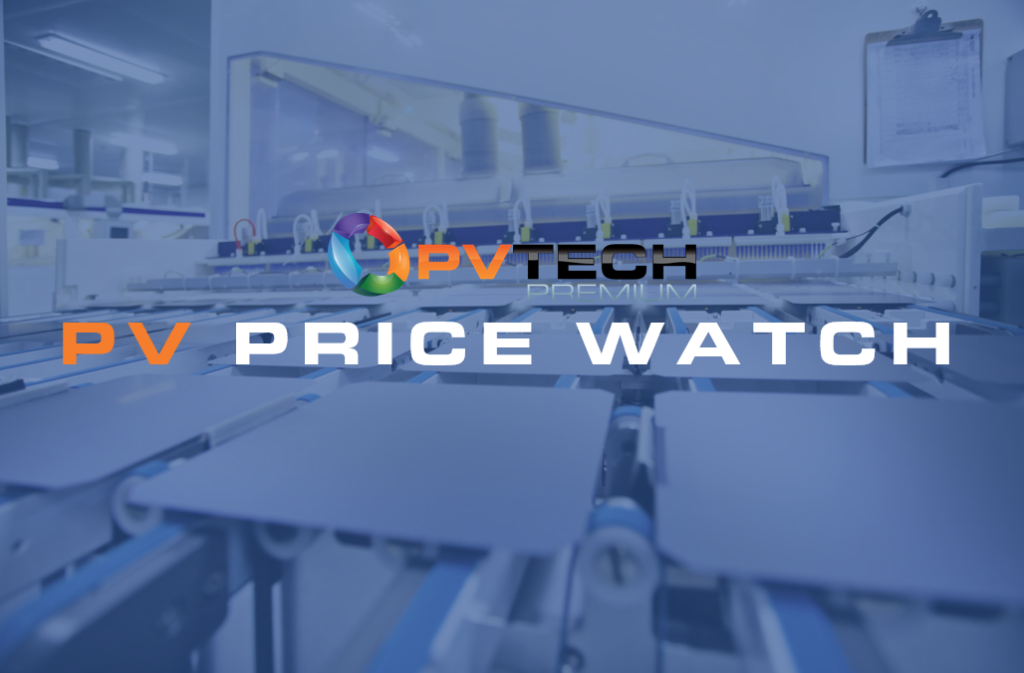 The price of silicon wafers fell in China last weekend, offering upstream solar manufacturers some respite and hope that prices may finally begin to normalise.
On 29 October China's Silicon Industry branch released its latest spot prices for silicon wafers, indicating that monocrystalline silicon chip prices slightly decreased over the reporting period. Prices for domestic G1 monocrystalline silicon chip (158.75mm /170μm) fell to within a range of RMB5.42 – 5.53/piece, with an average transaction price of RMB5.51 yuan/piece, representative of a weekly decline of 0.54%.
The price range for M6 monocrystalline silicon wafers (166mm/170μm) meanwhile was reported as RMB5.61 – 5.74/piece, with an average transaction price of RMB5.69/piece, also representative of a weekly decline of 0.54%.
Prices for M10 monocrystalline silicon wafers (182mm/175μm) last week fell 0.87% to within a range of RMB6.75 – 6.81/piece, with an average transaction price of RMB6.80/piece, while G12 monocrystalline silicon wafer (210 mm/170μm) prices were between RMB8.70 – 9.00/piece, with an average transaction price of RMB8.93/piece, equivalent to a weekly sequential decline of 1.33%.
Wafer production was reported to have fallen last month, with statistics released by the trade body revealing that the total production of silicon wafers in China reached 17.6GW in October 2021, down 11.1% from the previous month. The reduction mainly comes from initiatives to lower utilisation rates as a result of dynamics playing out between upstream and downstream sectors, as well as power rationing in China.
Silicon Industry reports its data from a survey of ten leading monocrystalline silicon wafer businesses in China. That survey found that the operating rate of the two leading silicon wafer enterprises was 50% and 65% respectively last month. The utilisation rate of the integrated business responding to the survey meanwhile was higher, standing at between 75% to 100%, while the utilisation rates of other businesses listed in the survey fell between 60% and 80%.
Polysilicon prices would appear to have remained flat week on week, with many in the sector adopting a 'wait and see' approach as recent volatility normalises. The impact of power usage restrictions on some businesses remains – although reporting its Q3 2021 results last week, Daqo New Energy said it was not impacted – and production facilities in Inner Mongolia, Yunnan, Qinghai and other provinces have reduced production output as a resulted of limited power supply. This disruption is expected to continue for the rest of this month at least, reducing the supply of silicon throughout November.
From the demand side, many developers continue to resist recent price increases and the utilisation rates of facilities producing solar cells continues to lag at around 50%. With demand continuing to falter amidst high prices, spot market prices could begin a slight downward trend as the month progresses.
However the pricing volatility has arguably created a disconnect between the fortunes of upstream solar manufacturers and material providers. Silicon material production companies have benefitted greatly from price increases – as best typified by Daqo New Energy's Q3 results, which set new records for the company – while the businesses in the middle of the value chain and further downstream have witnessed their profits slashed. Production schedules are slowing as a result.