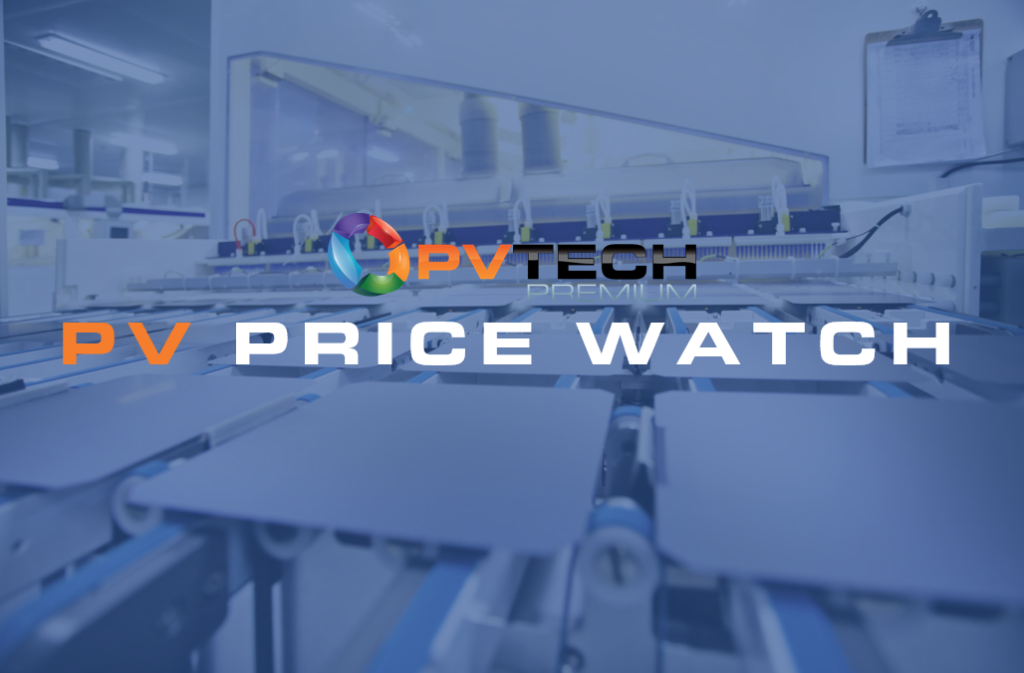 On 31 October, TCL Zhonghuan cut the price of its solar wafers for the first time this year, with this trend expected to continue as new production capacity comes online across the industry.
The last time TCL Zhonghuan announced its wafer prices was on 8 September. Now, the company is the first among all wafer companies to cut prices within the year.
While there is no synchronised reduction in silicon material prices at the upstream level, it is widely believed in the industry that tight supply will be eased after a rapid release of new production capacity, with prices expected to be adjusted accordingly.
Upcoming price changes across industrial change
TCL Zhonghuan's latest quote showed that its 150μm 218, 210, 182, 166 p-type silicon wafers were RMB10.51/piece, RMB9.73/piece, RMB7.38/piece and RMB6.13 /piece, respectively.
Compared with the previous announcement on 8 September, the price was down by RMB0.35/piece, RMB0.33/piece, RMB0.24/piece and RMB0.2/piece, respectively – a reduction of between 3.1% – 3.2%.
| | | | | | |
| --- | --- | --- | --- | --- | --- |
| Date | Wafer thickness | 218.2 | 210 | 182 | 166 |
| 31 October 2022 | 150μm | 10.51 | 9.73 | 7.38 | 6.13 |
P-type mono silicon wafer price announcement. Unit: (RMB/piece).
TCL Zhonghuan has also dropped the price of its n-type silicon wafers. Among them, the 150μm 210, 182, 166 n-type silicon wafers are quoted at RMB10.32/piece, RMB7.9/piece and RMB6.56/piece, respectively, down by RMB0.34/piece, RMB0.33 /piece and RMB0.28/piece compared with the previous round of offering.
| | | | | |
| --- | --- | --- | --- | --- |
| Date | Wafer thickness | 210 | 182 | 166 |
| 31 October 2022 | 150μm | 10.32 | 7.90 | 6.56 |
| 31 October 2022 | 130μm | 9.89 | 7.64 | 6.35 |
N-type mono silicon wafer price announcement. Unit: (RMB/piece).
The price of 130μm 210, 182, 166 n-type silicon wafers was set at RMB9.89/piece, RMB7.64/piece and RMB6.35/piece, respectively, which is RMB0.35/piece, RMB0.33 /piece and RMB0.27/piece lower than the previous quote. In contrast, TCL Zhonghuan's n-type wafers generally depreciated more than that of p-type wafers, which can be a maximum of 4%.
It is worth mentioning that on 24 October, LONGi Green Energy did not adjust its mono silicon wafer prices. Due to reduced thickness in the cells, the price has actually increased.
LONGi has cancelled its 158 silicon wafer, with TCL Zhonghuan no longer quoting prices for the p-type 158 wafer either. The concerted move by the two leading manufacturers indicates a sharply shrinking market for small-sized products at a time when larger ones are increasingly dominating.
So, what signal does TCL Zhonghuan release through the price cut?
In the past, there has been a strong synchronisation between the prices of silicon material and wafers, where wafer price follows the ups and downs of silicon material price. However, this round of TCL's price cut appears to have not come from any price cut in the silicon segment, at least for the time being. According to data released by InfoLink Consulting last week, the average price of mono dense poly remained at RMB303,000/MT and is expected to remain flat this week.
There are various reasons for the price reduction of silicon wafers. Industry analysis noted that the following possibilities may have led to TCL's ice-breaking price cut.
First, upstream silicon material price is decreasing, which saves costs for TCL and enables it to cut its prices.
Second, excessive silicon wafer production capacity in the market has caused inventory backlogs and TCL has reduced its wafer price in order to de-stock.
Third, the demand for modules has boomed in recently year, far outstripping supply, so price-cutting measures are used to capture a greater market segment, which suggest TCL has engaged in "price war" activities.
In fact, the wafer supply chain has been expanding rapidly in recent years. The two leading companies, LONGi Green Energy and TCL Zhonghuan, are planning to expand wafer capacity to 150GW and 140GW respectively by the end of this year.
In addition, upcomers like Shangji Automation, Shuangliang Eco-Energy and JYT, also own large-scale newly built capacities. According to a rough estimation, total wafer capacity will exceed 600GW by the end of this year.
Silicon wafer production capacity has reached 482GW at the end of the third quarter, up by 8% since the second quarter, according to the Silicon Industry Association. After balancing the increase in operating rate with the decrease due to the pandemic, wafer production rose about 5% in October compared with September.
PV Infolink said that while there wasn't inventory pressure, things are expected to change in this month. There is likely to be increasing and even abnormal inventory turnover pressure, with more pressure on wafer sales accordingly.