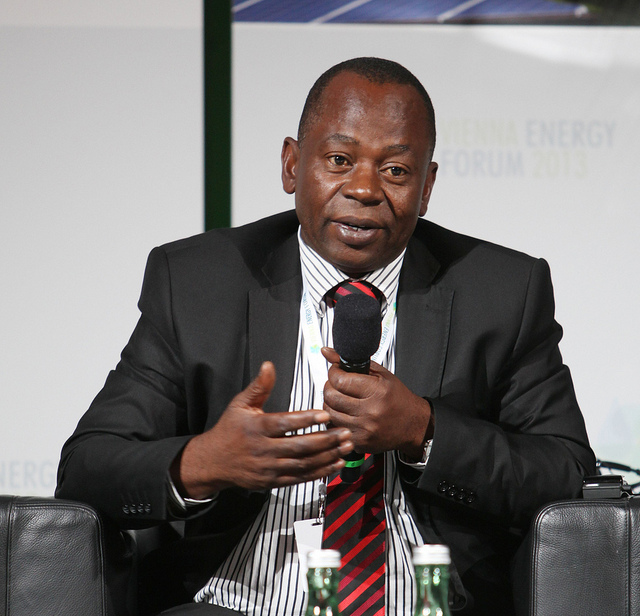 Solar in West Africa may have been slow to kick off, but the last year has seen notable deployment across the region. Mahama Kappiah, executive director of the Economic Community of West African States (ECOWAS) Regional Centre for Renewable Energy and Energy Efficiency (ECREEE) discusses what potential solar has to revolutionise the energy sector in a region that suffers from severe power deficits.
PV Tech: How has solar in West Africa progressed so far?
Mahama Kappiah: We would have expected to see more solar and quicker deployment up till now. Nevertheless it is really picking up. Initially there was scepticism from governments because the costs were high and the technologies that they deployed as pilot projects in earlier stages did not stand the test of time.
A lot has changed in the past five years. Now there is much more awareness and interest in climate issues in the region and that is pushing the PV drive now. Finally in 2013, after several years, we managed to adopt a regional policy document on renewable energy. This was a landmark achievement and based on this document we have been working with all the member states to set targets for renewable energy technologies within their energy mix for 2020 and 2030.
Furthermore we have seen large-scale solar projects coming up with a 5MW solar PV park in Santiago Island in Cape Verde, alongside a 2.2MW park and another 20MW park in Ghana, which has just come online.
We also just helped Mali (20MW), Burkino Faso (20MW) and Sierra Leone (6MW) to prepare bidding documents for solar PV auctions. Ghana is also planning to auction another 20MW.
In the absence of stable grids, what do you see as the best strategy to utilise solar in the ECOWAS region?
The other approach is distributed generation (DG) including solar home systems. Ghana for example is already planning to have rooftop systems up to 200MW [in total]. The DG model does not disturb the grid in any way and it reduces system losses.
Most of the grid networks in these countries are composed of either one line or they do not have a grid at all. Senegal, Mali, Cote D'ivorie, Burkino Faso each have just one line, meanwhile Liberia, Sierra Leone, Guinea and Gambia have no grid.
What is ECREEE doing to promote renewables such as solar to industrial energy users?
We tried one project in Niger where a French company wanted to build a 20MW PV plant to supply an industrial area very far from the grid, but it failed because the private sector operator could not agree on the price. However, the same operator did eventually agree a price for a similar project in Benin.
In the coming years, we will see large PV parks coming in to the interconnected network to support industrial areas, but so far we don't have any.
To what extent do you see potential for solar to be part of cross border energy trading in West Africa?
In July, ECOWAS proposed a 2GW solar corridor in the Sahara region from Senegal to Niger which would involve seven or eight solar plants coming together. We are looking at how to develop this project further and get it implemented.
There are countries in the Sahara that have enormous amounts of irradiation, far more than their needs. When talking of a solar corridor the first countries to show interest are those in the Sahara. They see an opportunity to produce energy and ship it to the coast in the South.
As far as rural electrification is concerned, to what extent is pico solar a sustainable long-term solution?
Pico solar is particularly important because, as mentioned earlier, most of the countries in the region do not even have a grid. If you say people have to wait for a grid before getting electricity then they will have to wait another 30 years, so pico solar is not a solution for the future, it is a solution for today.
We should start today building mini-grids and even solar home systems to ensure that whilst we are providing grid-connected electricity for the urban communities we also provide something for the rural folks. If not, these are some of the things that will drive more people to come into the city and cause consistent urban migration.
So, in south Senegal we are building 40 mini-grids of 20kW each in 40 communities, which have never had electricity before, having secured funding from the European Union.
Are solar parks, such as those seen in India where the government purchases the land, applicable in West Africa?
It would be very good if West African countries adopt such a policy. The Cape Verde government provided land for the 2.5MW solar park despite being one of the smallest countries in the region.
Other countries are not doing the same, which is a problem because sometimes people have huge difficultly acquiring land. Furthermore, when you allow people to go negotiate with local owners for land, some will take agricultural land for the solar PV park. Meanwhile, there are other areas where land is actually far more suitable, but landowners are not allowing it. Governments coming in could solve this problem.
Mahama Kappiah will be among the speakers at the second Solar & Off-Grid Renewables conference in Accra, Ghana on 19-20 April. hosted by PV Tech's publisher Solar Media, the event will explore the opportunities and challenges for solar and other renewables in the region. Further information is available here.