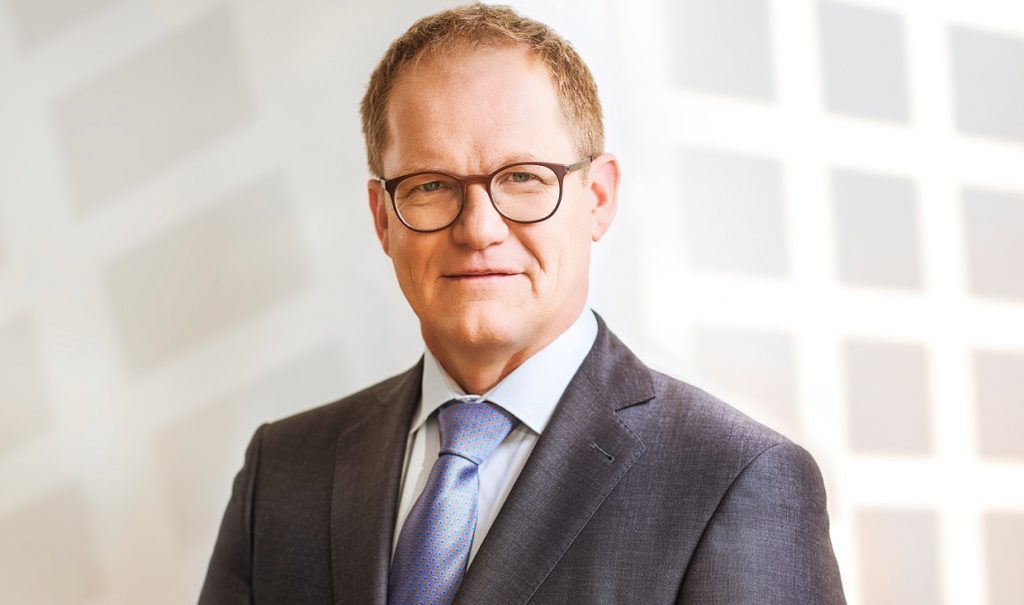 While SMA Solar Technology's growth continues to be held back by ongoing electronic chip shortages, the German inverter supplier has seen its order backlog soar as it benefits from strong consumer demand for rooftop solar.
"It's raining orders," said CEO Jürgen Reinert, who believes the company would be able to double or triple its revenues if it had access to sufficient electronic chips.
Speaking with PV Tech Premium at Intersolar Europe last week – on the same day SMA published its Q1 results – Reinert revealed that the industry has increased access to politicians as he called for additional policy support for European PV manufacturers.
PV Tech: Which area of the business has the strongest growth potential?
Jürgen Reinert: Right now, I would say it's just perfect. We have the situation that in every single business area we are in a situation where we could deliver double or even triple the volume because of the fact that we have got so much tailwind coming from politics, coming from the consciousness that is building up among the people, among politics, etc, to really do much more, to not be relying on energy from other countries.
We have got three segments: home solutions, C&I solutions and large-scale solutions. And for all of these we could actually sell much, much more than we are able to do due to the fact that, of course, we have some shortages on chips, like many companies. But the tailwind is just enormous.
Do you think that the public has more of a focus on installing home solar given the current high energy prices and renewed interest in reducing reliance on fossil fuels?
That is what we see in all the countries, we see that there are a lot of requests coming from the individual homeowner towards the installer, distributor and to us.
I think this is definitely there to stay. Even if the electricity prices should go down again, we have come to such low cost when it comes to photovoltaic generation that this just makes perfect sense to couple the sectors we just spoke about. And this will stay there even if prices will go lower again because it's just making sense not only for the environment but also for the money.
What is the current situation in terms of chip shortages?
We are really having our biggest shortages when it comes to the supply side on the chips, on the processes, the intelligence in the system. And these are of course the normal suppliers like Texas Instruments (TI), Intel, NXP, etc, that are really putting everybody on short [supply].
Unfortunately, there is even a little bit of the situation that the companies producing in Europe are worse off because of the fact that most of these companies that I just named are actually from the States – TI, Intel, etc – and they produce in China.
So there is the situation that the mother company gets, of course, a good deal for their main customers, even very big ones. But even the production side gets a fair share of the production which is aligned in between. Meaning that even if I speak to European bosses of these companies, they say: "As Europe, we are a little bit left behind." And that's of course a pity as SMA is one of the few companies that really makes sure we design and develop in Europe.
Are there any other challenges that SMA is facing, or problems you have had to overcome in terms of pricing or the supply chain?
It's really boiling down to chip supply when it comes to most of the things. It's raining orders, and we cannot catch them all because of the fact that we just cannot give a supply date from our side.
So, no, there's nothing actually that is bothering us. On the contrary, we have very good access nowadays to politicians, we are very much different as a photovoltaic industry compared to say three, four, five years ago.
I've been speaking to our chancellor in Germany, but we've been speaking with Kadri Simson, who's the energy minister for the European Union, and we have very easy access and we are being heard nowadays as a company as well as an industry.
So the only real problem is chip shortages. And as I said at the beginning, if we would have chips, I think we could double to triple our revenues right now. And of course, the profit would be very nice indeed as well.
Are there any policies you would like to see to encourage the renewable energy transition?
This is, of course, different from country to country. In Germany, I would, for example, say we have too much administration, it's too cumbersome to really go through all the different steps that are needed from the administration point of view. UK, probably also, likewise.
Then, France, Italy, Scandinavia are all different. So I think what would be good if there comes more of a harmonisation when it comes to the certification that you need, and not every country doing its own scheme.
And the other part that really would interest me is that we would see a much higher focus on European development and production. Because in Europe, 90% of the goods in the photovoltaic industry come from China. So modules nearly all, and even on inverters quite high, and even on other components it's a rather high dependency on China.
So right now we have all the discussion about getting independent from Russia. But what if that would be changing in the next years and we would want to have that independency more from China? And that is the situation that I think Europe should be more aware about.
I'm not for taxes and locking out countries, that's not what I'm saying. What I'm saying is that one should be aware of that one is creating over the last years enormous dependencies on China as a country for our energy production here. And there should be good means to actually help companies that do focus on R&D and production in Europe.
Which markets do you see the strongest potential for the company and the industry?
I would say it's really across the board. I was in the USA two weeks ago, and we have more orders than we can handle, the same as in Australia, the same as in Thailand and the Philippines and Vietnam.
But I would say that Europe currently is doing the strongest. And that's not only Germany. I'm speaking about Poland… Austria is performing very well, Italy is performing very well, Spain, France, so it's across the board. Europe is really leading right now, I would say, in the demand situation. It's a perfect market.