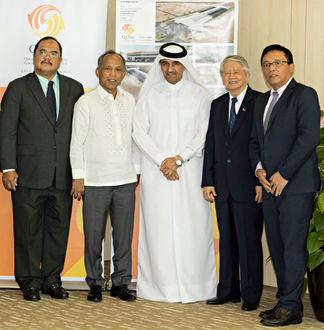 Integrated solar firm Qatar Solar Technologies (QSTec) has been in discussion with the Filipino government regarding future collaboration opportunities in growing the PV sector in the Philippines.
Chairman and CEO of QSTec, Khalid Klefeekh Al Hajri met Filipino Department of Energy (DOE) secretary Alfonso Cusi and other officials in talks over the Philippines 20GW renewable energy target for 2040.
QSTec, which is also the largest polysilicon producer in the MENA region, with a manufacturing facility of 8,000 metric tonnes per annum in Qatar, is actively looking for international partnerships.
In a release, the firm said that it saw "far-reaching potential opportunities for collaborating with the Philippines" in meeting its targets.
Klefeekh Al Hajri said: "With more than 7,000 islands, the Philippines holds enormous solar energy potential. As a fully integrated solar company, there is a tremendous opportunity for QSTec and its partners to work jointly with the Philippines in a wide range of solar industry development areas. QSTec spans the entire solar value chain from polysilicon to solar modules, right through to developing advanced manufacturing technologies for the solar and semi-conductor industries. As such, QSTec, coupled with the strength of its global network, is well-placed to assist in helping meet Philippines' solar energy targets.
"His Excellency Mr. Cusi has exerted great efforts to accelerate the growth of solar and renewable energy in the Philippines and we look forward to harnessing our respective resources and pooling together our collective brainpower to build new solar partnerships for growth."
Back in August, QSTec took a 49% stake in SolarWorld Industries GmbH, the new entity that purchased SolarWorld AG's core manufacturing assets.
The C&I solar segment in thriving in the Philippines at present, but large-scale projects are being held back an approval hiatus.