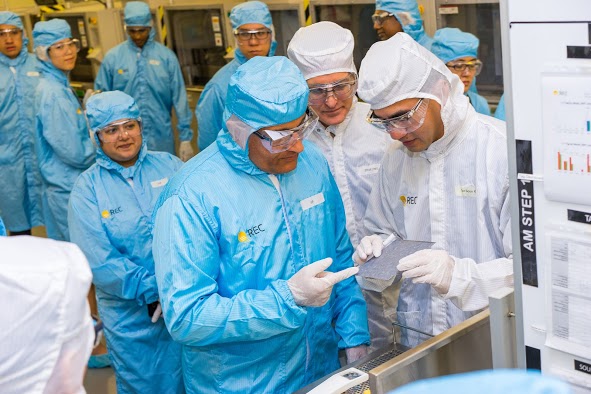 Integrated PV module manufacturer REC Group said total module shipments in the second quarter of 2016 reached 326MW, bringing first half year shipments to 640MW and a 4% quarter-on-quarter increase.
Although REC is no longer publically listed, the company continues to provide limited business information on a quarterly basis.
REC's key market continued to be the US, with shipments in the second quarter to have reached 202MW, accounting for over 60% of total shipments. US shipments in the first quarter of 2016 were 185MW.
REC currently produces the majority of PV modules at its integrated manufacturing plant in Singapore.
US shipments were said to have increase by 57%, year-on-year. The company is a key supplier to leading US residential installer, SolarCity and US project developer, Recurrent Energy, a subsidiary of 'Silicon Module Super League' (SMSL) member Canadian Solar.
Recurrent Energy recently completed a 200MWac/257MWp project located near Tranquillity, California which solely used REC's modules. The project was started in the summer of 2015.
REC also noted that shipments to the EMEA region reached 99MW in the second quarter of 2016, up from 78MW in the previous quarter and increased 87% (53MW) from the prior year period.
However, shipments to the APAC region declined around 50% in the second quarter, accounting for only 25MW of shipments, compared to 51MW in the prior quarter. Japan was a major contributor to the APAC region shipment decline, according to the company.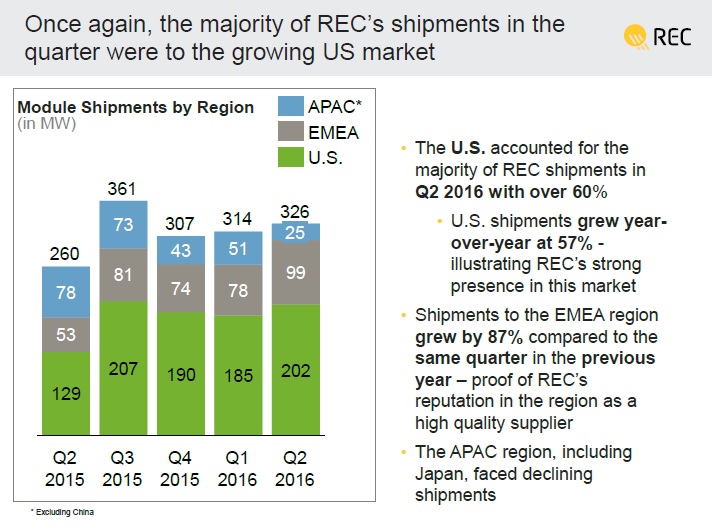 Production update
REC is currently upgrading and migrating its 1.3GW capacity to half-cut PERC cell technology and recently announced that it had started volume production of its 72-cell 'TwinPeak' module, using half-cut PERC cells.
The PERC upgrades were recently said to have resulted in a pre-production batch of multicrystalline solar cells reach a conversion efficiency of 20.47% measured by an in-house tester with an external calibration cell.
The company also noted that recent upgrades included a transition to a new online slurry system for multicrystalline wafer production that was completed at the end of May, 2016. The in-house slurry system was said to enable wafer production cost reductions as well as enhance capacity management and process optimization.
However, the recently trimmed its global workforce by 3% or around 65 jobs out of approximately 2,200 employees, due to global solar market conditions, including significant pricing pressure on PV modules.
REC also noted that it was still committed to spending US$48 million to upgrade all production at its Singapore facility.
The company has remained capacity constrained for the last 18-months.