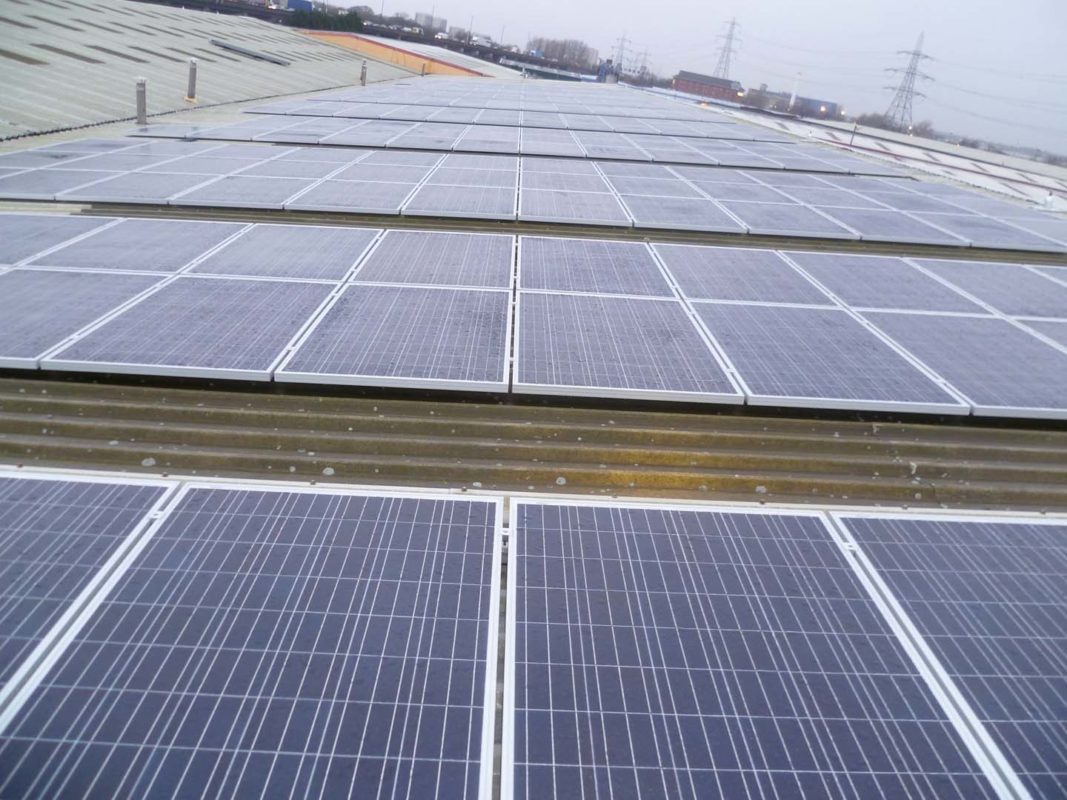 Solar wafer and module manufacturer ReneSola reported second quarter 2016 results impacted by a module end market demand slowdown in China and high polysilicon prices, while wafer ASP's decline, squeezing revenue and margins.
ReneSola reported second quarter 2016 wafer shipments of 423.3MW compared with 351MW in the previous quarter, a 20.6% increase quarter-on-quarter and up 50%, year-on-year.
However, wafer ASPs started falling in the quarter after the rush to complete downstream PV projects before the end of June rescinded.
Margins fell as a result, compounded by continued strength in polysilicon process in China on tight supply, due to high import tariffs for primarily US polysilicon suppliers, severely limiting imports.
Renesola management noted in its earnings call that wafer ASPs were falling by around 20%, yet expected prices to start stabilising in September on demand pick-up, while polysilicon prices could finally start to fall on weaker demand in the fourth quarter of 2016.
External module shipments continued to decline since the third quarter of 2015, primarily to Renesola's continued strategy to reduce module shipments to third parties and focus on its downstream project business. Module shipments were 282.4MW in the quarter, down 19.5% from the first quarter of 2016 and down 12.3% from the second quarter of 2015.
Management also noted that module ASP's were expected to decline by 20% in the third quarter.
With weaker demand, declining ASPs and a margin squeeze, Renesola guided third quarter revenue to be down to around US$200 million and margins falling to around 10%. As a result, full-year revenue would be in the range of US$900 million to US$1.1 billion, compared with previous guidance of US$1.0 billion to US$1.2 billion.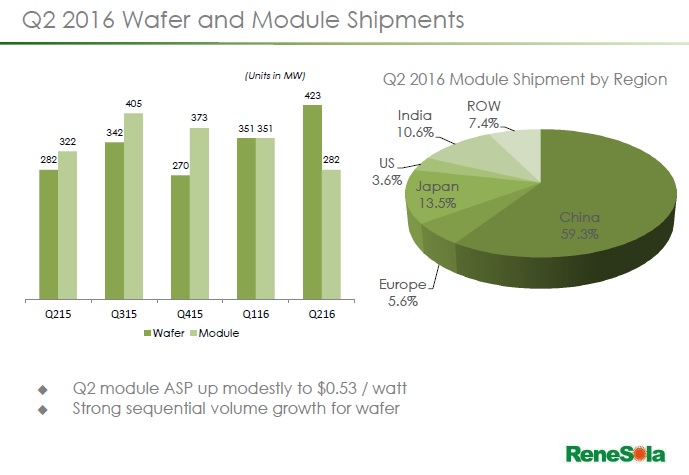 Financials
ReneSola reported second quarter 2016 revenue of US$250.0 million, compared with guidance range of US$280-$290 million.
Gross profit in the quarter was US$41.2 million, down 7.5% from the previous quarter. Gross margin was 16.5%, compared with 17.1% in the previous quarter. Net income was US$5.5 million, compared with US$5.7 million in the previous quarter.
Xianshou Li, ReneSola's chief executive officer said: "Although total revenue was below guidance due to recognition timing of the four UK projects sold during the quarter, we believe we should benefit from that revenue as well as the potential sale of another six UK projects in the second half of the year. Our strong project monetization outlook and continued growth in the high margin LED initiative give us confidence in our ability to transition from manufacturing business toward project development and distribution business."
Renesola reported cash and cash equivalents stood at US$163.4 million at the end of the second quarter, down from US$190.0 million at the end of Q1 2016.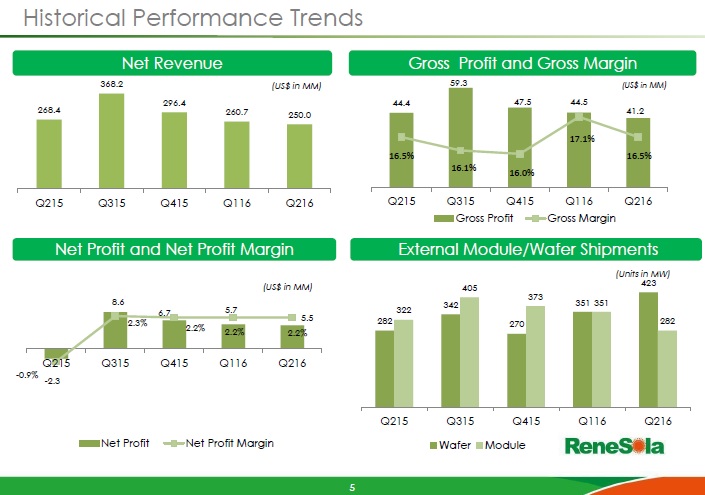 PV projects
Renesola noted that its PV project pipeline had increased significantly in the quarter, reaching 938MW, which included 918MW of PV projects, across China, Japan, Thailand, Turkey, North America and Europe.
The company connected six utility-scale projects to the UK grid during the quarter with total capacity of approximately 26MW and expects the projects to be sold in the third quarter of 2016.
Aside from the UK market, Renesola noted the strength of its project plans in the US and Canada. In the US the company has a 170MW pipeline of projects.
"You're all probably aware that conditions in the solar industry are challenging. Accordingly, we're operating conservatively going into the second half of the year. Demand is slowing in most regions of the world pressuring sales growth and margins.
At this point in the quarter, we can see the slowdown quite clearly in China and other regions. Our strategy has always been to keep the company stable in tougher times and strive in good times. Again, we intend to be flexible and resilient as the industry cycles through a sluggish period in the next couple of quarters," added Li from translated prepared comments in the earnings call.