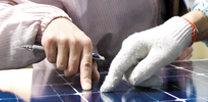 A joint venture between India-based developer Renew Power and China's cell and module manufacturer Hareon Solar Technology has commissioned a 72MW project in the Indian state of Andhra Pradesh.
The project is located across two districts, Kurnool and Prakasam, and is connected to the 132/33kV Adoni substation and the 132/33kV Cumbum substation.
The project was won in competitive bidding in a November 2014 auction of 619MW solar capacity, held by two state Distribution Companies (Discoms), Southern Power Distribution Company Limited of Andhra Pradesh (APSPDCL) and Eastern Power Distribution Company (APEPDCL).
The power generated from the project will be sold under a 25-year power purchase agreement (PPA) with APSPDCL.
Hareon Solar's multi-crystalline silicon solar modules were used in the projects, after a deal was signed in July 2015.
Sumant Sinha, chairman and CEO, ReNew Power said: "ReNew Power's extensive experience in executing projects in India has been matched by Hareon's high efficiency solar modules production. This has helped us fast-track the commissioning of this project. Both India and China are leading the way in [the] solar energy revolution and this partnership will go a long way in setting new benchmarks for quality and efficiency."
Rubin Sidhu, director of Hareon Solar India said: "We are very proud of the work done by both teams to commission this project ahead of schedule. This is Hareon Solar's first PV project in India, and we look forward to building more projects and growing our portfolio in India in support of her clean energy targets."
In a recent blog for PV Tech, Jasmeet Khurana singled out Andhra Pradesh as one of the Indian states likely to see curtailment of solar power in the coming years.