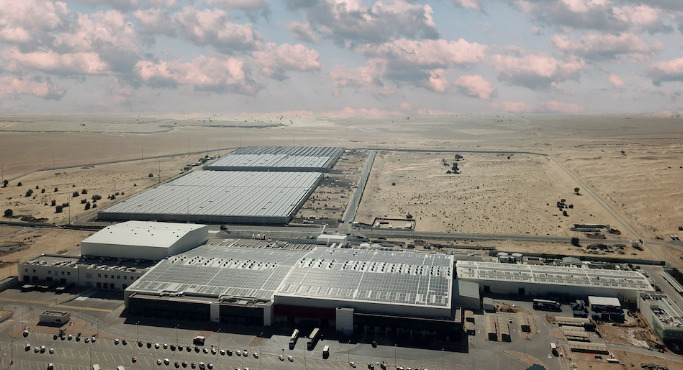 Enerwhere and Etihad Esco near completion of Middle East's largest solar rooftop
13 February: Etihad Esco and solar contractor Enerwhere have neared completion of an 18.1MW rooftop solar project across five rooftops at the Mai Dubai water-bottling factory and adjacent Ghaffath water reservoir in Al Qudra, Dubai.
A release from the Middle East Solar Industry Association also claimed that it would be the second largest PV rooftop in the world.
The initial phase saw 30,000 solar modules installed across three of the rooftops and after phase 2 the site will have nearly 50,000 modules on a combined rooftop area of 136,000 m2.
B.Grimm unit going for 70MW of rooftop solar development
13 February: The rooftop solar unit of Thai firm B.Grimm Power is planning to develop 70MW of rooftop PV projects through the money raised by a capital increase from another B.Grimm unit named B.Grimm Solar Power 1.
Kasapreko and CrossBoundary Energy commission 400kW Ghana solar plant
14 February: Kasapreko Company, CrossBoundary Energy Ghana (CBE Ghana), and Yingli Namene West Africa have completed commissioning of a 400.4kW solar plant located at Kasapreko's Spintex Road bottling facility.
The installation is said to be Ghana's first PPA-financed solar plant for a commercial customer.
CrossBoundary Energy Ghana, the first licensed operator to finance solar PPAs for Ghanaian businesses, will operate the rooftop facility on behalf of Kasapreko as part of a 16-year solar services agreement. Under the agreement, Kasapreko will only pay for solar power produced, receiving a single monthly bill that incorporates all maintenance, monitoring, insurance and financing costs.