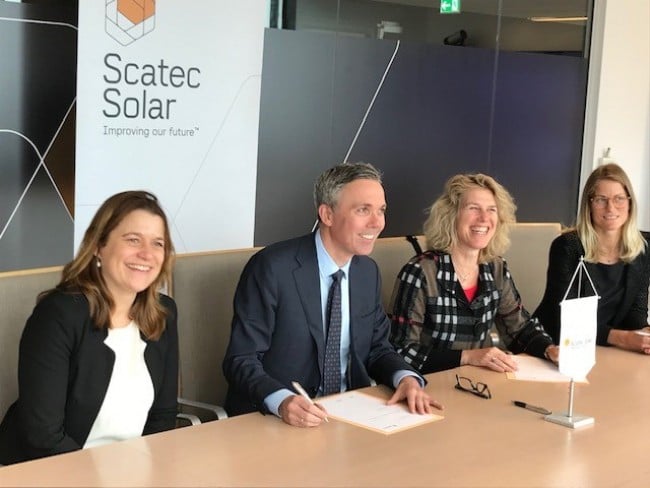 Scatec Solar has enlisted a development financier for a utility-scale project in Ukraine, one of a few it is working to deploy in the Eastern European state.
Dutch development bank FMO has agreed to acquire a 40% share of the 32MW Kamianka project, with Scatec Solar set to retain the remaining 60%.
The scheme is designed to produce an annual 39GWh, enough to cover the needs of over 10,000 Ukrainians. It is predicted to cost around €35 million (US$39.52 million), 70% of which will come in the form of non-recourse debt from the EBRD and FMO.
Scatec Solar will remain the EPC, O&M and asset management service provider for the project. The firm began construction in early 2019 and intends to take the plant to commercial launch during this year's fourth quarter, Scatec Solar explained.
The project is one of several Scatec Solar is building with support from Ukraine's 10-year feed-in tariffs (FiT). The same subsidy arrangement will back the 148MW Progressovka plant, which EPC PowerChina Guizhou Engineering started building this week.
The Norwegian firm, responsible for a 500MW pipeline in Ukraine, is amongst those reaping FiT support before it is phased out in the Eastern state, replaced by deregulated auctions. The country is seen as an irradiation hotspot, but concerns remain over grid constraints and access to finance.
For Scatec Solar, the past few months have been busy in Ukraine and beyond.
The developer has completed batch after batch of an EBRD-backed 400MW bifacial PV complex in Egypt, worked on a 33MW scheme in Mali, linked a 65MW plant in Malaysia and become a finalist for a 3.5-4MW floating project in the Seychelles.
As for Dutch development financier FMO, its foray in Ukraine comes two months after it helped arrange funding of US$59.2 million for a 50MW project in Jordan, equipped with locally-sourced solar panels.