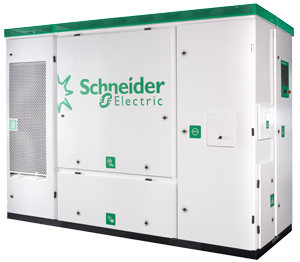 Schneider Electric is launching the 'Conext SmartGen' an intelligent, cloud-connected 1500 volt utility scale power conversion system, with a suite of supporting software solutions called the 'Power EcoSystem', including the cloud-based monitoring and control solution 'Conext Advisor 2'.
Problem
Continued pressure on lowering the LCOE (Levelized Cost of Electricity) for PV power plants has required greater focus on power generation efficiency and increased service life.
Solution
The Conext SmartGen is the new approach for large-scale renewable power installations. It provides greater efficiency in power generation with lower short-term and long-term costs, and a far longer service life. The integrated solution features built-in sensors and intelligence for connectivity to the entire plant, and optional monitoring and control using Schneider Electric's SCADA system, Conext Advisor 2. The system is claimed to lower capital expenditure due to its 1500VDC configuration resulting in the need for fewer inverter stations, less equipment and less wiring. The high power density and integrated design results in a claimed lower cost-per-watt. Self-commissioning and grid-simulation features are said to enable for faster, easier setup. The SmartGen inverter meets North American (UL) and International (IEC) safety and EMC standards. It is compliant to all major electrical codes, and grid interconnection standards.
Applications
Utility-scale PV power plants.
Platform
The Conext SmartGen is the result of a complete re-evaluation of inverter design, focused on delivering a consistently better LCOE. It includes components and design techniques from heavy industry, transportation and other fields far beyond power electronics. Every component was analyzed and selected for cost, reliability, extended lifetime and ease of serviceability. Connectivity to the Cloud opens new opportunities for 30 years of optimized performance. The system comes with 98.6% Peak, 98.4% CEC, and low power consumption, which is claimed to deliver more GWh to the grid. Smart controls embedded in the SmartGen cooling system adjust its operating parameters to minimize losses. The SmartGen's unique MPPT algorithm delivers over 99.9% static and dynamic efficiency with a maximum MPPT voltage of 1500VDC.
Availability
June 2016 onwards.