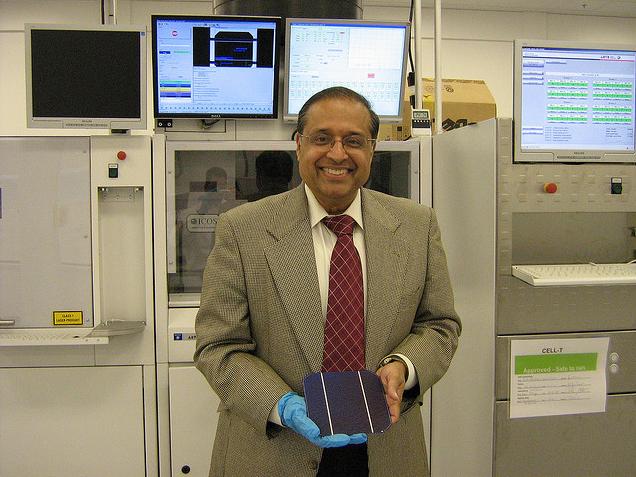 Updated: The US solar trade body, Solar Energy Industries Association (SEIA) said it would spearhead the campaign against the trade petition by US-based bankrupt cell and module manufacturer, Suniva with the USITC (United States International Trade Commission) that threatens import duties on all crystalline solar cells and panels imported from anywhere across the world not produced in the US.
Suniva recently filed a Section 201-203 complaint with the ITC after entering bankruptcy proceedings and closing its cell and module facilities with the majority of its workforce made redundant. The company started cell production in 2008.
The company claimed that massive quantities of solar panels were entering the US and being sold at prices well below its ability to compete and make a reasonable profit. Suniva had been loss making before and after agreeing to be sold to China-based diversified renewables firm, Shunfeng International Clean Energy (SFCE) in August, 2015.
Abigail Ross Hopper, president and CEO of the SEIA said in a press conference yesterday that an "overwhelming majority" of the trade associations Board had approved the decision to lead a campaign against the Suniva complaint, noting that there were around "260,000 jobs at risk" in the US, because of the action by Suniva.
Filings by Suniva indicate that the ITC had asked for evidence of support from other US-based PV manufacturers in its Section 201 complaint, yet Suniva's response was that no major producer, such as SunPower or First Solar had publically stated that it was against Suniva's actions.
However, executives from both SunPower and First Solar hold positions on the SEIA Board. Ross Hopper declined to reveal whether SunPower or First Solar had voted for or against the trade body taking the initiative to fight against ITS compliant.
Suniva has also been a supporter of SolarWorld Americas successful campaign with the US Commerce Department imposing anti-dumping and countervailing duties on solar cells and modules imported from China and Taiwan.
However, despite criticism in public statements of the low prices of imported panels, SolarWorld Americas has not supported Suniva's petition to date. Before parent company, German-based SolarWorld AG recently filed insolvency proceedings with its key German-based subsidiaries in the country around 60% of SolarWorld's total panel production in 2016 was sold in the US.
SolarWorld Americas and First Solar are the largest PV manufacturers still operating in the US. Suniva has only targeted traditional crystalline-based products not thin-film technologies produced by the likes of First Solar. SunPower only has a R&D pilot line in the US, while solar cell production is located in the Philippines and Malaysia, while module assembly is undertaken in Mexico and would be impacted by any newly imposed import duties.
The trade action by Suniva would impact the entire US solar supply chain and could seriously damage the future deployment of solar in the country, according to the SEIA.
Update
SFCE, which had been silent over the Suniva trade dispute, issued a statement today, distancing itself, as well as sending USITC a letter on the Section 201 filing.
SFCE noted: 'As the majority shareholder (63.13%) of Suniva, Inc., Shunfeng believes it is not in the best interests of the global solar industry for the Chief Restructuring Officer of Suniva, Inc. to file the Section 201 petition for global safeguard relief, nor does it represent the correct path to a viable solution for all stakeholders to the earlier petition for relief under Chapter 11. The global trade cooperation is vital to the sound and prosperous growth of the solar energy industry and the US solar market would not thrive if the fundamental principles of free market economy were not abided by.'
Other Chinese solar companies have started to pitch-in and attack Suniva. PV panel backsheet producer and planned high-efficiency n-type IBC (Interdigitated Back Contact) solar cell and module manufacturer, Jolywood (Taizhou) Solar Technology Co had also sent a letter to the USITC, reiterating the risk to around 260,000 US solar jobs.
Jolywood blamed Suniva's poor management for the bankruptcy.
'The fact that a corporation went bankrupt due to improper management but still applied for trade remedy is essentially an abuse of the law. If your country agrees to such a request and carries on an investigation, more other corporations will follow suit in the future, causing more corporations to stagnate and make no attempt for progress.
We call for your Commission to seriously review the case brought by Suniva based on Section 201. We also expect USITC to urge the concerned corporation — Suniva — to adopt the right approach to handle bankruptcy and adopt relevant rational measures.'