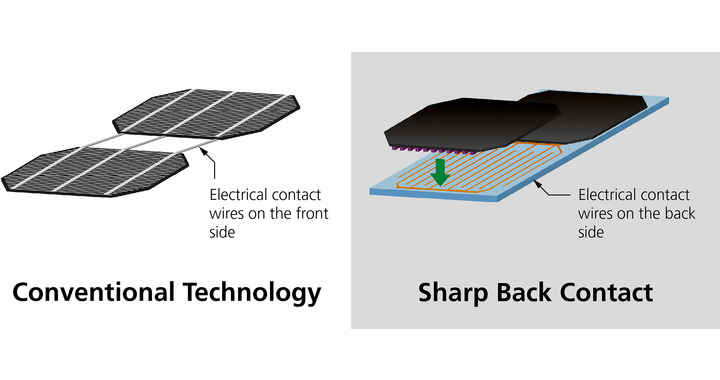 Sharp is making available its NQ-R256A (256W) monocrystalline PV module to the European market, which incorporates back contact cell technology for efficiencies of 19.8%. The 48-cell configuration has proved popular in Japan and can maximize rooftop area, compared to conventional 60-cell configured modules.
Problem
With conventional technology the solar cells have the electrical contact wires on the front side, blocking the sunlight that enters into the cell, and approximately 6% of received light remains unused. Often, standard 60-cell formatted modules limit the ability to maximize rooftop space due to size and roofing obstructions, reducing the opportunity to maximize system yield.
Solution
With back contact cells all connectivity is removed from the front to the backside. Sharp's back contact technology reduces the losses from 6% to 3%, an improvement of 50%. In addition to increased module efficiency the cell design also has a stylish black front. The NQ-R256A module can generate more power than with conventional 60-cell modules on the same give roofing area, helped by the compact dimensions (1,318 x 980 x 46 mm). The compact and lightweight 48-cell module is easy to handle, and can be installed either in portrait or landscape orientation, which increases the flexibility of the arrangement of the panels to optimize any residential roof surface.
Applications
European residential rooftops.
Platform
The NQ-R256A module has IEC certification (IEC/EN 61215 and IEC/EN 61730). The module has a frame with two additional support bars and successfully passed a snow load test of 5400Pa according to IEC61215. The junction box is protected against contact damage, overheating and water with fixed cable connections, heat sinks and resin filling. Sharp has developed its own sophisticated test procedure, which in important areas is more stringent than the IEC requirements. For example, the temperature test is carried out with 2,000 cycles, instead of only 200 cycles. The module comes with a 10-year product guarantee and 25-year linear power output guarantee.
Availability
Currently available in Europe.