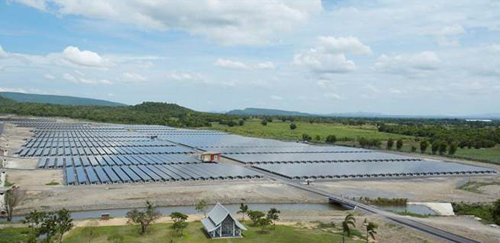 Sharp Corporation's energy solutions business, which includes its activities in solar, will continue to operate as a brand in its own right, following the sale of a majority share in the group by Foxconn.
Foxconn, also known as Hon Hai Precision Industries, is the Taiwanese equipment assembly giant putting together devices including the iPhone. Foxconn became the holder of a 66% stake in Sharp last Saturday, when a long-awaited and previously delayed deal finally went through.
Ahead of the deal's official signing ceremony, which took place in Japan, PV Tech had asked Foxconn for news on what would happen to Sharp's energy solutions segment, through which the Japanese company sells solar modules, energy storage, LED lighting and energy management systems. Foxconn was unable to answer at the time, and a joint press conference on Saturday in Osaka did not appear to yield many answers either.
As the deal was going through, analyst Finlay Colville of Solar Intelligence commented that while Sharp's market share in solar has diminished significantly over the past few years, the company had "a heritage in solar that is unrivalled within the industry, spanning decades of R&D activity and manufacturing".
Colville said Sharp has been "decidedly behind the curve in the past few years", which might limit the company's chances of improving its position going forward but added that the entire industry "owes Sharp a debt of gratitude" for its past work.
Sharp CEO's statement
However, on Monday, Sharp Corporation president and CEO Kozo Takahashi posted a statement in Japanese on the company's website regarding the future of the energy solutions segment.
The statement reaffirmed Sharp's commitment to existing customers, stating that warranties and after-sales service agreements would continue to be honoured.
Takahashi also said the Energy Solutions business would target different regions based on local need and market conditions, in accordance with the partners' medium-term plans. This would include solar, storage and home energy management (HEMS) solutions, as well as 'mega solar' (utility-scale), potentially encompassing a growth in O&M operations in Japan and overseas.
Some sources including MIT Technology Review have speculated on what the deal might mean for Foxconn's own ambitions in clean energy. The company is widely thought to have pursued an interest in Sharp due to the attractiveness of the latter's success in panel displays and other electronic components, but Foxconn reportedly also has plans to develop some 400MW of solar in China and has partnered with another Japanese company, Softbank, to work on Indian solar projects and invest in that market. The Sharp deal in theory gives Foxconn further access to home energy management and energy storage businesses as well as PV modules.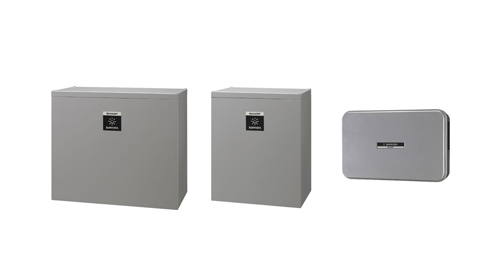 Japan's residential market for solar and storage
Sharp has just launched its latest home energy storage systems in Japan, with features geared towards meeting changes in the electricity market that are underway in the country.
The "cloud battery storage systems" align control of a lithium-ion battery with weather forecasting and rooftop PV production using the internet, to allow for optimum use of resources. System users will be able to use their own PV power on sunny days and limit the amount of more costly daytime energy they buy on cloudy or rainy days. At present there is some difference between daytime and cheaper night-time prices of electricity in Japan but not a great deal, however, changes are expected over the next few years.
As observed at the World Smart Energy Week and PV Expo events in Tokyo last month, within Japan, the growth of home energy storage tied with PV is expected to come from three changing market dynamics: the deregulation of the electricity retail market giving consumers more choice of supplier, the tapering off of the feed-in tariff (FiT) paid for renewables generators over the next three years leading to the increased desirability of higher levels of self-consumption and perhaps most significantly, the coming of a Zero Energy Housing standard for all new homes in 2020. The majority of big residential PV providers in Japan, including Panasonic, Kyocera, Solar Frontier and overseas firms such as Canadian Solar, already offer their systems in complete kits, including inverter, panels with battery storage and energy management gradually being added to those suites.