The dynamics of PV manufacturing and shipments has been going through a fundamental shift in the past 12-18 months, with the big-six breakaway c-Si Module Super League contingent targeting 40% market-share in 2015.
Understanding exactly how this has come about, what it means for capacity expansions and capex, and how this translates to PV technology roadmaps and PV equipment spending is a massive deal right now for the industry and its observers.
To coincide with the countdown to PV Tech parent company Solar Media's forthcoming 'PV Manufacturing & Technology Quarterly' report, we will be discussing and reviewing these key issues and themes in weekly blogs in PV Tech over the coming months.
This feature kicks off with the need for a reclassification of solar PV manufacturers, the market share aspirations of the big six Super League, and why relying on a legacy tier-level nomenclature is acting somewhat as a barrier to a more useful segmentation on PV manufacturing today.
The Silicon Module Super League
Recently PV-Tech senior news editor Mark Osborne explained succinctly how a select group of six c-Si module suppliers had significantly increased shipment guidance in the past 12 months, with the module leaders citing annual shipment targets as high as 5GW for 2015.
The feature suggested a reclassification of this 'Super League' of module suppliers, to differentiate from thin-film competitors and other c-Si module suppliers that were in effect capacity constrained, and unable to keep up with the market-share aspirations of the leading pack.
Indeed, there are many reasons for ring-fencing the big-six of Canadian Solar, Hanwha Q-Cells, JA Solar, Jinko Solar, Trina Solar and Yingli Green – not simply the shipment forecasts. Importantly, each of these suppliers is manufacturing-focused, typically with balanced cell/module capacities and varying degrees of ingot/wafer capacity. Each participates strongly in the largest PV market in the world today – China. And each has the scope to quickly scale capacity using what has become known in the past few years in the PV industry as the 'asset-lite' approach.
These factors separate the big-six from traditional, global competitors such as the two thin-film major players (First Solar and Solar Frontier) and other GW-level c-Si manufacturers/suppliers such as SunPower, REC Solar, Kyocera, Panasonic, SolarWorld and all others. Of course, it could be argued that Yingli's selection in the Super League is in question, but we can return to that later at the end of the year.
We will touch on the key themes that differentiate the big-six in forthcoming articles in PV-Tech, but for now, placing these six c-Si powerhouses into a Silicon Module Super League category allows us to examine the business models and strategies of these companies collectively, and in comparison to all other c-Si and thin-film challengers.
The Silicon Module Super League: Market share gains
Figure 1 (left) shows the capacities, shipments and market-share of the six companies, when treated as a single entity. Capacities are effective annualised levels, and shipments include third-party and in-house project deliveries (effectively non-GAAP figures) to best understand supply and demand.
Historic data for Hanwha Q-CELLS and Hanwha SolarOne for 2013 and 2014 is consolidated also, to align with the updated Hanwha reporting in 2015.
There are several takeaways from the graphic. The most important one is the picture of a group of six companies that are expected to move from 33% market share of module shipments (in 2013) to approximately 40% during 2015. Indeed, the Silicon Module Super League is forecast to ship a staggering 23GW of modules (external and in-house projects) during 2015.
At first glance, it looks like module shipments are closely following module capacity levels, but don't let this fool you for one second. This is just an aggregated capacity build-up; at the individual supplier level, the capacity ranges from heavily underutilized (the case of Yingli Green in 2015) to those relying on GW+ levels of third-party outsourced module production.
In fact, as we dive deeper into the in-house versus outsourced production issue for the six companies and across their value-chains from ingot to module, a whole range of issues emerges.
For example, 30% of modules shipped by the big-six in 2015 will contain c-Si cells manufactured by other companies. Interestingly, it now becomes clear that shipping high efficiency modules (let's say PERC modules) does not actually rely upon having any PERC cell production capacity, but being able to source sufficient PERC cells from say Taiwan. More on this later, as it could become a further differentiator to those c-Si manufacturers that can state with certainty all their modules have in-house cells inside, for example.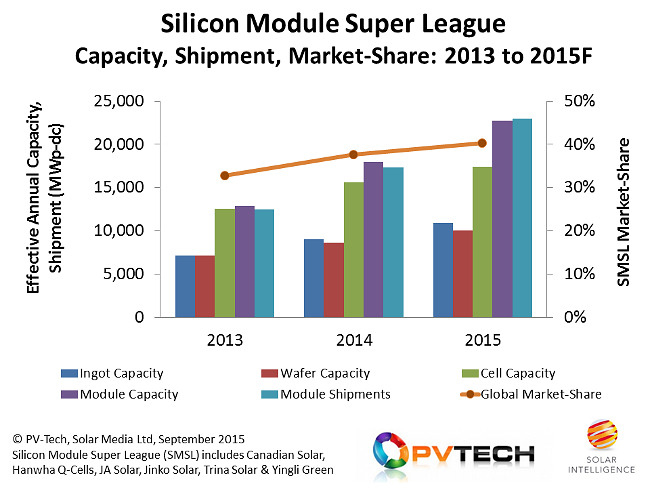 Time to get rid of the tier categories in solar
Segmenting PV manufacturers into tier categories became fashionable in 2010, but when introduced it was intended to indicate that a company was a major manufacturer (like our big six above), with a significant global market-share. Over the years, the tier term has been hijacked and distorted to the point that it now has almost no value or meaning whatsoever.
Tier was never meant to be a way of assigning bankability – as though any term can possibly capture bankability, in the first instance. Barely a week passes without some largely-unknown module-only supplier (say with a few MW of capacity) proclaiming having been included on someone's tier 1 listing.
If everyone can find a reason to be on someone's tier 1 list, then surely we have got to the point that the whole tier thing is irrelevant? Cases when companies claimed to be on someone's tier 1 list only to announce impending bankruptcy shortly after are not isolated instances.
Basically, since there is no meaningful definition of tiers, and it certainly should not be linked to anything like bankability, the need for better manufacturing groupings becomes all the more apparent.
Over the next couple of months, we will focus on key PV manufacturing and technology issues that are much more relevant to the industry at large, and what is important for capex and PV equipment supply moving into 2016.