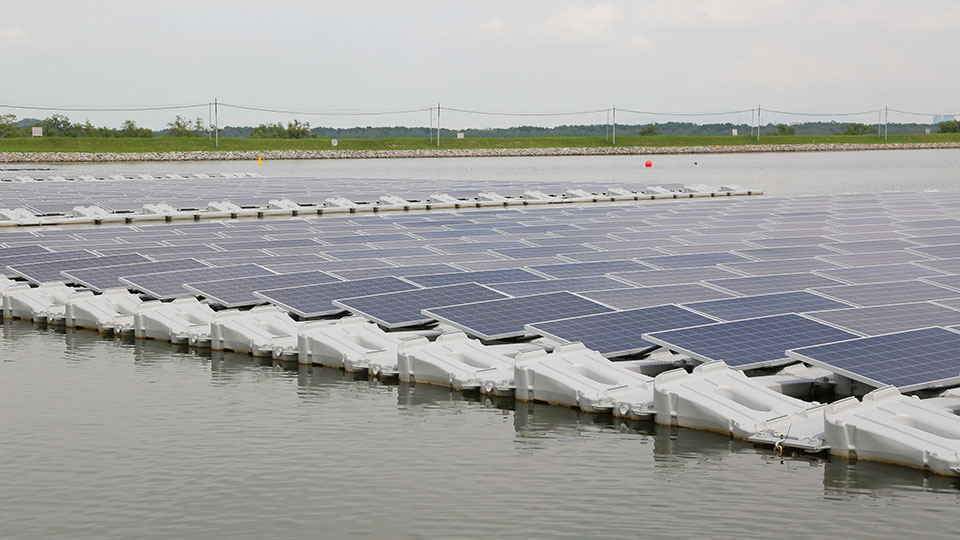 A Singapore university is running the world's largest testing centre for floating solar PV systems.
The Solar Energy Research Institute of Singapore (SERIS) at NUS has embarked on a two-phase study of the economic and technological feasibility of deploying large-scale floating PV systems on inland water bodies.
In the first phase, the one-hectare test-bed at Tengeh Reservoir will be used to examine 10 different types of floating structures and PV modules, each generating about 100kW of power. After a six-month evaluation period, the two best-performing systems will progress to Phase 2 in 2017, where they will be required to produce 1MW of power each.
SERIS has developed an innovative monitoring solution which tracks movements along three dimensions as well as their respective rotations in real time. It claimed this will be particularly useful for off-shore PV structures in the future, which may not be visible from land.
Tan Nguan Sen, chief sustainability officer at Singapore's national water agency PUB, said that three separate studies dealing with impact on water evaporation, water quality and biodiversity respectively would be conducted.
He added: "The results of the environmental studies will allow us to make more informed decisions on how some of our reservoirs can support floating solar PV systems in future, after taking into account the economic viability of these systems."
Singapore's Housing & Development Board (HDB) recenlty opened the next round of a 40MW solar leasing tender. Also in East Asia, Taiwan has recently emerged as a potentially strong market for floating solar as the government considers innovative ways of deploying large-scale on island lacking in suitable space for ground-mount projects. The PV Taiwan exhibiiton also debuted a number of PV modules specifically designed to handle the tough conditions for solar systems located close to or on lakes and the sea.
Solar & Off-Grid Renewables Southeast Asia 2016 returns for a fourth year in November. This is the distinguished, must-attend event for solar PV companies looking to secure profitable business across the booming Southeast Asian market. Co-location with our established Solar Finance & Investment conference provides an additional day of bespoke content and offers a deeper dive into issues around clean energy financing and long term capital investments across the region. Click here for more information and to register.