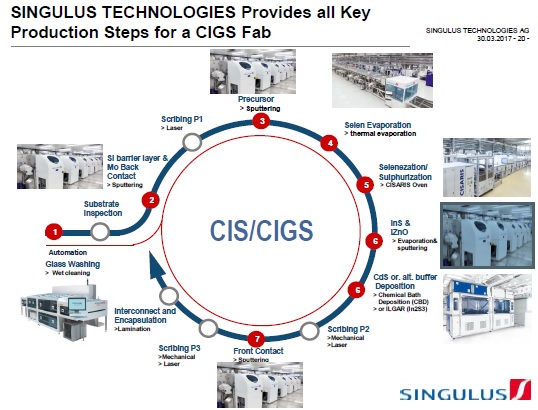 Specialist PV manufacturing equipment supplier Singulus Technologies expects to double sales in 2017 after its new order backlog in 2016 reached €109.9 million, a 310% increase over the previous year.
Singulus reported 2016 sales of €68.8 million, down from €83.7 million in 2015. The company said that doubling of sales guidance was based on expectations of follow-on orders with China-based CNBM (China National Building Materials), which owns German-based CIGS thin-film producer, AVANCIS, which is establishing production plants in China.
Singulus noted in its 2016 annual report that around 50% of the first phase order from CNBM had been shipped and assembled. The company expects further orders in the 300MW range from CNBM in 2017. Interest for further large CIGS production lines from other companies based in China were also promising, according to the company.
The company also noted that it expected further orders for its crystalline silicon wet-chemical equipment (Silex II) for N-type mono heterojunction (HJ) solar cells within its solar division in 2017.
Total new order intake in 2016 was €152.1 million, up from €96.3 million in 2015, driven by the major orders from CNBM of over €110 million, the largest single order in the history of the company.
A restructuring gain of €41.2 million was recognized in 2016 in relation to its bond restructuring, helping produce income of €37.8 million, compared to a loss of €8.8 million in 2015. Net profit was €18.9 million in 2016, compared to a net loss of €43.4 million in the previous year.
Solar segment sales in 2016 accounted for 58.8% of total revenue in 2016, flat (59.5%) with the previous year. However, sales to Asia accounted for 38% of sales in 2016, down from 51.4% in 2015. Sales in the US accounted for 35.5% of sales in 2016, up from 30.7% in 2015. European and specifically sales in German were relatively flat year-on-year and 12.6% and 11.6%, respectively.
The company allocated €12.3 million to R&D activities in 2016, up from €11.2 million in the previous year. The increase was driven by further CIGS and HJ technology development as well as P-type PERC (Passivate Emitter Rear Cell) technology.