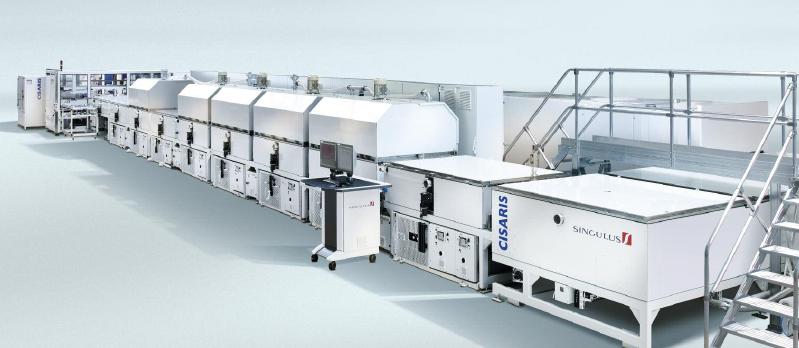 Specialist PV manufacturing equipment supplier Singulus Technologies has noted the delay in assembling and commissioning two previously shipped orders to customers that were expected to have been operational in 2016.
Revenue recognition for the shipped orders could impact guided full-year revenue, which was recently guided to be in the range of €68 million to €78 million. Singulus said that it would update on the customer delays should revenue recognition be postponed into 2017.
Although the company did not say why the assembly and commissioning of the tools at the customers manufacturing facilities had so far been delayed, after shipments were made in earlier quarters in the year, solar industry overcapacity has already forced some PV manufacturers to curtail utilisation rates and adjust capacity to reduce inventory levels on weak demand, primarily from China since the beginning of the third quarter of 2016.
In the last period of major overcapacity, PV manufacturers accepted equipment shipments on signed contracts but delayed assembly and commissioning of production tools due to the weak demand and to preserve cash.
However, Singulus has a very strong order backlog, primarily attributable to Chinese orders for CIGS thin-film equipment that accounted for around €110.0 million of its €134.0 million order backlog at the end of the third quarter.
Management noted that despite delays in pre-payments from Chinese state-owned enterprise China National Building Materials (CNBM), which owns Germany-based CIGS producer AVANCIS, the first phase orders accounting for two 150MW production lines are expected to be delivered in 2017, setting-up next year for significantly higher revenues.
Financial results
Singulus Technologies reported total revenue for the first nine months of 2016 of €36.7 million, compared to €57.7 million in the prior year period. Sales in the third quarter were €12.1 million, compared to €28.5 million in the first nine months of 2015.
Solar segment sales in the reporting period were €18 million. Order intake in the third quarter was €12.6 million, up from €11.3 million in the third quarter of 2015.
The company reported a negative EBIT of €14.7 million, compared to a negative EBIT of €13.9 million in the prior year period.