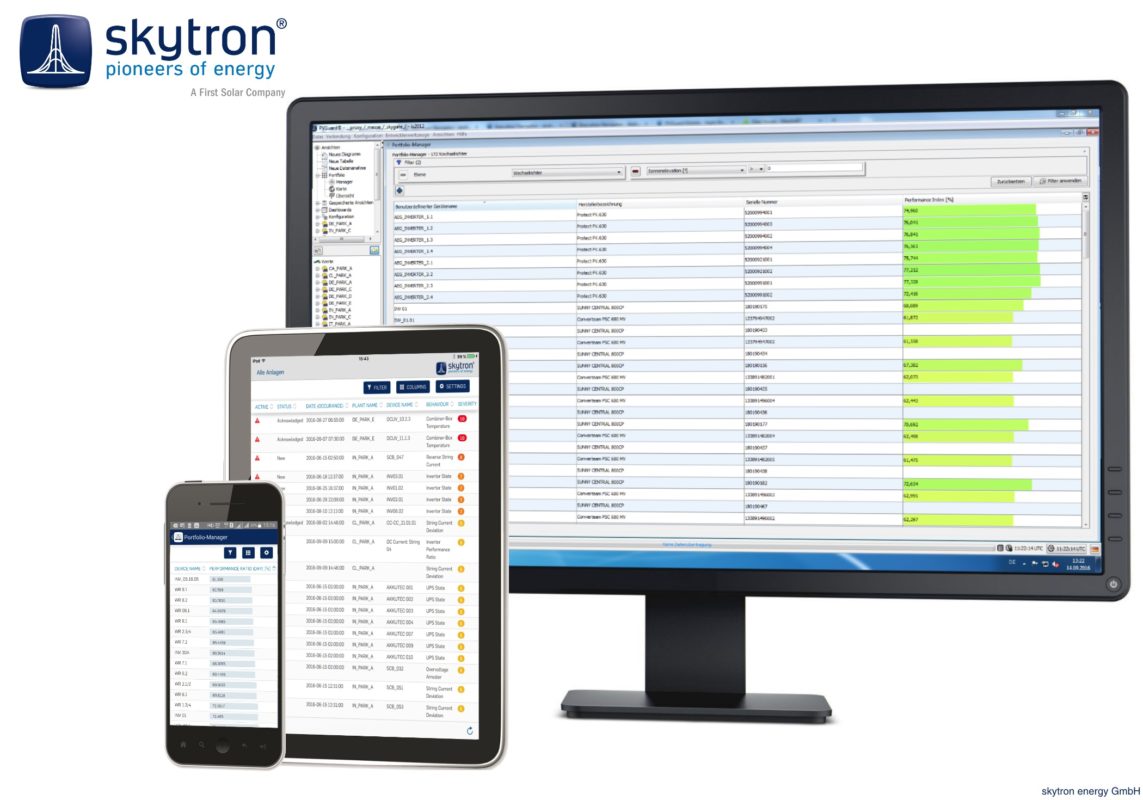 skytron energy has further enhanced its 'PVGuard' PV power plant supervision platform. Version 2.4 of PVGuard focuses on fleet management that enables system owners and operators to monitor the technical performance of all PV power plants, inverters and alarms across their entire fleet in a single view, which can be filtered or sorted to suit individual requirements.
Problem
PV power plant owners and operators are responsible for O&M, while increasing fleet sizes as the solar industry grows and scale of operations spans multiple geographies. There is a need to gain a single-point administration of an entire global portfolio of power plants than enables roles and responsibilities to be clearly defined.
Solution
The new features of PVGuard provide a completely new way of obtaining a summary view of an entire fleet. The geographical representation of sites and plant states allows operators a quick system overview at all times for any plant in an account. By overlaying the data for the various normalized parameters, you can compare and evaluate plants at different sites that use differing inverter concepts or module technologies. All of a customer's monitored inverters for example can be seen in one place, irrespective of plant. The graphical display can be sorted according to the performance ratio of each individual device. In this way, any poorly-performing inverters become immediately obvious. Added to this, the alarms from all power plants under supervision can be brought together and processed in a single place. Using proven drill-down techniques the view's perspective can be refined, bringing in further detail.
Applications
O&M of utility-scale and commercial PV power plant fleets.
Platform
The Fleet Manager is being made available in both the PVGuard Supervision Platform and in the PVGuard Mobile Apps. As a special bonus, a separate HTML version will also be available that can be embedded on a big screen in a control room or on a tablet PC. In particular, this will benefit operators providing on-call services for power plant fleets with the essential at-a-glance information they need.
Availability
September, 2016 onwards.