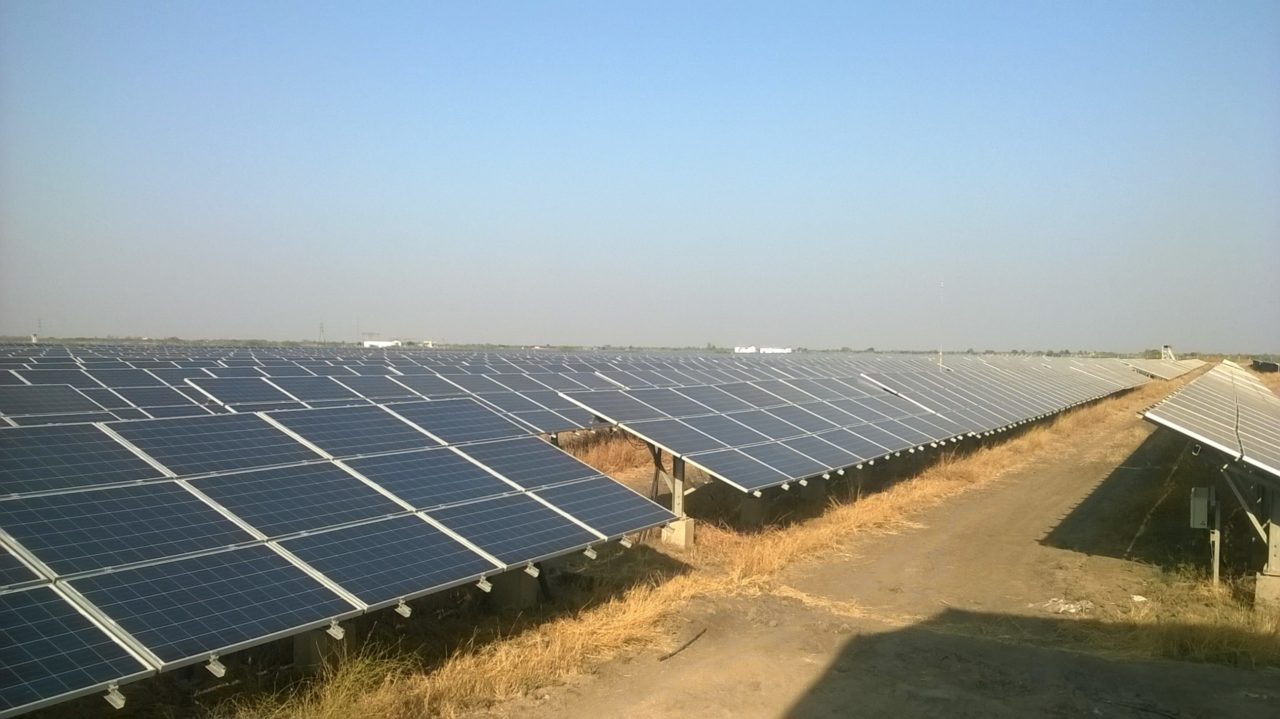 Smaller companies are finding it increasingly difficult to enter the Indian large-scale solar market and partake in the multi-gigawatts of competitive auctions for PV capacity.
Big Indian players and a handful of giant international firms have been dominating the tendering scene in India for some time, but there had been expectations that once firms had got their foot on the ground and got busy developing projects then space would open up for new and perhaps smaller firms to enter the market.
"The investment interest in the sector is very very strong," Vinay Rustagi, managing director of consultancy firm Bridge to India, told PV Tech in an interview last month. "There are still many players both domestic and international who've got a very strong appetite for bidding large numbers for these projects."
This manifested itself in heavy oversubscription for tenders in Odisha and NTPC and SECI's multi-gigawatt pan-India auctions prior to the safeguard duty imposition on cell and module imports from developed countries, China and Malaysia.
The sheer number of tenders also means that developers who don't win projects one day can be sure to have crack at another auction after only a short wait. However, the collection of players actually capable of bidding is becoming increasingly narrow. The auction award listings are littered with the names of the same dozen bidders time and time again.
Developers had lobbied NTPC to change the rules of a 2GW auction as they claimed the maximum allocation available to any single player was so big that it favoured the biggest and most financially powerful bidders, who could take the risk of economies of scale and bid for the whole amount. It was somewhat surprising to the industry then that NTPC's auction saw Japanese giant Softbank walk away with just 600MW, having bid for the full 2GW at 2.60 rupees per unit, just higher than the three other winners Acme Solar, Azure Power and Shapoorji Pallonji who bid at 2.59 rupees.
When asked if there is now room for smaller developers to come back into the market, Rustagi said that the ever-increasing project sizes are driving some consolidation within the industry and it's only the larger developers who have the experience, the funding capability etc. who will play the lead role going forward.
"So we do expect that the smaller developers will continue to be edged out of the market because they simply can't compete versus the bigger developers and the project sizes are getting larger as well," he added.
A report from Reuters this week echoed Rustagi's comments. It said that small and medium-sized renewable energy companies are becoming "increasingly attractive takeover targets as lenders and investors withhold funds, worried by the stiff competition, weak bond markets, low tariffs and high debt besetting the sector".
Such companies' inability to raise financing is barring them from participating in the PV auctions.
Major acquisitions so far include Tata Power's buy of Welspun Rnewables in 2016 and Greenko's plans to buy assets from Orange Renewables, although a recent media report suggested this deal could be on the rocks. Essel Infra and Shapoorji Pallonji are also in talks to sell off their assets.
One argument is that the scooping of up smaller players could impact the ability of the sector to reach the 100GW solar target, with less potential bidders vying for capacity. On the other hand, one could argue that consolidation will lead to further maturing of the industry with sustainable tariffs and more players having the ability to pull of giant capacity additions and economies of scale.
Long-term view
For the larger companies hopeful of still entering India, there is a sense that whatever short-term moments of stasis or confusion arise in the industry, such as the safeguard duty imposition, Prime Minister Narendra Modi and his government's vision for solar is so robust in the long-term that players can stay in for the long game with confidence. For example, Leandro Leviste, CEO of developer and manufacturer Solar Philippines, a company that plans to enter India by signing 500MW of solar PPAs this year, says that his company is willing to accept initially lower returns since it believes in India's massive long-term potential.
O&M and EPC Opportunities
New opportunities on the engineering, procurement and construction (EPC) side are also narrowed by the fact that larger India-based firms are increasingly bringing all the EPC work in house and Rustagi thinks this a trend that is unlikely to change. However, there is one caveat in that there has already been a bunching up of tenders and developers that win large amounts of capacity may simply not have enough capacity for execution. This would then open the doors for outsiders to come in and perform EPC services. Acme Solar for example has racked up more than 2GW worth of capacity awards in the last two months, although, when asked, Shashi Shekhar, vice chairman, Acme Group, did not say whether his company would need outside help.