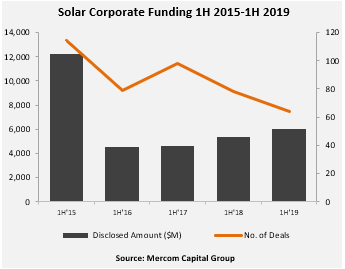 Project acquisitions, stock exchange listings and capital raises have helped keep solar finance flows stronger so far in 2019 compared to earlier years, consultants have found.
Fresh figures from Mercom Capital Group show the industry raised US$6 billion during H1 2019, an 11% increase on the US$5.4 billion reported in the same period last year.
The firm recorded solar financing volumes of US$3.3 billion in Q2 2019, a 12% year-on-year gain on the US$2.9 billion identified in Q2 2018.
Acquisition highlights of the year's second quarter include the 746MW Mexican PV partnership between Tokyo Gas and Engie, a 684MW 19-project transaction by GCL Poly Energy and Goldman Sachs' purchase of a 500MW US pipeline.
Solar finance off to 'upbeat' start of 2019…
The Q2 2019 bonanza helps cement 2019 as an "upbeat" year so far for solar finance, with Mercom recording in April US$2.8 billion raised between January and March this year.
So far this year, solar moves by venture capital (VC) and private equity (PE) houses have reached US$799 million, US$622 million of which Mercom said was signed off in Q2 2019 alone.
At 87% of all funds, downstream solar players reaped the lion's share of VC and PE support. ReNew's US$300 million rights issue raise from Goldman Sachs and others last month was the top VC deal.
For their part, Mercom continued, public markets channelled US$993 million to the solar industry in H1 2019, with US$746 million of the total bagged in the year's second quarter.
The firm did not identify the top public deals so far in 2019. However, the year has, as PV Tech has witnessed, produced a €300 million listing by Aquila, a US$78.9 million Shenzhen IPO by Ginlong, among others.
…while funding for broader renewables falters
In a separate research development, BloombergNEF (BNEF) published stats today suggesting 2019's first half has not proved as buoyant for renewables financing more broadly.
A 39% dip in clean energy funding in China to US$28.8 billion – the lowest half-year value since 2013 – drove a 14% decline of global renewable finance in 2018, which dropped to US$117.6 billion.
According to BNEF, Dubai's Mohammed bin Rashid Al Maktoum IV project – a 950MW mix of PV and concentrated solar power – was among the H1 2019 highlights of renewable finance.
The scheme, solar's priciest to date at US$2.6 billion of debt and US$1.6 billion of equity, illustrates the appetite for solar of Middle East states and foreign investors, said BNEF analyst Jenny Chase.
The BNEF update recorded a solid H1 2019 for solar installations below the 1MW mark, which reaped 32% more finance than H1 2018 as they secured US$23.7 billion.
The firm expects solar prospects more broadly to brighten in coming months. China's upcoming solar auction should lead to a "rush" of project funding, said BNEF's Asia-Pacific head Justin Wu.