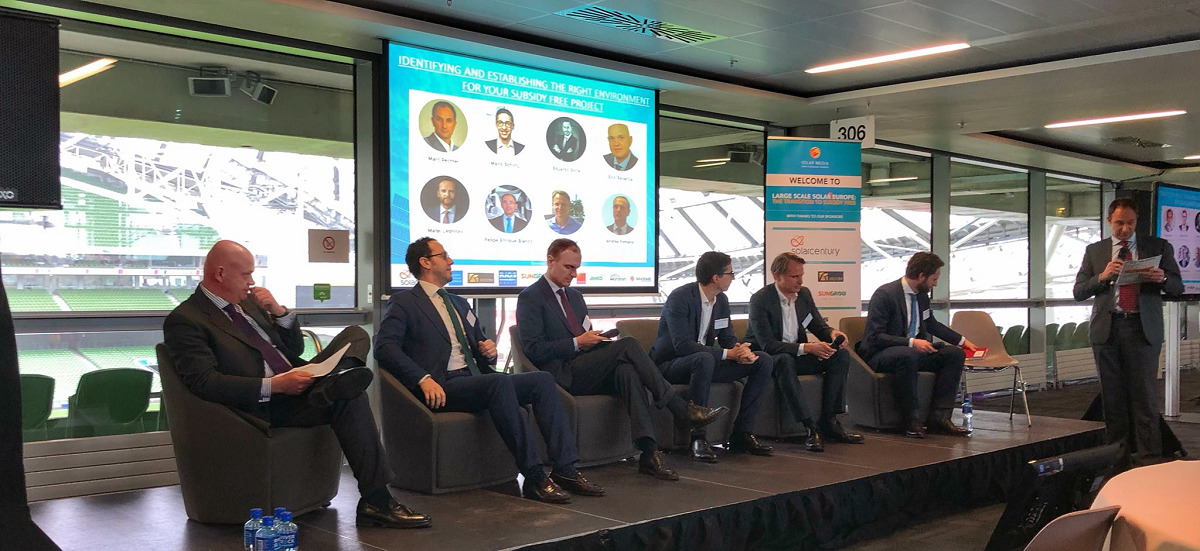 Solar Media, the publisher of PV Tech, is delighted to announce that next year's Large Scale Solar Europe event will be held in Portugal in partnership with the country's secretary of state of energy.
This year's event was held at Dublin's Aviva Stadium and brought together more than 150 representatives from Europe's solar industry discussed solar's transition towards subsidy-free deployment.
Sponsored by some of the solar sector's leading service providers, the high-level conference tackled key themes such as financing, revenue stacking and business models, while also delving deeper into the post-subsidy prospects of markets including Ireland, France and the Netherlands.
Among the speakers at last month's conference was Portugal's secretary of state for energy Jorge Seguro Sanches, who provided an overview on Portugal's ambition to nurture post-subsidy deployment of solar in the country.
And this commitment has resulted in Solar Media working with the secretary of state to bring Large Scale Solar Europe 2019 to Portugal next year.
The event has been pencilled in for Lisbon on 19-20 March 2019 and will feature a keynote address from the secretary of state once again.
David Owen, chief executive at Solar Media, said: "Solar energy has developed to become one of the lowest cost and cleanest generation options around the world and is entering a mature phase of industry development with demand becoming consistent year in and year out as more and more end-user energy markets become viable without governmental subsidy.
"We are entering a new era of post-subsidy solar deployment with new players, new business models and new opportunities for solar companies able to mature fast enough. Our new Large Scale Solar conference series will help solar and storage companies capitalise on the next wave of clean energy deployment."
Further details relating to Large Scale Solar 2019 will be released in the coming months, but those interested in speaking at the conference can contact Joanne Wilkinson, and those interested in sponsoring can contact Daniel White.