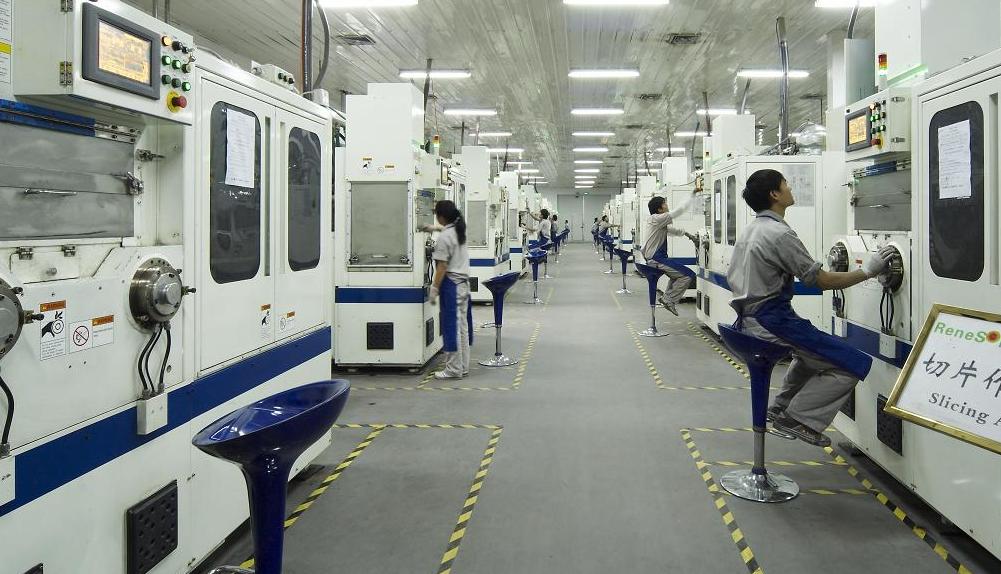 Capital expenditure (capex) from solar PV manufacturers is set to decline during the first half of 2017, as the industry adjusts to the excess of new capacity having come online during 2015 and 2016, according to the latest findings in the PV Manufacturing & Technology Quarterly report, released July 2016.
Overall capex from the upstream segment of the value-chain (covering polysilicon to modules and including thin-film manufacturing) is set to return to levels last seen back in 2013, when the industry was just recovering from a severe capex downturn that can be traced back to overcapacity coming online during 2010 and 2011. Capex for 2016 is currently forecast at US$5.4 billion, almost flat compared to 2015 levels.

Manufacturing PV capex is forecast to decline by 20% in 2017, as the midstream (cell and module) segments adjust to new capacity brought online during 2015 and 2016.
Equipment spending (the dominant source of manufacturing capex, that also includes buildings, infrastructure and maintenance capex) is forecast to decline in particular during 1H'17, while the industry adjusts to the overall capacity/demand imbalance. Spending is expected to resume however during 2H'17 but not enough to avoid 2017 capex levels declining by approximately 20% compared to 2016.
What is most interesting about the capex cycle from 2013 to 2017 is the difference in capex activity at the various stages of the c-Si value-chain, in addition to the investment cycle specific to thin-film equipment.
The graphic below shows the quarterly capex trends from Q1'15, forecast out to Q4'17. Here, we can largely split PV manufacturing capex into three parts: polysilicon and ingot/wafer, cell and module, and lastly thin-film. Each would appear to follow a different agenda, for which there are various reasons.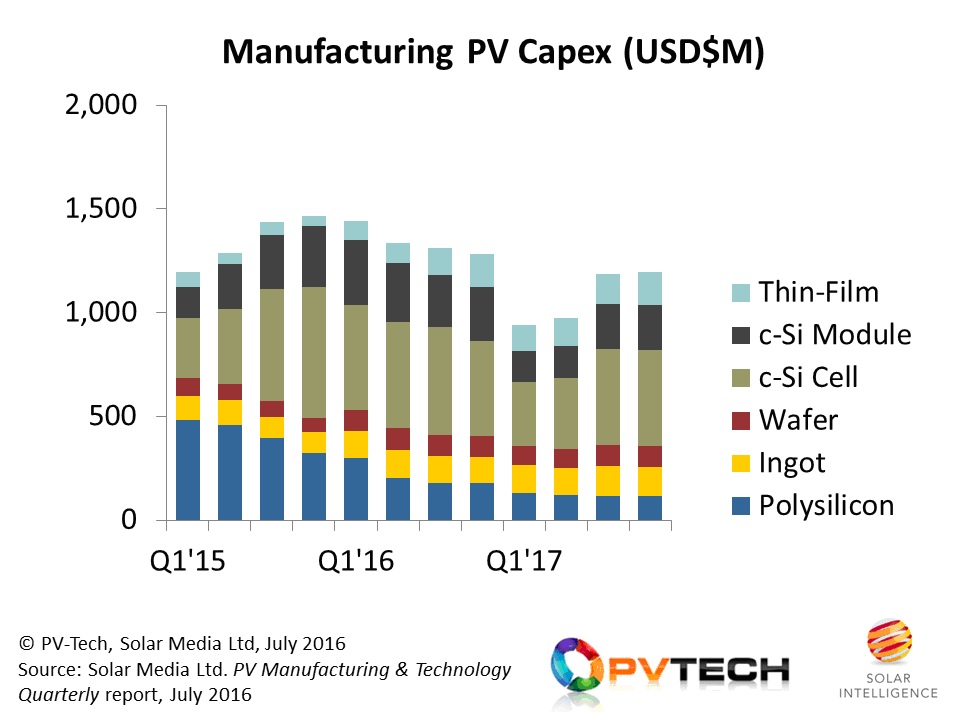 The quarterly split in manufacturing capex across the value-chain highlights the potential for cell revenues to be impacted most during 1H'17.
The fact that polysilicon and ingot/wafer segments are evolving differently from cell and module additions is significant today, and is something that may have a profound impact on module ASPs going forward.
This can be explained as follows. When the industry went through a (mainly China driven) period of bloated capex investments during 2009 to 2012, the expansions in capacity were all across the value-chain.
During that period there was also an evolving glut of polysilicon plant additions and expansions, matched by ingot and wafer capacity coming online, and cell/module additions equally ahead of what the market wanted or needed.
Indeed, the industry was actually spared a more chronic downturn period from 2012 to 2014 because most of the thin-film investments proved to be in vain and did not contribute in adding to module oversupply in the market.
This time around, the lessons from the past would appear to have been learned most by the upstream part of the manufacturing value-chain: polysilicon. Of course, there are several market related factors that probably outweigh company-specific fiscal-prudence: polysilicon pricing had the most negative impact on pure-play producers; China reacted to the US import trade restrictions on cell and module imports by curbing the operations of non-Chinese based polysilicon suppliers; new polysilicon plants come with high capex commitments; the period from new plant ground-breaking to first silicon production is measured in years, making it an extremely high risk proposition in terms of forecasting the economic viability of the plant when weighing up future polysilicon ASP trends and dynamics.
However, another key factor in the continued downward trend in polysilicon capex comes from the fact that there has been enough material supply to support the recent end-market deployment growth. Polysilicon production (for solar shipments) in 2016 is forecast to be sufficient to support 68GW of c-Si module supply, with this figure growing to 76GW in 2017.
In fact, annualized production run-rates exiting 2017 are currently forecast to meet almost 80GW of c-Si module supply in 2018, without any new capacity coming online or any upgrades or debottlenecking taking place.
Adding 5GW of thin-film production in 2017 and approximately 6GW in 2018, and it becomes clear that end-market additions would need to require module production (c-Si and thin film) in excess of 81GW in 2017 and 86GW in 2018 to merit any significant new polysilicon capacity coming online over the next few years.
Therefore, assuming we have a relatively stable polysilicon supply landscape out to 2018, the question of overcapacity would appear to be limited to the midstream segments, and in particular the cell and module stages. And this could be behind the strong contributions from cell and module equipment spending in 2015 and 2016, before the forecasted decline during 1H'17.
The effect of this may simply be that there is a higher level of underutilized cell and module capacity during 1H'17, with no excess amount of wafers being produced (owing to the polysilicon supply moderation) or any huge pull from the end-market. In fact, what may also emerge at the midstream stages is a push-out (or cancellation) of existing equipment orders in the next few months, in order to limit the level of new cell and module equipment previously set to come online before the end of 2016.
But within all these predictions, there is also the issue of capacity location and technology readiness. No amount of cell capacity added in China, for example, can compete with production in Southeast Asia, when looking at shipping to Europe (outside MIP) or the US (free of duties). Also, if multi-GW of the new capacity coming online is of greater ramp-up risk (such as SolarCity's factory in Buffalo, New York), then the threat of factory underutilization as a whole is in part diminished.
The other key issue that is likely to help c-Si equipment spending in particular during 2H'17 could be the increased focus on cell line upgrades or any further adoption of ingot and wafer productivity enhancements.
The larger the solar industry capacity grows to, the more valuable any mass upgrade or technology-buy cycle can potentially be, if applied rapidly across all manufacturing facilities. Most recently, this has been evidenced by the revenues on offer purely from cell capacity that had moved from standard to advanced (PERC) capability.
It is probably a bit too early to forecast with accuracy what the uptick in order intake will look like during 2H'17, but by the time these issues are being discussed during the PV CellTech 2017 meeting in Penang, Malaysia on 14-15 March 2017, we certainly expect this to be much clearer.
Right now, we are in the middle of an extensive research phase with the leading industry experts on cell manufacturing to put together the agenda for PV CellTech 2017. We will be reporting on this in the next few weeks, but in the meantime, bookmark 14-15 March 2017 for attending PV CellTech by signing up through this hyperlink.