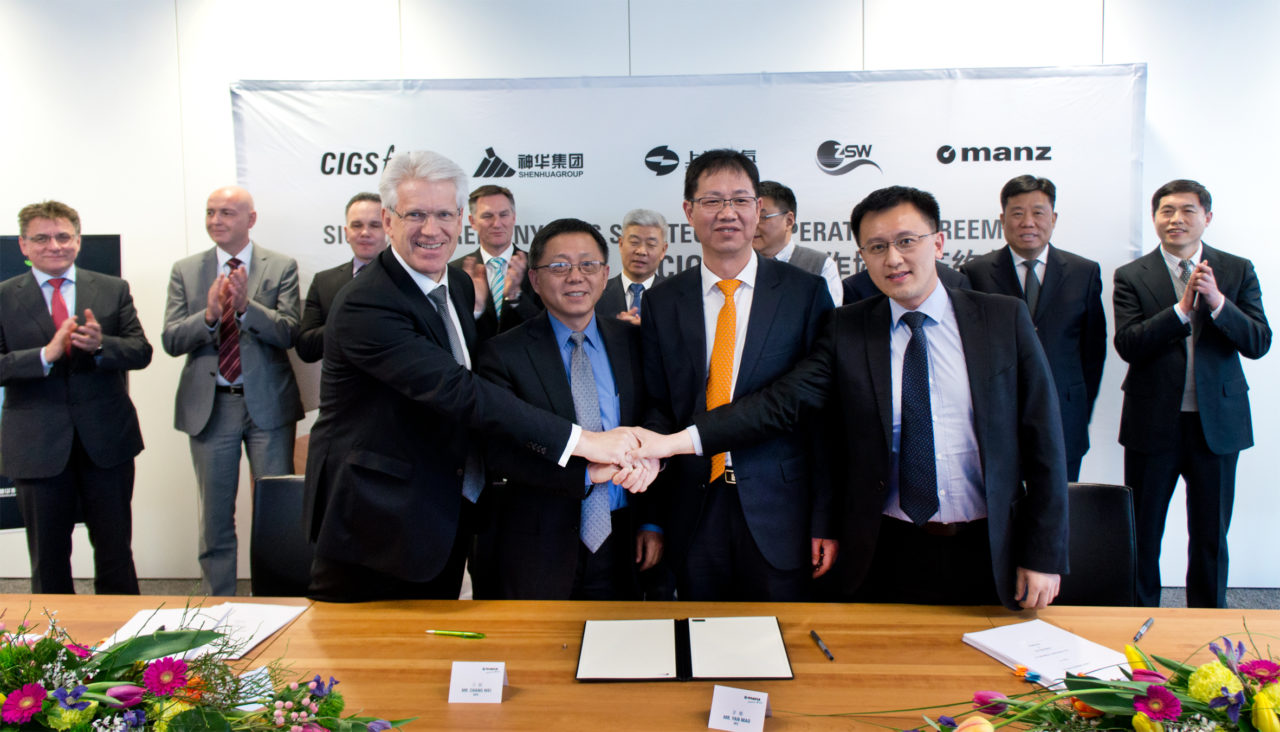 PV Tech's preliminary analysis of global PV manufacturing capacity expansion announcements in January, 2017 have remained subdued and continue the trend set in the second-half of 2016.
In contrast, PV manufacturing supply chain activity has been robust at the start of 2017, driven by previous year(s) announcements actually converting to 'effective capacity' in the month under review. This was strongly supported by upstream manufacturing equipment order announcements for expansions targeting the second half of 2017 that were primarily announced in the first-half of 2016.
PV Tech's preliminary analysis of January, 2017 capacity expansion plans indicates a total combined figure of 1,235MW was announced, down from 1,900MW in December, 2016 and up from 500MW in December, 2015.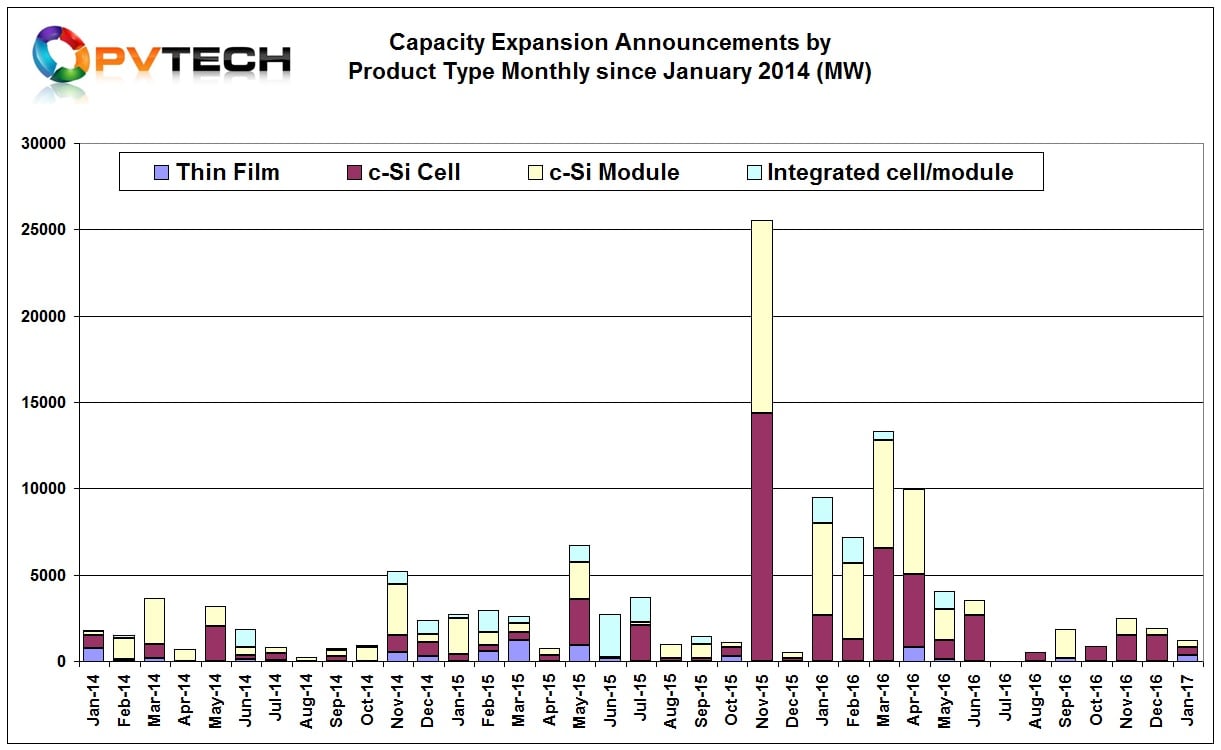 The major announcement came late in the month with news that PV and electronics equipment manufacturing and automation specialist Manz AG had finally secured orders for two lines, including a turnkey CIGS thin-film production line totalling 306MW of nameplate capacity and a 44MW pilot line from China-based Shanghai Electric Group and Shenhua Group. Equipment installation was said to start in 2017 and would be completed in 2018.
Total thin-film announcements were around 370MW in January, the last being in September 2016. Both dedicated solar cell and module assembly announcements remained a very low levels with expansions plans including upgrades to PERC cell technology of 450MW and 415MW for module assembly. No expansion plans were announced for integrated cell/module expansions from PV Tech's preliminary analysis of January's manufacturing analysis.
Effective new capacity in January
With new capacity expansion announcements remaining subdued from the second-half of 2016, some previously announced plans have migrated to effective capacity in January, 2017.
Former 'Silicon Module Super League' (SMSL) leader Trina Solar was reported to have completed a US$100 million investment for 800MW initial solar cell production at the Van Trung Industrial Park, Vietnam Yen district in the northern region of Bac Giang in Vietnam.
Trina Solar had first suggested a 900MW (PERC) solar cell expansion in either Thailand or Vietnam back in March, 2016. Local news reports had surface sporadically since then that Trina Solar was leaning towards Vietnam. Then local reports showed the opening ceremony and the cell plant in production.
Trina Solar has strangely not officially reported the establishment of the plant in Vietnam. Chinese owned OEM PV contract manufacturer Vina Solar Technology Co is located in the same industrial park and had separately announced a 1GW Multi c-Si solar cell plant expansion in the same month of 2016 as Trina Solar.
Indian state-owned electricity equipment supplier and PV project developer Bharat Heavy Electricals Ltd (BHEL) also officially opened its upgraded and extended PV module manufacturing operations in Bangalore, Karnataka state, India. BHEL said in a brief statement that a new state-of-the-art 200MW module assembly line (up from an existing 26MW line) was operational and a solar cell line with 105MW of nameplate capacity had also become operational.
BHEL had stated in December, 2014 that it wanted to establish a 500MW integrated solar cell and module assembly facility in Maharashtra, India that would be subject to government agency approvals.
Confirmed equipment orders filtering through
Perhaps the most interesting development in January was a wave of PV equipment order announcements that filtered through into the public domain from planned expansions in 2016 and further back in time to 2014 as well as some confirmations that previous capacity expansion plans have turned to 'effective capacity.'
Confirmation that a previously planned capacity expansion had turned to effective capacity is the culmination of the diligence required to track over 118GW of thin-film, dedicated solar cell, module assembly and integrated cell/module announcements since the beginning of 2014, which is not as frequent as some may expect.
Indeed, only around 50% of announcements from 2014 through 2015 have been confirmed effective capacity, with confirmations of effective capacity from 2016 announcements in the low 30% range at the end of January, 2017.
Confirmed equipment orders for planned expansions is a welcome addition to the tracking efforts, although at times these can be perplexing when it remains impossible to connect the dots between a PV manufacturer's expansion plans and some specific equipment orders.
Interestingly, the majority of the wave of equipment order confirmations in December, 2016 and January 2017 relate to 2016 announcements that were primarily made in the first-half of the year. There would seem to have been a notable lapse between first-half announcements and confirmed equipment orders.
A key contributing factor could be the uncertainties in global PV end-market demand in the second-half of the year and a 25% module ASP decline in fears of overcapacity. Also at play was the fact some of the major manufacturers such as Canadian Solar, First Solar and SunPower announced the restructuring manufacturing operations and some smaller players cutting jobs and even closing facilities.
Technology buy cycle momentum
The recent wave of equipment supplier order announcements also reaffirms the migration to PERC (Passivated Emitter Rear Contact) and the start of a new phase of N-type mono heterojunction (HJ) development. PV Tech recently detailed around 14GW of planned PERC expansions were announced in the last two years.
According to PV Tech's in house analysis, PERC solar cell upgrades at existing facilities that were officially announced by manufacturers totalled only 460MW in 2015. However, in 2016, PERC upgrade announcements reached around 2,500MW.
Leading PV manufacturing equipment supplier Meyer Burger Technology had announced orders worth over US$146 million in the last four months, which includes PERC cell technology upgrades and a 200MW HJ line. The majority of orders were Asia-based.
Specialist equipment manufacturer Amtech Systems also announced new solar orders since the start of September, 2016 had topped US$60 million, driven by PV manufacturers in China, Malaysia and Taiwan. Amtech noted that new order wins included its high throughput PECVD platform for PERC upgrades and n-type bi-facial solar cell turnkey order from a new customer in China.
India gets going
As PV Tech has highlighted, capacity expansion plans in India outpaced China for the first time during 2016. However, there has been more than 24GW of combined cell and module plans announced in India since 2014, while the new effective capacity remained limited. Finally, momentum is starting to build with planned expansions announced in 2014, 2015 and 2016 starting to turn into effective capacity.

As already noted, one of expansion plans that turned to effective capacity in January was the BHEL module assembly line, which goes back to a 2014 announcement. Soon after, turnkey module assembly line supplier, Mondragon Assembly announced it had supplied the 200MW line for BHEL.
Major plans from Lanco Infratech also became closer to reality. Lanco's first phase 200MW solar cell expansion, announced in November, 2015 is expected to proceed after signing a contract with Chinese firms, CNEEC and equipment supplier, 48th Research Institute of China Electronics Technology Group (CETC48).
With new capacity expansion announcements at low levels, interest has turned to execution of the massive gigawatts of plans announced in the second half of 2015 through to the end of the first half of 2016.
Not surprisingly, that interest is due to fears of a new wave of upstream manufacturing overcapacity. Whether that scenario has already happened is arguable but PV manufacturer's actions over the last six months suggest that there is little current need/appetite to announce further expansion plans.