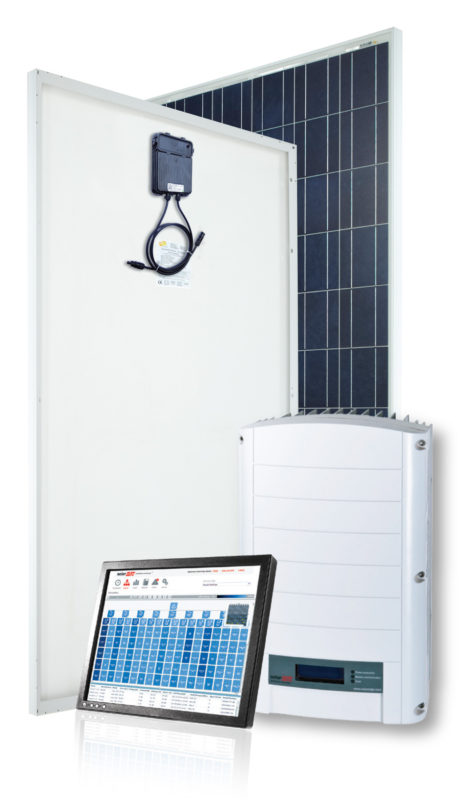 PV inverter firm SolarEdge Technologies reported fiscal fourth quarter revenue of US$124.8 million, which was at the low end of guidance, due to a slowdown in the US residential market, its biggest market for the company.
High profile customers such as SolarCity and Vivint Solar have seen residential installations stall with both companies lowering installation guidance for 2016.
SolarEdge inverter sales in the US accounted for around 68% of total sales in its fiscal year.
Guy Sella, founder, chairman and CEO of SolarEdge said in an earnings call: "This quarter we were impacted by the slowdown in business in the US residential market that affected the large residential installers in the last two quarters to three quarters. Since we have the largest market share in the residential segment in the US, we're naturally impacted by what we believe is a temporary market adjustment to last year's ITC changes."
Sella admitted in the call that total revenue in its fiscal fourth quarter from the US had declined over the previous quarter.
Sella also noted the earnings call that he thought the bottom in US residential market had been reached in the second quarter as orders had starting improving from a number of large installers.
FYQ4 financials
SolarEdge reported quarterly total revenue of US$124.8 million, compared to US$125.2 million in the previous quarter but up 26.8% from the prior year period.
Despite the weakness in the US market, SolarEdge said it increased sales across other countries such as The Netherlands, France and Australia. Inverter shipments in the quarter were 427MW. The company shipped a total of 1.48 million optimizers and 58,000 inverters in the quarter.
GAAP gross margin was 31.4%, down slightly from 32.5% in the prior quarter and up from 28.7% in fiscal Q4 2015. Management noted that ASP declines remained within expectations, slightly offset by continued product cost reductions and larger scale and automated production.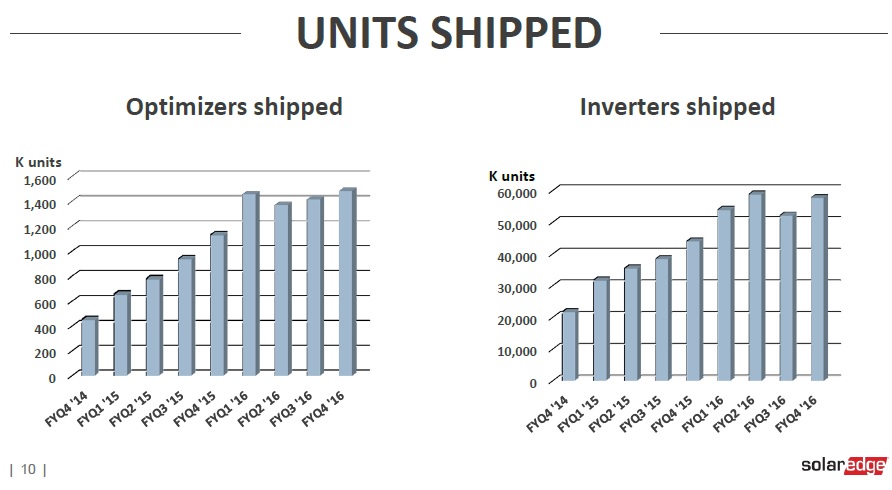 2016 fiscal full year financials
SolarEdge reported fiscal 2016 revenue of US$489.8 million, a 51% increase compared to revenues of US$325.1 million for fiscal 2015.
Sales of PV module optimizers represented 50% of total revenue, while inverter sales contributed 45.7% of the total. SolarEdge noted that recognition of revenue from cloud-based monitoring portal services and related products accounted for the balance.
On a geographical basis revenue from the US market accounted for of 68% of the total revenue compared to 73% in fiscal 2015. Sales in Europe accounted for 23% in fiscal 2016, compared to 20% in 2015.
Management noted that it had steadily increased its market share in Germany, which had past the 10% mark in year.
Gross margins for fiscal 2016 were 31%, compared to 25.2% in fiscal 2015. The margin improvements were said to be due to overall cost reductions in manufacturing and distribution.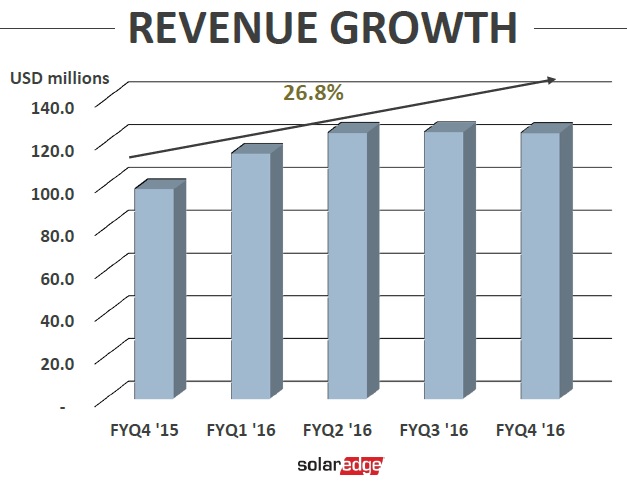 Guidance
SolarEdge guided fiscal first quarter sales to be in the range of US$130 million to US$139 million and gross margins to be within the range of 30% to 32%.