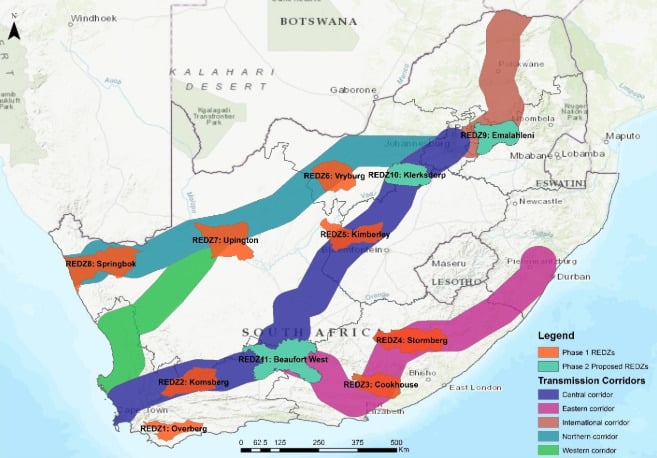 South Africa is set for three new special geographic zones for fast-tracking renewable energy projects, following the government's recent release of multi-gigawatt PV and wind plans up to 2030.
The scheme to add three Renewable Energy Development Zones (REDZs) to the existing eight identified back in 2015 was announced this week by the Council for Scientific and Industrial Research (CSIR) in collaboration with the national Department of Environment, Forestry and Fisheries.
There are two major benefits in the environmental authorisation process for wind and solar projects located in a REDZ. Firstly, large-scale plants must follow the more rapid Basic Assessment procedure instead of a full Scoping and Environmental Impact Assessment. Secondly, the timeframe for decision making by the environmental authorities is reduced by 50 days, a CSIR spokesperson told PV Tech.
The new additions would support the Integrated Resource Plan 2019 (IRP), which aims for 6GW of solar and 14.4GW of wind up to 2030, having been gazetted by the Minister of Mineral Resources and Energy last month.
The new areas have been chosen based on clean energy resource conditions, where mining industries are located, and proximity to areas in need of "rehabilitation", with local coal power capacity to be decommissioned in the near future.
For solar PV there are two new REDZs at Emalahleni and Klerksdorp, while a third zone mainly for wind is tipped for the east of Beaufort West. The solar areas – also open to wind deployments – offer the potential for post-mining land use, are close to load centres and have high irradiation. REDZ locations near power corridors also help the utility Eskom decide where to prioritise grid investment.
It is important to note that renewable energy development can still take place outside of the REDZs and will be considered on a project-by-project basis.
Mines and rehabilitation
While some mining industries in the two solar-designated zones are robust, many are in decline. Fleckson Magweregwede, a CSIR mining engineer, explained to PV Tech:
Coal mining in Emalahleni: The majority of coal comes from the Witbank and Highveld coalfields, which together account for about 75% of South Africa's production. Thus coal mining in Emalahleni is still operational. No information could be found on whether productivity is declining or not.
Gold mining in Klerksdorp / Potchestroom: Like in any other conventional gold mining operations, productivity has been declining over the years. There has also been some notable mine closures as a result of operational challenges such as increasing mining depth, poor OHS performance, increasing operational costs, fluctuating exchange rates and commodity prices.
Uranium mining in Klerksdorp / Potchestroom: Most of South Africa's uranium output is a byproduct of gold or copper mining. Thus uranium productivity potentially declined with declining productivity in the gold mines.
The new proposals were made under the second phase of the Strategic Environmental Assessment (SEA) for wind and solar photovoltaic (PV) energy in South Africa.
One of the main Phase 2 SEA aims was to identify previously mined areas close to the Gauteng area where the highest demand for energy is, in order to incentivise large-scale solar PV projects in this area.
CSIR environmental scientist Abulele Adams said: "In this way, the new renewable energy projects can contribute towards the rehabilitation of previously mined areas, support job creation in the areas, especially where there may be a decline in mining, and potentially make use of existing infrastructure, such as the electricity grid and roads from previous mining activities."
While CSIR mentioned up to 12GW of coal capacity to be decommissioned in the three REDZ by 2030, the latest IRP 2019 also stated that coal will continue to play a significant role in electricity generation across South Africa "in the foreseeable future" as it is the largest base of the installed generation capacity and it makes up the largest share of energy generated.