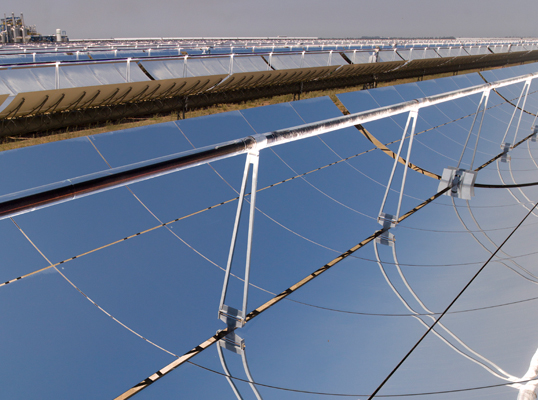 French renewables firm Engie, formerly GDF Suez, the largest independent power producer in the world, recently signed a long-term PPA for a 100MW concentrated solar power (CSP) project in South Africa.
Engie has signed the 20-year PPA with Eskom – South Africa's state-owned utility – making it possible for the Kathu solar park to be operational by Q2 2018.
According to reports, the parabolic-trough technology plant, which is situated in the Northern Cape Province, 600km south-west of the capital Pretoria, will be equipped with a molten-salt storage system that allows 4.5 hours of thermal energy storage, mitigating the intermittent nature of solar energy.
The solar park is expected to displace six million tonnes of CO2 over 20 years, create employment and community projects such as a community trust in the John Taolo Gaetsewe District Municipality.
Bruno Bensasson, CEO of the Engie Africa Business Unit, said in a statement: "This is an important milestone for our first concentrated solar power project in the ENGIE Group. The Kathu Solar Park project supports South Africa's strategy of increasing the contribution of renewable power and also underlines our commitment to be a key partner in achieving sustainable energy generation in Africa."
The ambitious project will be achieved through a consortium comprised of Engie, which has a 48.5% interest, as well as the SIOC Community Development Trust, Investec Bank, Lereko Metier and the Public Investment Corporation is developing the project.
Meanwhile, debt funding will be provided by Rand Merchant Bank, Nedbank Capital, ABSA Capital, Investec and the Development Bank of South Africa.
The project emerged as a preferred bidder following the third instalment of the government's Renewable Energy Independent Power Producer Procurement Programme (REIPPPP), which has been conclusively successful; giving rise to many recent large-scale solar projects.
To date, 6,377MW of clean projects, mostly wind and solar PV, have been procured across 44 projects, with 2,021MW being connected to the grid in 2015 alone. Presently, bids for a further 1,800MW of renewable projects are under review, with 450MW allocated for additional CSP specifically. The programme has awakened investors to the blatant renewable energy potential the country enjoys; with year-round sunshine and stretches of windswept coastal areas.
Besides the Kathu park, other CSP projects either operational or in development include the 50MW Bokpoort CSP project, the 50MW Khi Solar One power-tower project, the 100MW KaXu Solar One and Xina projects, the 100MW Ilanga 1 development and the 100MW Redstone Solar Thermal Power project. In addition, Eskom is pursuing a CSP project of its own.
For the French multinational, the Kathu project is a further addition to its African portfolio, which is comprised of two operational wind farms, two thermal power generators under construction in Morocco, as well as the 670MW Avon plant and 335MW Dedisa plants in South Africa. Through subsidiary Solairedirect, it is also in charge of two PV parks with a total installed capacity of 21MW located in the Western Cape Province. In addition, Engie recently signed agreements on developing renewables with various Egyptian state-backed companies.